Phoenix Dynasty Online
Phoenix Dynasty Online is set in the world of the Warring States period of Ancient China. The game is presented in an eye catching and realistic style of 2.5D paintings; this along with the time genre of the game allows you to experience the décor, setting and feel of such historical happenings and the scorching conflicts and warfare among the seven states. Phoenix Dynasty Online holds these exciting features: 5 distinct elements, thousands of quests, equipment forging, armor sets, exotic and mystical mounts, and battles between both guilds and the seven warring states.
Free MMORPG Rank by GameOgre: Not ranked.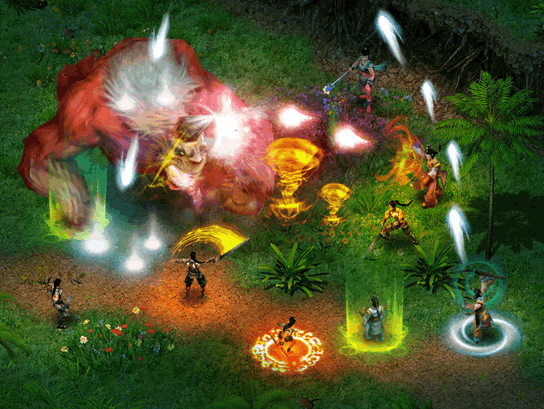 Select Review on Phoenix Dynasty Online From GameOgre Review Members
Rating: 10
Author: Kiya
Comment: In my opinion, PDO is the best online game I have ever played! I definitely give it a 10. I have been playing for over a year and still enjoy it. It has Elements, Living Skills, Crafting Skills, Mounts, Guilds, Guild wars, PvP, and team and solo quests. All of these make the game fun, but so does the many greatpeople you get to meet.
You get to choose between 4 different types of characters: Priest, Paladin, Assassin, or Wizard. There are 5 different Elements to chose from for your skills. You have the choice of Metal, Fire, Water, Earth or Wood. You get to choose one once you reach level 10 that would be your major and another at level 50 that would be your minor. Each element has its own advantage and disadvantage. Living skills in this game are nice and fun. They include: Weaponsmithing, Armor, Leather, and Jewelry making. You can choose one of these to do. You collect items from creatures to create whatever your skill is. You can also set up a booth for other characters to use to up your living skill. Crafting Skills include Smelting and Alchemy. You can learn both of them.
Quest: There are lots of quests to do. Some can be done solo and others require a team. Some are for your skills and others for reputation points and experience. Reputation points allow you to hold more in a team and give you more Armor and Weapons to choose from.
You can join a Guild once you are level 10 or make your own. Guilds are nice because they give you members to do stuff with and help out each other. PvP is of course player vs. player. It can be good for learning how to fight and defend, making you a better player. Mounts are nice and there are many to choose from for traveling or just showing off. Here are a few of the mounts to choose from: horses, bears, tigers, quad-horns, and of course the Phoenix. Hope to see you in the game.
Rate and Review Phoenix Dynasty Online
Official PDO Forum
The official forum for Phoenix Dynasty Online.
PDO Official Site
The official PDO site.
Phoenix Dynasty Online on GameOgre
Thread in GameOgre.com's forum about the game.