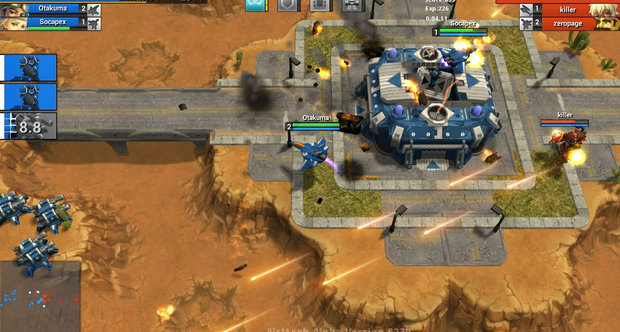 In the future, the last survivors of the Great War continue their fight with the ultimate war machine: the AirMech®. Created using lost technology, Pilots have found, salvaged, or stolen AirMechs that they use to protect the weak, or to pillage. Which side do you fight for
Post Date: 05:47 05-08-2015
Rating: 6
Author: Septera
Comment: I just love the concept of this game , anyway its a MOBA/RTS type of a game where you have a airmech that you control and build additional units from your base.
You can choose from a huge amount or Airmechs and buy new units.It offers dynamic gameplay and tons of tactics to outmatch your opponent so check this game out 🙂
Post Date: 14:28 18-05-2015
Rating: 8
Author: LosmiK
Comment: It is the fantastic momentum that really makes AirMech shine. There's never a moment of respite, as your forces are continually trying to capture areas, which inevitably leads to constant conflict with one's opponents.
Post Date: 12:09 17-02-2015
Rating: 8
Author: axwellshm
Comment: Pretty cool game. Love the design of the whole thing and I agree with arZ that this game is not that kind of MOBA. It has something unique. Since it was released in the middle of 2014, this game has good graphics. So I am going to rate this game with 8/10.
Post Date: 11:47 20-11-2014
Rating: 7
Author: arZ
Comment: The developer and publisher from Air Mecha is the company Carbon Games. The game was released in the middle of the year 2014. Air Mecha is a free to play multiplayer online
battle arena video game or like we all say MOBA. Finally some moba that is not like the popular League of Legend or Dota 2. This Moba is unique and really special. Thx to the developer that they create some new gameplay. So let talk about the game.

In Air Mecha the player is controlling a giant transformer, robot that can fly or fight on the land as well. The player can build different units and can place them where he wants around the map to take part in the battle and fight for him. They are many different game
modes in this game that we talk little bit later about it. The main goal in this game is to destroy the other team fortress and keep your own fortress, defend it from the enemy attacks. The forest spawns creeps like in all other mobas. The player can unlock different units
like pilots or Kudos after you finish a game. You can also get a Persistent when you complete the game. Players can buy Diamonds too, for real money and you can buy with them different units and skins. Players have two resources: Credits and Powers. Credits you get from forest , and you can build special units that you can get credits from them. Power is a resource that they are using by units when they build something . Power
stations are giving you power and all the power that the power stations are creating going to power pool. Player can selec nin different Air Mecha varous pilots and items with a special abilities and skills. Air Mecha has six different game modes: solo, co op, pvp, capture the flag, challenge and survival.

Solo, is a solo game where you can play with a different players 2v2 or 3v3 map. Co Op, is a mode where can player play a game vs bots and test some items. Its the best game mode for beginners, where you can learn the basics of the game. PvP, is a game mode where you can play 1v1, 2v2 or 3v3 game. This is the most played game mode in this game and the point is to destory the enemy forest.
Capture the flag is amoth funny mode where you need to capture the flag from the different team and defend it against the enemy team. Survival mode is an unique mode where you need to survive against a waves of enemy
units. Funny mode but really hard to play. Challenge mode, is a mode vs bots. Good for new player where you can learn the basics of the map and the last one is campaign. Where you have some solo levels to clear. But all modes are funny.

The graphic of the game is good, sound is pretty nice to. Gameplay is unique, because you can transform the robot. Its not so hard to learn to play and you got two game mode for learning. I rate this game with a note 7/10. I am a League of Legends player and I think that this game got no competition atm. This game is good but not so good as League.
Post Date: 18:15 31-10-2014
Rating: 7
Author: Mihajlo
Comment: AirMech is a F2P MOBA-RTS hybrid that brings tons of fast-paced action and hours of fun. The AirMechs themselves are the in-game player avatars, each one fills a different role and all of the AirMechs can, as the name suggests, switch between a air-mode and a mech-mode. I rate this game 7/10
Post Date: 08:59 19-06-2014
Rating: 8
Author: Vrcinac
Comment: game is awsome but not very fun when played alone. you have alot of mech types including suport sniper even the tank with minigun on it called warthog(my favorite) you also have units which you build to help you win the game there are dozens of strategies to play this game it can be sisy ones or the pro ones all up to you and your style. game is overall incredibly fun and it offers alot of customization of preformance. now the bad part its matching system is wierd it can connect players 5000km away from each other causing game to have incredible lags but if you have good internet you dont have to wory about it that much 🙂 overall 8/10
Post Date: 14:04 22-05-2014
Rating: 8
Author: bloga99
Comment: Very good game. I downloaded a game from steam, and still have it on my computer 🙂
Post Date: 08:02 29-04-2014
Rating: 5
Author: Frozen
Comment: i didn't play this game befor.But i will try 🙂
Post Date: 07:20 06-04-2014
Rating: 5
Author: bos4kCRO
Comment: Game is nice… But hard in begging,Graphic is solid.. my rate is 4 🙂
Post Date: 19:08 07-12-2012
Rating: 10
Author: Mordekaiser
Comment: This is a really great game reminds me of league of legends but the gameplay is much different i have not come across any other games like this except League of legends and awesomenauts to tell the truth the graphics are great and there are planes and tanks and PVP and you can kill stuff and you can shoot what more can you ask for and you can get a special aircraft if you download it and play with Google chrome its a very good aircraft so i recommend getting it on Google chrome for sure
Post Date: 18:09 07-12-2012
Rating: 9
Author: Thedarkboy
Comment: This is a nice game, although it can be a bit difficult sometimes, especially in the beginning. The graphics of the gamme are quite good. I have seen better but it's good. I think this game is the most fun when you are playing together with your friends, but it can still be fun when you're not playing with them