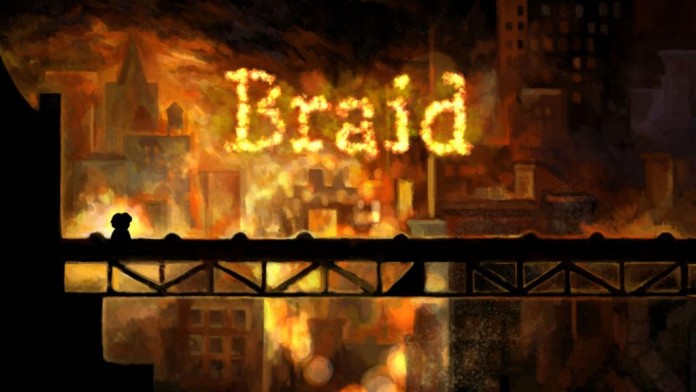 Braid is the rare game that will make you rack your brain trying to solve puzzles one minute while challenging you to come to terms with its mature tale the next. The plot is succinctly summarized before you enter the first world: Tim, the hero, has made a mistake that cost him his love; now, he has to rescue his lost princess from an evil monster. The story, told through books before each of the six worlds, chronicles Tim's ruminations on the subjects eating away at him.
Post Date: 19:50 02-08-2015
Rating: 9
Author: axwellshm
Comment: It is pretty much the same as Limbo, but the difference is that Limbo is black & gray, but this is black and all types of different colors. Game is interesting and really puzzly.
Post Date: 09:31 06-11-2014
Rating: 8
Author: arZ
Comment: Interesting jump and run game where you need to find puzzles in each level. Nice graphic and unique gameplay where you can stop the time, or scroll back the time and other different solutions. Game is really cool, didnt play it but watched some videos. Rating 8!
Post Date: 18:57 30-06-2014
Rating: 8
Author: FrendlyLeBlanc
Comment: Not played but watched gameplay 🙂
Graphic is god and story too 🙂
8 🙂
Post Date: 09:21 09-05-2014
Rating: 9
Author: Leviathan39
Comment: Braid is one of the hardest indie games I have played…It has nice graphics,it is good looking,I like the design,the soundtrack fits nicely and the game is very addictive,even it's so hard to play,and it can get frustrating from time to time.
Post Date: 07:32 01-05-2014
Rating: 7
Author: Frozen
Comment: really funny game 🙂
Post Date: 08:56 06-04-2014
Rating: 7
Author: savicaa
Comment: I tried this game several times and im really consider am i stupid or?
For sure this game is not for everyone , u need to play it at least 10-20-30 times to get some mechanics and thinking on the way which u can win 🙂
This game is like Angry Bird , u can be happy when u get some better , then comes game when u fail and u get angry , when u rage and u can't play more , u need to take a brake cause i will crush ur computer 🙂
I don't know what is my highscore but i know that i was playing it days , nights,days,night and over and over from start to be little bit better , and i couldn't belive that this game i so hard ..
Every time when im bad i thought that i can stop playing this game , but my wish was to get better in it and played it and played for about 1 year , after i saw it's usseles to play it i stoped 🙂
If u have time and ur nerves are strong u can play it , but i reccomend u to get relaxed when u play and u will be better 🙂 Cheers!
Post Date: 09:30 04-04-2014
Rating: 9
Author: DancinGDeaD
Comment: can be better 🙂
Post Date: 02:52 17-09-2013
Rating: 9
Author: Webber
Comment: Braid is still cool after 3 years. You have to play it many times to appreciate everything.

Pros:

Unique
Hard to Master
Awesome brain teaser

Cons:

Can be too hard
Post Date: 13:41 14-09-2012
Rating: 9
Author: Thedarkboy
Comment: During my first playthrough of Braid, I got frustrated, happy, somewhat euphoric, angry, surprised, impressed, relieved, and curious. That feeling when you finally find out the solution to a puzzle you have tried to figure out for a long time, it's almost like a drug. You feel a bit intelligent. You just can't get enough of that feeling, so you just keep playing even though it might take a long time to solve the next one too. A real brainteaser that can be very frustating but at the same time very fun too!
Post Date: 19:41 02-09-2012
Rating: 8
Author: PolanWalker
Comment: Great puzzle game. Very good job producers. Graphics not great but its ok. 8/10
Post Date: 15:02 21-11-2011
Rating: 8
Author: dmt_2000
Comment: This gae is a great game kinda hard but still fun i like it because it is a platform game and its a puzzle ill give it a 8/10
Post Date: 14:34 21-11-2011
Rating: 9
Author: Thedarkboy
Comment: Great game for the brain. Graphics aren't the best, but it's a puzzle game, so that doesn't matter. I'll just give it 9/10.
Post Date: 08:36 18-06-2011
Rating: 9
Author: dantabletennis
Comment: This game is full of action fun and twisting tales! This game oveally amazes me, its got pretty good graphics, exciting fun gameplay and an awesome name for the game! 🙂
It has some cool awards, and theres probably loads more to this game than you would excpect! An awesome time trvaelling system, lest go respawn to somewhere you fell! But it is pretty easy to complete and thats what makes this game a bit dodgy, if not i would probaby give it a ten but instead i will give it a 9! But it is a fun an awesome game to play so if you get bored i would suggest playing this game for a while untill you complete it, it may be easy but its gameplay is so awesome! The other downfall is that it costs which is kinda bad but still an awesome game to play, so i would suggest it to anybody!
Post Date: 23:03 17-06-2011
Rating: 8
Author: Lions
Comment: Braid is a rather unique game. The first time I played it, I really didn't know what to expect. I had gotten as part of the Humble Bundle and knew nothing of all the success and awards it had. My first impression of the game was that it was a simple platformer with a mediocre story. But I soon found out there was a lot more to Braid. The main "power" you have in the game is the ability to wind back time if you make a mistake. There are no lives or respawning. If you fall down onto some mean looking rocks, you can hold a button to turn back time to the point before you fell. This power will become necessary in order to complete later puzzles. There may be a key in the middle of those jagged rocks I mentioned earlier. The only way to obtain it will be to fall down, grab the key, and then rewind time.. except you will carry the key back through time with you. It may all sound very complicated, but believe me, the game manages to put all of this together in a way that doesn't feel frustrating nor confusing.

But now the key fact that everyone really cares about comes into play; the rating. I would have to rate Braid an 8. In my opinion that's the best "fair" grade I can give it. You see, although Braid is a lot of fun, it can easily be beaten in less than 10 hours, and that's exaggerating by a long shot. There are only 6 worlds to finish, and each one can be finished in under an hour, and perhaps in under half an hour if you're pretty skilled at platforming and puzzle solving. There are puzzle pieces in each of the levels to go back and collect, which offers some amount of replayability and will definitely take you much longer to collect, but these do not really offer you much of a reward other than the Steam achievements if you're into collecting them. In addition, you can also do speed runs which are crazy and challenging, to earn another achievement. Still though, what's really missing from this game is a custom level design tool. I understand that it is an indie game, and therefore there aren't hundreds of people working on this, but this is a game that would work so well. I can just imagine some of the insane levels that players could come up with while using the time rewind function. However, even without a way of making custom levels, Braid will certainly provide you way more than enough entertainment to make the standard $9.99 price tag not only justifiable, but recommend. I realize my giving it an "8" may seem harsh, but I'm simply trying to be realistic. This is a groundbreaking platforming game, yes, but it's far from a long-term gaming fix.
Post Date: 04:56 15-02-2011
Rating: 9
Author: EcLuD
Comment: although it seems very simple and boring .. is one of the best played games and adventure, something is one of the top of the best games, I love the music that relaxes me .. 9 / 10
Post Date: 03:55 04-02-2011
Rating: 9
Author: Adrian
Comment: This game is awesome, it will put your brain and patience to the ultimate test. The graphics aren't that great…but hey its a puzzle game, its not about the graphics :p.
Post Date: 11:51 21-10-2010
Rating: 5
Author: rey misteryo
Comment: cand intru pe cont
Post Date: 01:49 27-09-2010
Rating: 9
Author: RandomZ
Comment: Puzzle games like these never let me down. The game really challenges your wits and your brains to the max. Don't be let down by the graphics, because the gameplay willblow your mind. Worth every penny spent
Post Date: 08:30 19-08-2010
Rating: 10
Author: logen9
Comment: Braid is one of the most challenging and rewarding games that can be played on a PC. It goes to show you that big budgets are not always needed to make super games.
Post Date: 18:56 04-06-2010
Rating: 10
Author: DoctuhD
Comment: An amazing indie game. it's challenging puzzles leave you completely stumped often, but a relaxing environment keep you coming back to try again, therefore the solving of each puzzle is extremely rewarding. The price of 10-20 dollars seals the deal as one of my most recommended Indie games.
Post Date: 00:05 02-04-2010
Rating: 8
Author: Webber
Comment: Braid is a little gem of a game like the World of Goo. Graphics are secondary to think about what to do next.
Post Date: 08:36 26-02-2010
Rating: 10
Author: speed
Comment: Another amazing indie game that deserves love from its players. Braid looks so simple but looks can be deceiving. You have to use your brain instead of your gamepads.
Post Date: 01:06 19-02-2010
Rating: 10
Author: trock
Comment: Braid is the most amazing console game that I have ever played. I paid $20 for it at my local Walmart but it was worth it. The graphics are unique and nicely done.

Do not make the mistake of thinking that Braid is likie Mario because I found it to be 10 times better. You have to think to get anywhere.