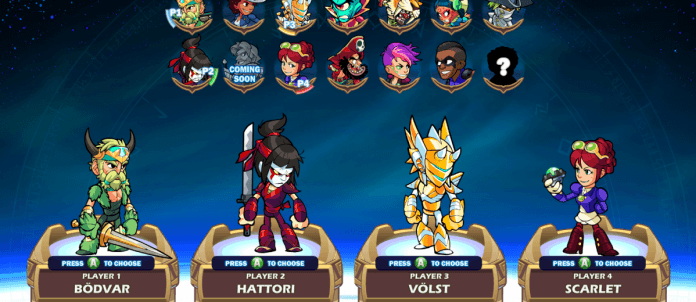 Great fighting games on the PC have been somewhat elusive over the years. The platform has been the home of countless great games and genres, but decent brawlers have been few and far between. Sure there have been a few like Little Fighter 2, Splashfighters, and Get Amped 2, but fighting games on consoles like Super Smash Brothers, Virtua Fighter, Tekken, Street Fighter, Mortal Kombat, the WWE franchise etc have all far exceed these games. That is until now. Brawlhalla, brings a lot of much needed brawling goodness to the PC thankfully.
For starters, the games is currently in closed beta, but will send beta keys from its site at http://www.brawlhalla.com/. Instead of waiting for a closed beta key, I went ahead and got the founder's pack via the Weekly Humble Bundle last week. Closed beta key or not,  the game will be free once it reaches open beta. Either way, you can play the game easily through Steam instead of having to worry about the client as in past fighters.
Once inside the game, you can choose from many outlandish characters including a minotaur, cowboy, viking, and pirate. The graphics style is very colorful and cartoonish, but it fits perfectly with the fast paced gameplay. Think Super Smash Brothers with Maple Story looking characters and you would not be too far off. This game screams fun before you even play due to the graphics, environments included.
The modes deliver a lot of bang for the free price tag. You can play single player, multiplayer versus, multiplayer co-op or local co-op. It even has full controller support to help handle the fast action.
I enjoy playing as the minotaur the most because of the big weapons it has. Of course, this is the closest character to an Ogre:).