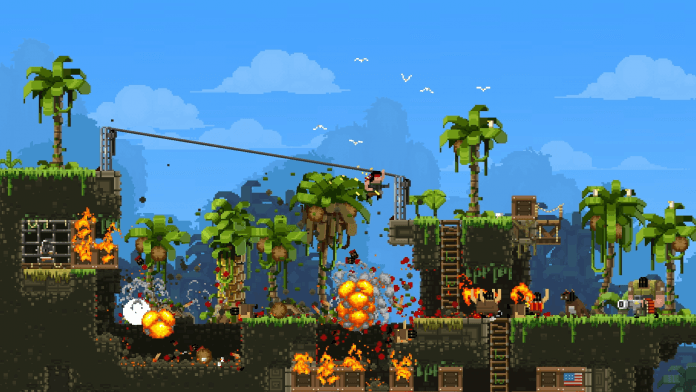 Broforce is a popular throwback to 80s wars games like the Contra and Metal Slug franchises only with a modern twist. Unlike games of yesteryear, this game features online multi-player and destructible environments. The game is not the easiest to classify, but picture Rambo in Terraria with no building and you get some idea of what Broforce is about and is capable of. The game takes some from old school games, some from modern sandbox games, and even a little from action movies from the 80's and rolls them all into one entertaining ball of brosomeness.
Get familiar to the use of "bro" because the game uses it by the truckload. In fact, this review will not exactly be bro-free either. To be fair, the concept works and the game is well on to being a cult-classic in addition to being a tribute to the action-packed 80s. The game just officially launched last week and has already developed a massive following on Steam along with very positive reviews. The video and theme song below shows an example of the game's high marketability.  In other words, the bro franchise is currently firing on all cylinders.
My Alienware PC even showed tribute to the game with a special light show that no other game has been able to incite yet. I normally run with a blue alien head on the PC and a blue keyboard, but my rig explodes with flashing colors every few seconds whenever I run the game. None of the games above including Terraria are capable of doing that so it cant be called old school in that regard at all. That is my only real con with Broforce.
The game itself is brilliant and can be very addictive whether you were around during the 80s or not. Being able to scale walls with a knife or blow up everything around you never seems to get old. There are also bucket loads of different bros to keep play interested whether you are playing bro-op, death match, or even solo. The replay value is very high because there is also a level editor for the community to create further action adventures. There are even explosion runs where you can partner with other bros for time attack runs through exploding surroundings. Like the Expendables movies (of which Broforce had a free game called the Expendabros), Broforce is likely the start of a very successful action game franchise.
Key Features:
Available on Steam for $14.99.
Just fully launched.
Online and local co-op.
Single and multiplayer.
Released on October 15th, 2015.
Is also available on Linux.
Destructible environments.
Has a free to play expansion called the Expendabros.
Has a level editor.
Dozens of bros.
Explosion runs.
Full controller support.
Pros:
Tribute to the 80s.
Environments are destructible by your weapons.
Characters are parodies of famous action movie stars and characters.
Retro gaming at its best.
Easy join multiplayer.
Unique Weapons.
The bro "brand" over  almost everything.
Can climb with a knife.
Chain reactions of explosions.
Each bro has their own special attacks and weapons.
Cons:
Not for all systems.
Goes "bro" crazy.
Alienware colors went nuts with this game.