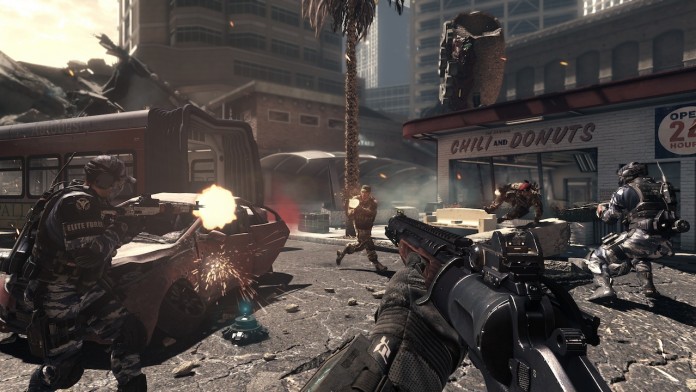 Call of Duty: Ghosts is a 2013 first-person shooter video game developed by Infinity Ward, with assistance from Raven Software and Neversoft, and published by Activision. It is the tenth primary installment in the Call of Duty series, and the sixth developed by Infinity Ward.
Post Date: 19:23 22-05-2015
Rating: 8
Author: axwellshm
Comment: I am going to review the game for which I thought that would be a really cracker in the whole franchise of CoD, but personally i think iy just decreased the whole idea of game (not judging the profit because i know they improved for sure, but I am judging the gameplay and game itself).When Infinity Ward took the CoD for itself, the game kinda started to get disassembled. I'm sure that they forgot about the campaign, and they were just turned over to multiplayer, which they kinda didn't improved at all.

Calculating the crowd for past few years, before Modern Warfare 2, it was a large bigger. I think they should turn over to the games that describes the World War or something, futuristic things (i doubt it would be great). Just I can remember Call of Duty 2 playing all day-all night multiplayer, campaign as well. I was amused by the game and I freaked out, i just couldn't stop. And then, when Call of Duty MW 2 was launched, i think that the campaign weren't existent at all. It was just around 10 missions and that's it. Action was there, but it wasn't that it. In CoD 2 different situation, graphics were average but the campaign was just epic. CoD MW 3 as well, same story. had maybe bigger campaign but it's still too small.

For the Call of Duty Ghosts, I think the game is completly designed for multiplayer (correct me if i am wrong i have never actually played the game, but i like to compare it with other cod series, and i am a really cod fan so…). Graphics are awesome, they sold the game in bunch of copies, but still it wasn't really that what satisfied me (personally but I actually think lot's of players did liked the game).

I see that LosmiK recommends members to not be upset about bad reviews. I am not judging, and nor anyone should see it in that way. They should just accept it as personal rate of the game. In the end, everyone has different aspects of approaching to some games, and everyone should share that opinion were it a good review or bad.

Let me get back on the game. Multiplayer is indeed cool. Lot's of mods avaiable as for other cod games starting from modern warfare. It's all about TDM (Team Deathmatch) & CTF (Capture the flag) – dunno is it existant in this game. I have watched lots of critics about the game, were they good or bad, and I see that the game actually really needs good components for normal play. I think they are actually right, I mean the games are evolving, we are coming to new era of gaming, new pc's are on market and new components. If you want to be satisfied, first buy some components right?! I actually can't even run the game on my pc , but nvm i think i wouldn't actually try to play it even. I am satisfied with CoD 2 🙂

Giving a rate of 8 just because of the personal taste.
Post Date: 18:34 22-05-2015
Rating: 9
Author: LosmiK
Comment: Shame this game is getting slated for problems like needing to have 6GB of RAM and no FOV slider. Hopefully they bring out a patch to fix those problems. Ignoring those problems i've been really impressed with the game so far. The campaign has a good story-line as far as Call of Duty games are concerned. No mission is the same so it keeps it interesting.As far as multiplayer goes i'm enjoying it more than most of the previous games. The create a soldier and loadouts are really good and the maps are decent. I've not had any connection problems apart from some lag in the odd lobby.

Overall the game is one of the best Call of Duty games so far, so I would say don't let the negative reviews put you off… I can understand why some people may be upset as there are some problems that may affect them but they should be patched soon. In the meantime there are 3rd party fixes like the fovely FOV changer which allows you to change the FOV in multiplayer. Fingers crossed the problems get patched soon because this is a great game that everyone should be playing
Post Date: 16:31 04-06-2014
Rating: 8
Author: najdan11
Comment: This is one of the best game in 2013 and it have very good story,and nice grapchics.This game has a amazing multiplayer,but this part isn't best part of Call of Duty.I reccomend to try this part,enjoy!
Post Date: 12:39 30-05-2014
Rating: 8
Author: NeSsQQuiCk
Comment: Very interesting story and good graphics. I would recommend it to anyone who likes shooting games. I had so much fun when I played it with my friends back in the days 😀
Post Date: 10:37 28-05-2014
Rating: 10
Author: bloga99
Comment: One of the best games I've played. Very interesting story and good graphics. I would recommend it to anyone who likes shooting games 🙂
Post Date: 10:01 22-05-2014
Rating: 10
Author: NoVaZz[E]
Comment: Still the best FPS.Has amazing singleplayer and mp.After finishing sp you will spend hours and hours playing in mp.When it comes on sale buy it fast,cause you will not regret spending any cent.
Post Date: 18:07 23-04-2014
Rating: 8
Author: Thedarkboy
Comment: So, it's time for yet another ride in one of this industry's biggest attractions. We already know that Activision is aiming on refinement rather than innovation when it comes to their heart's Call of Duty. I know that when I put the disc in the console, I will have to sneak in the tall grass, crawl on building facades, run in corridors, see buildings crumble, blow up doors and shoot everyone on the other side in slow motion, splash in some water, turn off the lights and sneak around with night vision equipment and all that as well as is a part of every Call of Duty. I won't even count how many times I hear the phrase "stay frosty".Call of Duty: Ghosts is about a mythical bunch of elite soldiers who have done a lot of hard things that are so incredibly hard that they deserved the epithet of ghosts. But when a mission goes to hell, one of the "Ghosts" gets separated from the others. Some time later, the Ghosts are suddenly started to get murdered, one after another.

The story might not be the most interesting under the sun's shining sore but the pace is there. One spectacular event after another without any interruption. For me, who has my attention span on a half YouTube clip, this is something that suits me well. I don't know when I'll close and always play for a longer time than I had planned, because the future mission seems so cool … the next as well… and the next. Despite all the extreme things that happen and the amount of hustle and bustle everywhere, Ghosts doesn't lose a frame of what I've seen. It's almost hard that even in the most intense moments, it's hard to understand that I'm playing on the Xbox 360 and not Xbox One.

Since all components of the campaign follow the same old familiar recipe, you could probably say that Call of Duty: Ghosts are superfluous – but I want to point out that it has never been as honed as it is now. It's so much fun, seamless, technically impressive and well-written. Practice makes you better, obviously. C all of Duty is in absolute top form.

In addition to the campaign, there are three different modes. Extinction, replacing zombies with aliens and results in something almost impertinent fun in and with all the variety. A nice change of pace from the previous zombie modes, even though I liked them as well. Squads, where you finally can play with bots and also explore the versatile soldiers. The third game mode is our well known multiplayer-mode. Familiarize Domination, Kill Confirmed, Team Deathmatch and Search and Destroy can be found along with some new games including Blitz and Cranked. The former is about just like Capture the Flag but without the flags and the latter force all players to kill as much as possible, so that you're not blown up. It undeniably reminiscent of Kinji Fukasakus sadistic roll Battle Royale.

In short, the online experience is crammed with entertainment for all tastes. The maps are just the right size, varied and above all more detailed than ever. There are plenty of plants which you can blend in with. On the other hand, there are also other nifty tech gadgets to use to your advantage than ever. Fans of the cleaner games, such as Counter-Strike offers with its free term and stripped challenges, will thus not become best friends with Ghosts. Then there is the fact that with almost infinite number of angles, corners and elevation changes comes the inevitable campers, now more than ever receive good results in staying hidden in one place while waiting for other players to get in sight. Just as one understands it is important to learn how the maps look, but it's not really that easy.

As the story feels a bit puny and all the parts that the game consists of are already known for most, Call of Duty: Ghosts drops a bit in grade. But when it comes down to it – should I play a modern Call of Duty so I choose undoubtedly Ghosts .