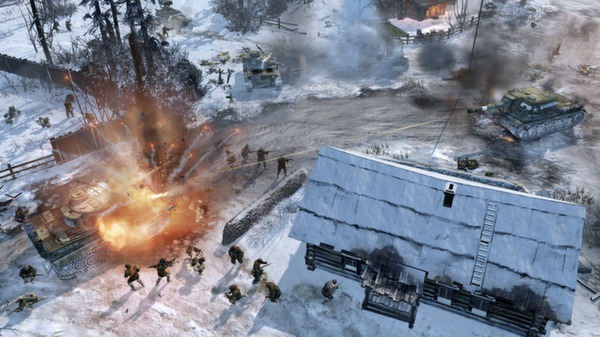 In the world's darkest hour you are a commander of the Soviet Red Army, entrenched in brutal frontline warfare to free Mother Russia from the Enemy invaders.
Post Date: 22:50 16-07-2015
Rating: 10
Author: axwellshm
Comment: It's a pretty good game to be honest. It's some sort of tactical game, and I like it. I also think I played some of the older versions of the game, or some different game, but with same gameplay. It's pretty good 10/10.
Post Date: 15:26 23-05-2015
Rating: 5
Author: LosmiK
Comment: Company of Heroes 2 is curiously forgettable as single player, even though cliched horrors of war and overdose of fake accents try their best. As a multiplayer it shines, although beginners usually think otherwise.
Post Date: 20:25 20-06-2014
Rating: 9
Author: FrendlyLeBlanc
Comment: Very god game 🙂
God missions 🙂
Recomended to try 🙂
9/10 🙂
Post Date: 13:53 20-06-2014
Rating: 8
Author: Vrcinac
Comment: awsome game its fun and evry one shouldnt defenetly try it most important thing is that its fun!
Post Date: 00:00 30-05-2014
Rating: 10
Author: Mordekaiser
Comment: awesome game better then number one with better graphics more missions more troop options and alot more snow 🙂