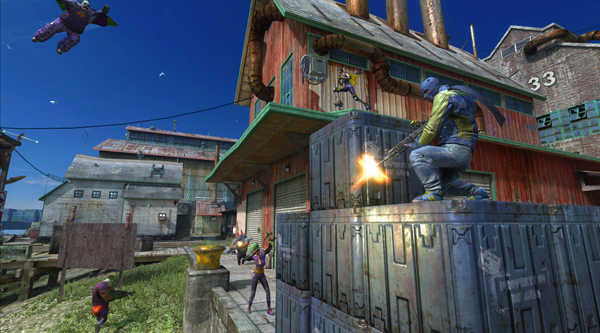 Gotham City Impostors is a first-person shooter multiplayer-only video game set in the universe of DC Comics' Batman. Developed by Monolith Productions and published by Warner Bros. Interactive Entertainment, the downloadable game is played from the perspective of two teams each trying to kill the other: one with people dressed like Batman and the other with people dressed like his archenemy, The Joker.
Post Date: 20:48 30-05-2015
Rating: 9
Author: LosmiK
Comment: Crazy and wild, Gotham City Impostors is a great multiplayer action game with great personality, a very good sense of humor, endless customization options and a very direct and intense gameplay that has enchanted us.
Post Date: 13:47 22-11-2014
Rating: 8
Author: Mihajlo
Comment: Gotham City Impostors is free to play FPS game developed by Monolith Productions. Characters are called Impostors and there are 35 different one and all of them can be customized. Game features 4 different modes (Psych Warfare, Fumigation, Bounty Hunter and Team Deathmatch). I rate this game 8/10
Post Date: 17:06 26-05-2014
Rating: 10
Author: ivekvv256
Comment: Pretty cool MMOFPS where there are 2 sides that you can pick. You can either play with the Batman players or with the Joker players. There are many weapons you can take and shoot with such as machine guns, sniper rifles etc. Each of them can be upgraded with some accesories that help you in playing. It's really fun game so I rate it 10/10.
Post Date: 07:16 03-05-2012
Rating: 7
Author: Thedarkboy
Comment: Game developers Monolith, who have a history of making great shooters, have teamed up with Warner Brothers to make a zany team based, action shooter that takes inspiration from two of the biggest names out there. It takes the heavy/light character models and their respective bonuses to health points and mobility from Team Fortress 2 and the addictive levelling and gear unlock system from Call of Duty, I would say it emulates the superior Black Ops system where you gain tokens to unlock gear you want. The loadout system is similar to other shooters, the guns range from assault rifles, sub machine guns and heavy machine guns to launchers, sniper rifles and freeze guns, each has customisable accessories and camouflage paints. It's fun sometimes but not always.