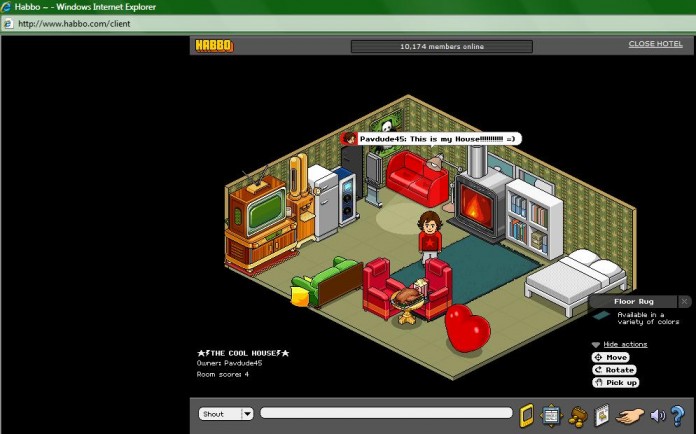 This is a game where you chat and have fun. There are some small RPGs based in the game, but everything else is mostly chatting.
Post Date: 20:04 21-07-2012
Rating: 8
Author: Dmt_2000
Comment: This game is pretty cool if you like social RPGS.
Post Date: 13:56 21-07-2012
Rating: 3
Author: Thedarkboy
Comment: Habbo Hotel is a virtual hotel where you have to create your own character and walk around in all sorts of rooms. You can meet new friends, chat or just relax for a while. It costs nothing to join but habbo coins (the page's currency) costs money. The graphics are ok I guess.. I've seen worse and I've seen better. I think that Habbo is pretty boring. To be honest I liked it before but now I don't enjoy playing it.
Post Date: 19:58 21-02-2012
Rating: 7
Author: Fluffymuffin
Comment: taz133, you are just lying, habbo hotel requires no download (only flash but 96% of the computer have that already). I enjoyed this game, but got scammed one time and had to start over again. After the new version came out, most people stopped, only the nolifers and the noobs remeaned. Now, the hotel has mostly noobs, but with good treating, you can become friends with them. Seriously, they are wonderful friends. Regret, you are being told to leave because they think you are a noob. Now overall:
____________________________________________
Graphics: 9/10

Habbo's graphics are made so that you can play in a room with 50 people without lag. 3D looks stupid on browser games. It's amazing how it's even possible to show al the billions of possible rooms without glitches.
____________________________________________
Community: 6/10

The center of the habbo community is trading, everyone strives to get rich and famous. Habbo's who don't care for furniture and stuff, just hang out. In habbo, it's very normal to say noob, even to someone playing for years.

_________________________________
Gameplay: NA.

Habbo is based around chatting but also a bit roleplay, as it's possible to make everything! The gameplay depends on the room you are in.

________________________________
Safety: 5/10

Sorry habbo, but i got scammed one time and banned without reason one time. Sulake shouldnt use moderators from Costa Rica. Habbo is crowded with scammers, but very hard to hack. Just don't go to rooms like: FREE CREDITS AND FURNI HERE!! And everything will be alright.

It's great if you just want to chat and meet people. I'm not really playing habbo anymore.

P.S. If you don't want to pay for credits, there are HUNDREDS of retro servers. Just search for 'Habbo Retro' on Google
Post Date: 13:25 13-11-2011
Rating: 1
Author: Thedarkboy
Comment: I think Habbo is boooooring. I used to play it a couple of years ago. But now I find it very boring. There's nothing to do there anymore.
Post Date: 20:05 03-04-2011
Rating: 1
Author: Kiyri
Comment: Awful…
I tried to give Habbo Hotel a chance, but no. I found the community to be full of spammers, liars, downers and people who want to cyber. I would never recommend this.
The graphics are awful. Everything is difficult to customise. Just… NO! 🙂
Post Date: 23:29 12-02-2011
Rating: 9
Author: Alesana
Comment: I have been on habbo for a few years now, yes, it has a pretty bad community filled with scammers, liars, etc. But it is pretty fun though to make game rooms, play games, etc.
Post Date: 12:25 22-06-2010
Rating: 0
Author: ken326
Comment: Horrible
Post Date: 18:40 01-05-2010
Rating: 1
Author: Regret
Comment: Horrible, horrible game. You can't do anything without being asked "asl". I don't even see how it's fun. Are you supposed to enjoy it or something? Because I didn't. I actually experimented with this game. I first started with a boy character and every time I tried hanging out with some people, they cussed at me and told me to leave. Is this how a community is supposed to act? I tried a girl character as well and tried hanging out with some people again. I was accepted with them. I was also mauled by "hi asl?", "add me bby", and "wanna have smex???". It was disgusting. Honestly, this game would have been a lot better if it wasn't filled with hormone raging kids.
Post Date: 20:25 19-04-2010
Rating: 9
Author: StepOnToes
Comment: I absolutely LOVE how people below are talking about viruses and all of that.
You absolutely, positively CANNOT get a virus from playing Habbo.
The graphics aren"t insanely high quality because it"s meant to be a PIXEL hotel, and even then, the graphics kick ass. The detail they put into the shit is extraordinary.
The community is like ALL communities. You have the preps(pigtails, skirts, sneakers, hang out in the Hallway[maybe not the Hallway anymore, more like game rooms]). You have the jocks(the players that are skilled in "Habbo Sports" such as Defend Your Pod, Mario Kart, HFL, PHBA, etc.). You have the emos(clearly not real emos, try not to confuse with suicidal players). Suicidal players, players that are always talking about killing themselves. The normal players, the loners, the douchebags and the friends. It"s no different from any other community.
Yes, the whole point of this is to make friends from around the world. That"s why it"s text-based. It"s all chatting. But, that"s also why users make games themselves to keep entertained. Sulake (creators of Habbo) have also incorporated a few games of their own, such as SnowStorm and BattleBall. They also hold competitions and stuff.
Post Date: 05:34 10-01-2010
Rating: 3
Author: mmorpggamer815
Comment: The graphics are quite nice but a little crude. The community was horrible to me when i first started.
Post Date: 03:00 31-08-2009
Rating: 1
Author: rockafella10
Comment: this game used to be fun when it was the old habbo but now it sucks and the people that get on. its lucky to get a 1.
Post Date: 03:53 30-01-2009
Rating: 0
Author: taz133
Comment: definatly 1 of the worst virtual worlds and you can get heaps of viruses from downloading it!
Post Date: 00:24 08-01-2009
Rating: 2
Author: alistaly
Comment: Trust me on this one it might look populated which it is but is one of the most boring games I've ever played. You can pay to get better stuff but its literally not worth it and the coins you buy can still be earned by getting a job which takes like quadruple the time so its practically a waste to pay for the coins or to earn them. But beside that the only fun thing that could be fun for someone would probably have to be the fact you might havea few friends to talk or maybe if you're into decorating games you can dress up yourself or decorate your room.
Post Date: 08:56 27-12-2008
Rating: 10
Author: OGC-Bricks
Comment: was an amazing virtual hangout back in the days.
it was good when i was young, obviously i grew out.
introduced me to online games 🙂
was fun, and many memories.
good for 10 year old to 15ish+
Post Date: 20:44 22-10-2008
Rating: 0
Author: zapleaf
Comment: Game sucks SO BAD. If you do not pay for there currency you can;t do shit besides hang out with the weird group of players who shout out about how all other games suck other then habbo.. Its awful.
Post Date: 01:30 06-09-2008
Rating: 0
Author: cremecookie
Comment: Graphics: 3/10 The characters look AWFUL!! You barely get any choices of clothes and they're all ugly. It gets a 3 because some of the furni look pretty good.

Gameplay: 1/10 Basicly all you do is walk around and talk to people. Boring. Also you can't even buy any furni unless you use real money so all I have are empty, unfurnished rooms. It's all about money ain't it?

Community: 5/10 Some people I met were pretty nice but there are some meanies xD and annoying people too

Total: 9/30 = a failure = 0
Post Date: 12:10 07-08-2008
Rating: 3
Author: stuza
Comment: when i was thinking of writing a review for this game i put it off not because the game dose not look good its because this is a very much liked game and i then thought that i might stand on a few peopls toes while writting this review but well iam doing it now so if you like this game beware you might get a little shck from what iam away to say

firstly the graphics are not as you can see brillaint for all the hype that gose into this game they are bellow par for a game which is loved by many and the theres the comunity aful the worst ever every one is to busy bing a compleat ***** to worry about anything else then there is th limited things you can do on this game talk and buy but thats ok until you find out the fact that you have to pay real money to buy anything so if you dont want to pay then all you can do is talk and as i said before everyones a ***** so its not worth even talking so thats it basicaly rubish oh and i forgot sound effective rubbish and the way you comuicate walk talk and even buy is bellow the standard and hype that you would expect i was dissipointed and frankly bored while playing this game i give it a four if you gona pay for the gameplay and a two if you are not so a generous over all 3
Post Date: 21:07 06-08-2008
Rating: 0
Author: aintnorocketscience
Comment: if u want a nice game to enjoy stay away. do u really want somebody harrasing u all the time, every room i went in about 25 sware words flying at u i wont demonstrate incase we do have younger members i dont know about you but i just feel so wrong i am old enough to join it and sware and wot not but im just not coftarble with this crap!
Post Date: 04:33 19-07-2008
Rating: 0
Author: clickmehere
Comment: arctigon First of all you cant tell me that im wrong because the game did it. I spent 4 weeks fixing it when I first did a virus scan it 3 days to finish and i had almost 29 trojans
Post Date: 21:01 29-06-2008
Rating: 9
Author: arctigon
Comment: Amazing Online Virual hangout
First off "Clickmehere" is wrong, you don't download the game you just download Shockwave if you dont have it yet. The game is browserbased, like AQ, DragonFable, or Runescape.

Habbo Hotel is a massive virtual hotel with public areas and rooms, including pools, rooftops, Cafe's, restraunts, hallways. And also guest rooms, rooms created by users like yourself.

You must pay, by credit card or prepaid cards in many stores now. To get coins to get furniture in your room. You could however get furniture or coins from other players, from doing jobs or just being friends.

You can play games, Hang out, Roleplay, Make rooms, have pets, eat at restraunts, explore the hotel, meet new friends, w/e you want.

Even without The money to buy furniture (furni for short) Habbo can be a blast if you meet the right people. All you do is register, doesn't even require a download. So it is Virus free.

The only Problem with the Hotel I had was some of the people. Lots of noobs lol
Post Date: 04:07 29-06-2008
Rating: 0
Author: clickmehere
Comment: Never played this game when i downloaded it I got 9 TRojan Viruses and a load of spyware and pop-ups!