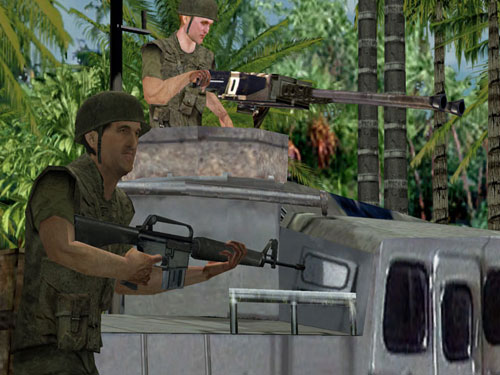 KumaWar, the first Kuma Reality Game, is a first and third-person tactical squad-based game that provides multiple updates monthly to the consumer's computer to reflect unfolding events in the real world. Each month KumaWar subscribers will receive playable missions, video news shows, extensive intelligence gathered from news sources around the world, and insight from a decorated team of military veterans.
Post Date: 19:00 05-06-2015
Rating: 7
Author: LosmiK
Comment: KumaWar doesn't succeed at being a great game, but the fact that the levels are based on such recent events is a compelling reason to at least try out the game.
Post Date: 22:41 25-11-2014
Rating: 8
Author: Mihajlo
Comment: Kuma War is free to play shooter game, where players can choose to play from the first or third person, developed by Kuma Reality Games. Game recreates the real events/combat operations in over 150 missions. I'd recommend this game to any military history lover. I rate this game 8/10.
Post Date: 10:07 01-11-2014
Rating: 10
Author: Maske123
Comment: Nice game
Post Date: 13:50 03-06-2014
Rating: 10
Author: ivekvv256
Comment: Really cool shooter, with many maps to play on, and with older graphics. I really enjoyed playing it and I reccomend that you try it out. 10/10
Post Date: 20:39 08-09-2012
Rating: 7
Author: PolanWalker
Comment: Nice and interesting online game. For me few thinks can be improved but its ok for me. 7/10
Post Date: 07:25 02-05-2012
Rating: 8
Author: Thedarkboy
Comment: I have been playing for about six months. It's a fun little free online game. I am in a clan which makes it a whole lot better. I really enjoy this game and always await the new real life missions as they happen. There are some things that need worked on. There are over 80 maps on it, and a lot of great sitiuations are setup. And now with the History channel backing it, I believe the future looks great for all kuma players. There are some issues with the Graphics, but then I really don't care for them. The Sound is great when it comes to sound effects and the music is pretty cool.
Post Date: 17:26 27-02-2011
Rating: 10
Author: dantabletennis
Comment: Cool!!!
Post Date: 11:15 03-04-2010
Rating: 10
Author: shafaat
Comment: such a nice game!!
Post Date: 05:47 09-09-2009
Rating: 7
Author: c4res
Comment: hmm sounds good….
Post Date: 02:49 13-01-2006
Rating: 5
Author: smile0987
Comment: cool game it the best every one shoud try it out now!~ the best ever i stoped playing red faction becouse of it