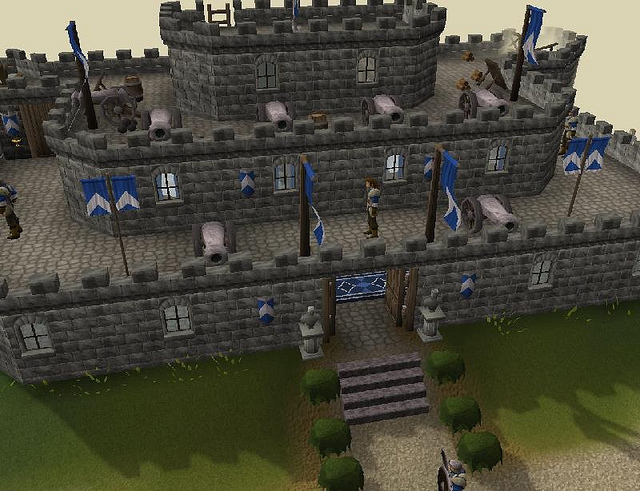 MMORPGs come in different sizes have different price models show different styles of graphics and offer a plethora of different game play features. You can try to play them all but you better have a huge wallet and no other life before attempting that. That said you are better off picking among only the best and if possible just one game to play at a time. Which MMORPG do you think is better than all others?
Finding The Answer
In a quest to get that answer GameOgre.com will have 16 of the top MMORPGs square off against each other in battles to the death in order to determine the MMORPG champ. The winning MMORPG will also be the MMORPG of the Year at GameOgre.com's 2006 Online Game Awards. Keep in mind that World of Warcraft has won Best MMORPG at the 2004 Online Game Awards and 2005 Online Game Awards. Since the goal is to find only one winner Free MMORPGs and Pay-to-Play MMORPGs will be able to go head-to-head with each other.
The Rules
Each week two MMORPGs will face each other until only one is left. You will be able to vote and leave comments for each game on special pages solely dedicated to this tournament. For example you can leave a 10 for the game you love and then a 0 for the game you hate. This is a battle after all! The game with the highest total score at the end of each week (Saturday morning at 12:01 A.M. CST) will move on. Comments that capture the spirit of the battle without bad language and overuse of caps will be displayed in the results article at the end of the week.
The Competitors
World of Warcraft – World's most popular MMORPG.
Runescape – Popular free MMO despite sub-par graphics.
Guild Wars – Can be bought in a store and then played online for free.
Eve Online – Possibly the best in the sci-fi genre.
Maple Story – Looks like a console game and is free to play.
ROSE Online – Solid MMO that was once free.
City of Heroes/City of Villains – Packs plenty of action with content being consistently added.
Final Fantasy XI – Can be played on the PC and consoles.
Dungeon & Dragons Online – Had the potential to give WoW strong competition that fell short. Has been improving as of late.
Dark Age of Camelot – Still alive and kicking. Helped innovate PvP in the industry with its realm wars.
Anarchy Online – MMO that has tried to innovate the industry with mixed results. Offers free play with in-game advertising.
EverQuest 2 – Sequel to the former MMO kingpin. Has not achieved the success of the original but boasts superior graphics.
Saga of Ryzom – Relatively small MMO that now offers an unlimited free trial.
Supreme Destiny – Nice 3D graphics and free gameplay have made this a favorite on GameOgre.com for sometime.
GunZ – Offers plenty of action and no subscription fees.
Conquer Online – Leads the emerging sub genre of martial arts in MMOs.
First Round Match-Ups
World of Warcraft vs. EverQuest 2
Guild Wars vs. Dungeons & Dragons Online
Eve Online vs. Anarchy Online
Final Fantasy XI vs. City of Heroes/City of Villains
Dark Age of Camelot vs. Supreme Destiny
GunZ vs. Conquer Online
ROSE Online vs. Saga of Ryzom
Runescape vs. Maple Story
Second Round Match-Ups
World of Warcraft vs. City of Heroes/City of Villains
Guild Wars vs. Supreme Destiny
Eve Online vs. ROSE Online
Maple Story vs. Conquer Online
Semi-Final Match-Ups
World of Warcraft vs. Eve Online
Guild Wars vs. Maple Story
MMORPG Showdown Final
World of Warcraft vs. Guild Wars
The Battles
World of Warcraft vs. EverQuest 2
Guild Wars vs. Dungeons & Dragons Online
Final Fantasy XI vs. City of Heroes
Dark Age of Camelot vs. Supreme Destiny
World of Warcraft vs. City of Heroes
Guild Wars vs. Supreme Destiny
Maple Story vs. Conquer Online
World of Warcraft vs. Eve Online