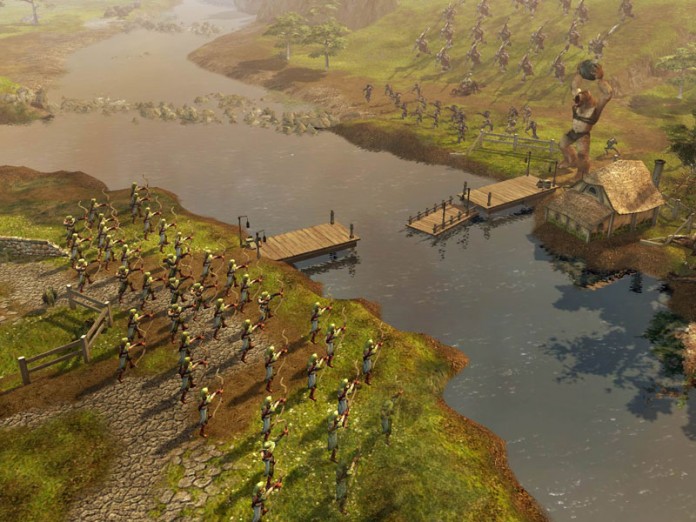 With all new content from J.R.R. Tolkien's original fiction, delve deeper than ever before and engage in new battles that go beyond the award-winning movie trilogy. Wage war in the North and assume command of the most storied civilizations in all of Middle-earth history — the Elven and Dwarven armies — or fight on the side of Evil with heroes and creatures that have never been seen in The Lord of the Rings films. Defend or overtake never before seen lands such as Dol Guldur, The Misty Mountains, and Mirkwood as you unleash powerful new weapons and abilities – summon dragons, cause volcanoes to erupt, or bring down a cataclysmic lightning strike.
Post Date: 09:42 25-06-2014
Rating: 8
Author: Vrcinac
Comment: i like whole battle for middle earth series cuz of its story line and gameplay is very fun and creative but lets be honest we all play this game till the end just to stummon Balrog at the end right xD? awsome game 8/10
Post Date: 15:27 23-05-2014
Rating: 9
Author: Frozen
Comment: nice strategy game nice graphics and gameplay 9/10 🙂
Post Date: 18:14 26-03-2014
Rating: 10
Author: bokismoki
Comment: Best game
Post Date: 15:33 15-08-2012
Rating: 8
Author: PolanWalker
Comment: Its nice dtrategy with good graphics and gameplay. For me 8/10 😀
Post Date: 17:13 20-01-2011
Rating: 10
Author: dantabletennis
Comment: BRILLLLLL!!!!
Post Date: 17:01 12-09-2009
Rating: 5
Author: Fikri Perliong
Comment: Battle for Middle-Earth II is just ok.
Post Date: 13:52 21-07-2008
Rating: 7
Author: clickmehere
Comment: Pretty good game overall Ive always wanted to kick the orcs butt.
Post Date: 20:29 11-04-2008
Rating: 6
Author: Marz777
Comment: ok. takes a lot of memoty. the first one was better.
Post Date: 04:27 03-04-2008
Rating: 6
Author: Falar
Comment: I actually preferred the first one more; the pre-built castles were nice, and the limited building features made it important what you got. The area-based farm system in this is extremely annoying, strategies were not meant to be played on consoles(the XBox 360 version). The addition of ships was pretty nice but didnt live up to my expectations. A decent game, but by no means great.
Post Date: 13:26 02-11-2007
Rating: 9
Author: jedigonz
Comment: this is a good game its like warcraft but better and it looks really god in the xbox 360
Post Date: 04:21 29-10-2007
Rating: 8
Author: philonus
Comment: Graphics- is great but you need like a really nice computer if you want a really nice graphicSound- GoodMusic – Good, nothing different from the movie

Plot- there are some add-ons but it's fairly original to LOTR movies

Game-play- Is good but the only thing I find most original is that you can use your awsome hero skills to wipe out an enemy force and some awsome power boost you get now and then to improve your force and destroy your enemies. However most of these are not so new, they're on mythology and Warcraft III. Most of it isn't very new to me and one thing I don't like about the game is that you don't control as much enemies as before. If the population limit was about 1000 the game probably would've impressed me more.
Post Date: 05:34 17-06-2007
Rating: 8
Author: Juggernott
Comment: Real fun game I just wish that there were bigger maps.
Post Date: 22:07 08-05-2007
Rating: 5
Author: Fali-brak
Comment: da games cool nuthing all dat different frm da rest of lotr but good neva da less
Post Date: 17:52 06-01-2007
Rating: 8
Author: oneyx
Comment: I say that this game is awsome but i would still rather play age of mythology.
Post Date: 13:45 31-05-2006
Rating: 10
Author: DragonLord
Comment: i bought this game before i signed up for GameOgre fantastic game my hero is a Troll with superior call reinforcements Great Berserker rage and Great poison Strike if you want to add me i'm Z0rich
Post Date: 02:59 25-05-2006
Rating: 8
Author: Bluejohn
Comment: Its no Starcraft or even Warcraft but it is still fun.
Post Date: 09:47 22-05-2006
Rating: 9
Author: AskMe
Comment: Wasnt expecting much due tyo the first one but this RTS really impressed me. I got it because I am a big fan of the movies like everybody else but the gameplay is what keeps me addicted lol.
Post Date: 16:41 07-05-2006
Rating: 10
Author: PersonalRaptor
Comment: Lord of the Rings: Battle for Middle-Earth II, has all a gamer would want. It's a good strategy game, take's alot of skill to "Master" the game, and when you go online, WOW, is it great!
Any lover of games witch are adictive, good, fairly-priced and Online, should really get this game.The only thing a little bad about it is the lag you get sometimes on the game, if you increase command limit.