MOBA Games List
MOBA stands for Massive Online Battle Area Games. This genre of games uses elements from RTS and RPG games in order to make an exciting fast-paced hybrid of the two. Unlike most other MMO genres, MOBAs are just getting started. High profile entries further shows how bright the future is for these games.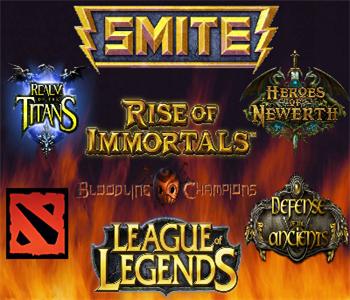 MOBA Forum
Discuss you favorite MOBA Games with GameOgre.com community members.
League of Legends Video Review
GameOgre.com's official review video for League of Legends.
MOBA Games
League of Legends
The current leader from Riot Games. LoL is a very competitive and action pack pioneer of the genre.
Heroes of Newerth
Real-time strategy MMO where you do not have to micro manage every stat and troop.

DotA
Defense of the Ancients. The original MOBA that came from a popular Warcraft III mod.

DotA 2
Sequel to Defense of the Ancients.
Realm of Titans
Realm of Titans was developed by Pro Defense of the Ancient Players. Choose from dozens of skills and spells.