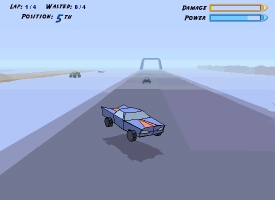 Need For Madness is a 3D-Cartoon game developed in Java. It is a very mad car racing, crashing and stunt performing game.
Total Rating: 6.29
Reviews: 7
Review Archive
Post Date: 17:49 04-12-2014
Rating: 6
Author: paksupro4
Comment: This is free 3D racing gmae. In game you , there is a lot of ,,mad" racing , crashing and action in game. Graphic is 3D developed in Jave and it is looks like cartoon. Game is good and i rate it with 6/10
Post Date: 16:24 15-10-2014
Rating: 2
Author: brankomiljus20
Comment: I dont see nothing special here, low quality racing game. Other vehicles wana destroy you, so need to be careful, to restore HP u need to do stunt when u jump.
Post Date: 23:38 17-01-2013
Rating: 7
Author: Mordekaiser
Comment: This game is great graphics well lets not talk about them 😛 the game play is super fun and the game is fun and also the art style is great really sharp if you ask me it may look kind of grainy but its pretty sharp
Post Date: 14:20 10-01-2012
Rating: 6
Author: Thedarkboy
Comment: An OK game.. The graphics aren't that good though. I consider this game to be a time killing game.. For me at least.. I recommend this only to those that are bored all the time :p
Post Date: 12:51 18-06-2011
Rating: 7
Author: KuroTsuna
Comment: This game is fun.
Post Date: 16:51 10-07-2008
Rating: 10
Author: Samsta
Comment: OMG this game is sooo fun! very good cause instead of actually racing you can just crash the other cars! >:)
Post Date: 23:43 12-08-2007
Rating: 6
Author: royalfrost
Comment: Good game with cool tricks!