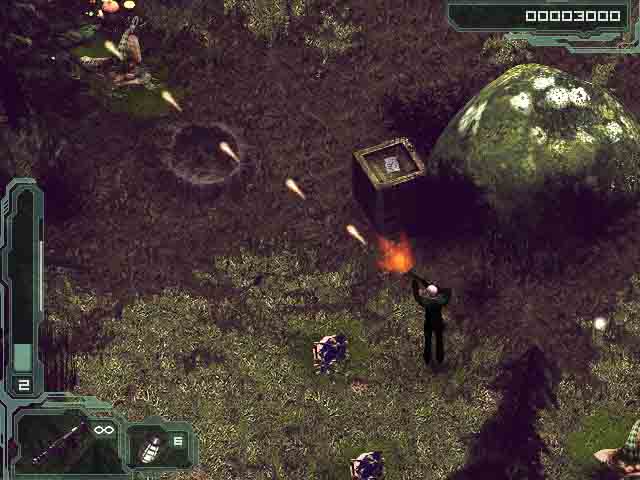 Neocron Arcade is a classic arcade shooter based on the world of Neocron – violence, mutants, edgy content… and big guns! Agent Jones works for the CityAdmin, his specialty are delicate projects. It is not surprising the CityAdmin sends him to investigate the reports about a strange creature that appeared in the barren Wastelands. Soon enough he has to fight for his life… Blast your way through several chapters with different locations, collect power-ups and weapons and use the slow-motion feature to cut your way through waves of enemies. Can you beat all bosses for the ultimate victory?
Total Rating: 6.75
Reviews: 8
Review Archive
Post Date: 11:21 02-02-2015
Rating: 7
Author: thundemp2007
Comment: Neocron Arcade is one of the arcade shooter game that will gives you non stop action. The creativity of story play is good, as a player you start with enough weapons until you search for more powerful weapon as your journey continues. The graphics is really fair and there are many challenging levels that will give you great experience.
Post Date: 17:55 04-12-2014
Rating: 7
Author: paksupro4
Comment: This is free arcade shooter. In game you are on world called Neocron ( you see that in name of game) that is full of mutants and other stuff. Point is to finish all missions, complete all chapters and defeat all bosses. Graphic is old but i love that old graphic and i rate this game with 7/10
Post Date: 15:44 22-08-2014
Rating: 8
Author: ivekvv256
Comment: Interesting game to play when you are bored… Graphics aren't really good, but it's good one as it is. Gameplay makes up to it so I rate this one 8/10.
Post Date: 23:44 29-12-2012
Rating: 7
Author: Mordekaiser
Comment: Pretty fun game really good graphics are good and the game play is great and also it reminds me off alot of classic tower defense games so this games was really fun for me
Post Date: 19:57 10-01-2012
Rating: 6
Author: Thedarkboy
Comment: This game is a pretty nice game to play. The graphics aren't the best but not the worsst either. So it's pretty ok.
Post Date: 15:08 15-07-2011
Rating: 5
Author: cooldude671
Comment: A good game to play. Graphics is okay and so is gameplay
Post Date: 04:02 06-05-2011
Rating: 7
Author: sasuke24
Comment: A fine game to play. Graphics is moderate and gameplay is exciting.
Post Date: 12:29 28-01-2006
Rating: 7
Author: pellnell
Comment: Prefer FPS games, but definitely different seeing a game like this based on a MMORPG.