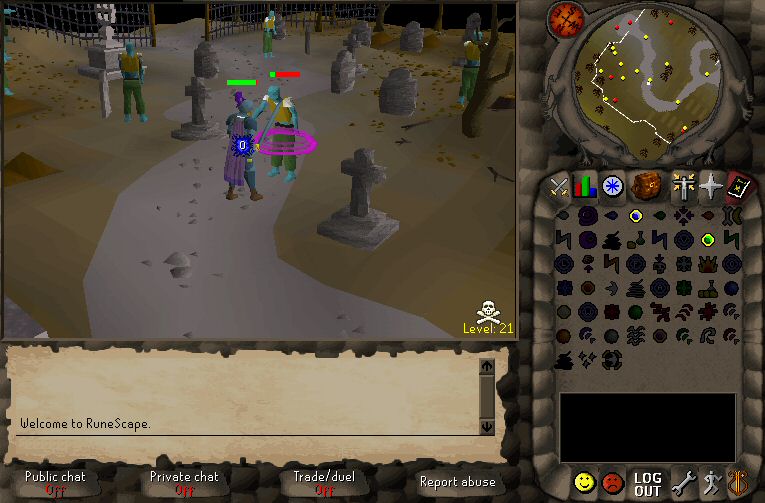 Game Description
Sometimes called "The Poorman's EverQuest", RuneScape is a 3D fantasy MMORPG with monsters to kill, quests to complete, and treasure to win. Players love it for its price or lack of one and the fact that its one of the most popular browser games online. As of this writing, there are over 70,000 players currently playing the game. Other players hate RuneScape for the game's huge grind and poor graphics. Either positive or negative, this is a game that gamers usually have an extreme opinion on.
Select User Reviews
Author: Lord Of Darkness Ixor
Comment: I have been playing this game for quite some time (around 3 years) and I still find it addictive and compelling. With all the game options, choices, items, clans...., I find this game irresistible.
Author: Evil Meatloaf
Comment: I've been playing RuneScape for almost a year and a half now and have to say that it is one of the best online MMORPGs I've seen. The graphics aren't that great, and the game is fairly laggy, but it is updated very frequently and only costs 5 dollars a month. I give this game a well deserved 9 and recommend this game to all.
Author: Gamer pete
Comment: Now, if you want a game that is completely free and you don't have to download, this is definitely your game! All you have to do to register/logon and play is go to www.runescape.com and play. There's a ton of weapons to collect and make, stats to build up, and quests to beat. The only downside is (the only way) to be able to have access to everything in the game, is to become a member. When it said free, I thought they meant completely free.
Pricing Model
Offers a free and premium version. The premium version costs $5 a month. There is no time limit on the free version but you will need the premium version to access everything in the game.