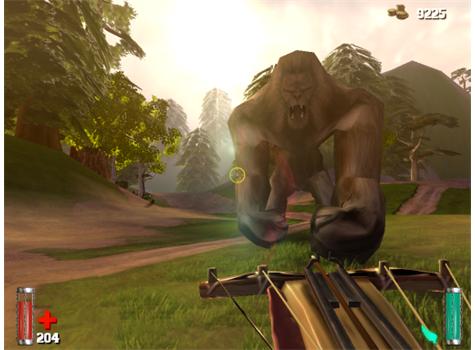 Savage combines real time strategy and first person action in one fluid game. Instead of sending mindless computer drones into battle, imagine organizing real human players on a crusade to conquer your adversary. Choose to be a commander, and you will play an in-depth RTS game, researching technologies, mining resources, and issuing orders to your units. Choose to be a warrior, and you will play an intense game of first person combat, wielding your weapon of choice to strike down the enemy.
Total Rating: 7.56
Reviews: 9
Review Archive
Post Date: 22:44 08-12-2014
Rating: 8
Author: paksupro4
Comment: This is free, RTS and FPS in one game. You can choose what you want to play , commander and you playing RTS and warrior and you are playing FPS. Gameplay is nice and graphic is good. I like this game and i rate it with 8/10
Post Date: 00:19 25-11-2012
Rating: 8
Author: Mordekaiser
Comment: This game is pretty good the graphics are kinda bad but its pretty fun the game could be better in alot of ways but its still pretty fun number 2 seems better but its down right now if you like this game in any way then you should try out number 2 also enjoy 🙂
Post Date: 19:04 24-11-2012
Rating: 8
Author: PolanWalker
Comment: Connecting FPS with strategy is smth new for me 😀 Better for me are strategys so I chosed to be a commander 🙂 This game is easy to play so everyone will find him self in it 🙂 For me great fun 🙂 I give it 8/10
Post Date: 13:49 13-01-2012
Rating: 5
Author: Thedarkboy
Comment: Pretty nice actually. It's pretty easy though. It should be more challenging, accoring to me. I would like to play this for a longer time.
Post Date: 06:36 05-12-2010
Rating: 8
Author: EcLuD
Comment: 1- easy
2- funy XD! really -.-
3- and is good..
Post Date: 00:03 03-04-2010
Rating: 9
Author: DavidT9530
Comment: This game is good I like it and I would really like if I download it to my PC so that I could play it everyday before i sleep
Post Date: 15:44 28-02-2009
Rating: 7
Author: pilack49
Comment: Great idea but never caught on where I live. Part 2 is better…
Post Date: 02:12 22-12-2007
Rating: 10
Author: BobFrank
Comment: Best free online game I've played. I don't know what the other reviewer is talking about – I live in Australia and the Internode servers always have 20+ players on them. At times, they have about 50, so there's no problem finding a good server. It has a surprisingly large, dedicated community and a sequel on the way.

It most certainly not get boring after a day or two because it takes so long to learn how to play commander. Playing as a unit is great fun, too – you can constantly expand your strategies and skills amidst the hectic FPS combat.
Post Date: 21:13 19-11-2006
Rating: 5
Author: mmoking
Comment: Not bad…. but its hard to find a joinable server and it get boring in a day or two.
graphics 8/10
gameplay 5/10
community8/10