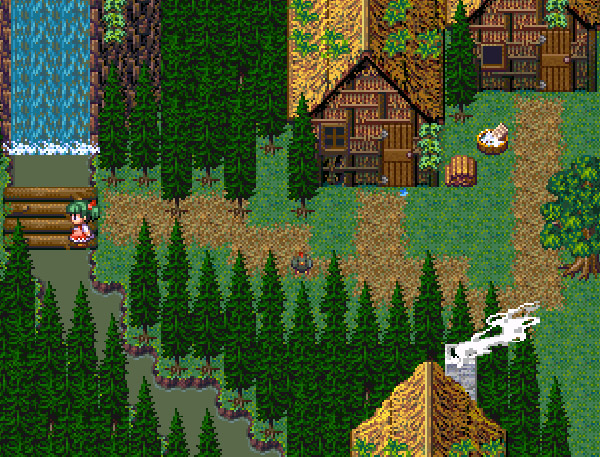 Free RPG/adventure like FF 6 or Chrono Trigger with over 40 quests. Forced from your secluded island village to the mainland, you embark upon an epic quest through enchanted lands filled with hostile creatures bent upon destroying you. The journey will not be easy, but through sheer will and determination, you must master your powers, your fears, and your destiny. If you falter, your village, kingdom, and world will fall into an age of darkness.
Review Archive
Post Date: 21:24 11-08-2015
Rating: 7
Author: Septera
Comment: Ahriman's Prohecy is rpg game based on old jrpg snes games.
It has great story , has a lot of puzzles through game and offers hours of content.
Everyone that enjoyed old final fantasy series ( from 1-6) should definitely give this game a chance.
Post Date: 21:42 27-11-2014
Rating: 7
Author: paksupro4
Comment: This is free RPG adventure game. You are doing quests and reaserch that islad where you are.Graphic is old but i love that kind of graphic. I rate this game with 7/10
Post Date: 19:56 28-06-2014
Rating: 4
Author: Aki013
Comment: I don't like this game,because its very old and graphic are very bad…4/10
Post Date: 21:01 14-06-2014
Rating: 4
Author: htsUNL1MITED
Comment: In my opinion not bad game but he is old game and i dont play anymore…)
Post Date: 07:52 13-06-2014
Rating: 3
Author: Shokata
Comment: Very old , bad graph , but it's not bad at all !
Post Date: 18:28 02-05-2014
Rating: 7
Author: nikiwild
Comment: Here we have an old rpg game, its nice, there are not many missions, but its really funny to play.
Post Date: 12:03 04-01-2012
Rating: 4
Author: Thedarkboy
Comment: I don't really like this game.. The graphics aren't that good. I didn't play this game for a long time because it was pretty boring.. 4/10 from me.
Post Date: 12:42 18-06-2011
Rating: 6
Author: KuroTsuna
Comment: nice game for a free game
Post Date: 16:25 12-04-2011
Rating: 6
Author: Adrian
Comment: Great little RPG, could use more quests and levels. More monsters…6/10.
Post Date: 01:10 12-04-2011
Rating: 6
Author: EcLuD
Comment: As the game is interesting (the story), the rest it is very similar to RPG zelda, before .. one that changed and other characters, anyway. 6 / 10
Post Date: 03:51 28-08-2009
Rating: 2
Author: mean221
Comment: Wasent a very good game very bad graphics and is a little bit slow
Post Date: 03:44 21-07-2008
Rating: 7
Author: jonkujo1
Comment: looks like a promising game i like old styled graphics i dont know why i didnt get to try the web page didnt load up for me i give it this rating from the looks of it
Post Date: 14:43 09-12-2007
Rating: 8
Author: mariovslink
Comment: it looks cool it looks alot like graal online
Post Date: 16:46 17-11-2007
Rating: 5
Author: FloatyPineapple
Comment: Everyone who ares things by graphics are idiots, complete idiots.
Post Date: 02:15 14-05-2007
Rating: 1
Author: mykai
Comment: i couldnt get through the game cause the graphics were so bad, i couldnt see the words
Post Date: 01:40 01-01-2007
Rating: 5
Author: oddone65
Comment: the graphics dont look too promising, but with what he said, it seems like a good rpg…. for extreme rpers…
Post Date: 06:55 13-12-2006
Rating: 9
Author: googleplex
Comment: Ahrimans Prophecy is an excellent game. It has a great story, great puzzles, and I find the old-school graphics charming. I've been playing RPG's since Final Fantasy 1 came out on the NES, and I'm still a gamer. (I have an xbox 360 now). For those who think it's all about graphics, give this a try; I think you'll be pleasantly surprised. DEFINETELY WORTH THE DL!
Post Date: 03:36 26-10-2006
Rating: 0
Author: Kanbei
Comment: it could be a great game! and then i saw the screenshot. And i was like, WOW! why not just make it for the PS1 or just the gameboy color if you"re gonna have graphics that bad. I dont like the way it looks at all and i wouldnt recommend it, but give it a try if u want to waste your time.