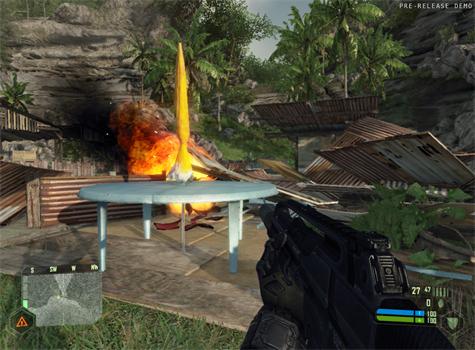 From the makers of Far Cry, Crysis offers FPS fans the best-looking, most highly-evolving gameplay, requiring the player to use adaptive tactics and total customization of weapons and armor to survive in dynamic, hostile environments including Zero-G.
Post Date: 21:17 25-05-2015
Rating: 9
Author: LosmiK
Comment: Crysis is visually stunning, packed with intelligent, thrilling gameplay, and easily one of the greatest shooters ever made.
Post Date: 20:52 18-11-2014
Rating: 9
Author: Mihajlo
Comment: Crysis is a first person shooter game developed by Crytek. Multiplayer system uses the GameSpy Network, there are two game modes (Instant Action and Power Struggle), 2 factions (American Delta Force and North Korean Army) and six maps. I rate this game 9/10.
Post Date: 08:18 27-07-2014
Rating: 5
Author: Marks
Comment: Crysis is a war game about which I'll explain the best I can, so to start.The first mission of Crysis begins with six soldiers Relegated from the plane and let the parachute.After some time on the left side of cured some kind of monster that breaks some soldiers, including me.When he fell into the water swam to the beach and when he came out he had a rifle and a pistol after a few moments, see the helicopter which he sidestepped and continued on his way.And so he continues to go to the right and runs into a man and kill him, and after a few meters it has two other men who had to kill and took their rifles and pistols (more precisely, for a total of three rifles and one pistol).After 2 minutes walk video of one of his friends (he was one of those who jumped from an airplane),and also heard some screams and followed the sound and suddenly it's quiet and they saw their dead comrades and that his friend was left to investigate a Crysis moved on.Thus I'll tell you what can be used as a power of the suits used.Maximum power (for higher jump and shot), maximum speed (for greater speed) The maximum Armor (To and pay their energy and its helti Trozo when shooting) Invisibility (it is not visible :D).To get back to the mission when he came to a canyon had to jump a little higher and then had to use maximum power and jumped a couple of seconds walk saw two soldiers and killed them.When he walked out of chances 2.5 minutes has been met with a small village at the entrance to the village which has a guard at the place where he was on (player) killed the soldiers, and then since it was next to the sea there were boats.These boats were firing machine guns (one drives while the other shoots) I normally watch the first kill of what drives easier to kill that which has,but of course there are bothered me the other soldiers from the village and one of the soldiers sent to another village sign that the danger he was killed soldiers from the country comes to a jeep runing (the jeep has a machine gun and four soldiers in it.When he decided that the soldiers had to go on the beach so that it avoids ci noticed another boat which goes near the beach and so he faces five soldiers and a jeep that he had to kill.When killed he went away but it took a jeep and then when he started a few seconds later there were 3 people in the grass and began to fire on them and killed them and then moved on to a small road was a jeep and ran up to his jeep and the jeep exploded and he jumped before, of course (as I normally do).Then I came across a very big challenge, and it is a village with just enough troops of 25 + the opportunity to call for backup to a backup comes with the boat.When after a hard war killed all the soldiers continued on and again came upon the village when he killed and there was then he started something interesting after a long walk encounters a ship and two of his friends and once cured a big monster and prepolomljava ship in half and the monster got away.He and his friends (allies) began to chase him along the way is a dead body, but after a while he jumps off a cliff and look down one of his friends to lay on his deathbed.He annoyed he went on with his two friends and run into a little village, and nobody alive.Friends leave him alone to go on a quest.He picked up the ammo and started with a jeep runing Following some time and was met with another jeep and killing and killing and naosao some soldiers who had apparently stopped the dam or something.They were about fifteen and a lot of them came through what he went when he killed them all,Up the hill is the village that had them all killed, and also took a bazooka and a sniper.was a big village so far the hardest part of whom he met more than 100 soldiers and two tanks (tanks come later) somehow is passed to the destination where he had to go and that he had to open one Vreta and suddenly sees his friend standing next to it (turn on to be not visible) and opened the door and there was a soldier who molested a girl they killed him and took the girl then he had to go out and solve all the soldiers, coming after two tanks which must be resolved, the question is how?Well bazooka course but did have three rockets enough?They have worn out 3 missiles to down a tank and what is the other?He had to find another bazooka and eventually found her in the basement of the house where the girl was trapped.fter he killed the whole village and went to the woods, and of course there was a lot of a lot of hard, but somehow it goes and come up with some Pecinjo and there and a friend of his who he wait.Tu ends my writing will be a sequel! 😀
Post Date: 19:44 04-06-2014
Rating: 10
Author: Aki013
Comment: Its one of the best shooters game for me.Multiplayer is great ,but singleplayers is so easy to play.10/10
Post Date: 12:47 30-05-2014
Rating: 4
Author: NeSsQQuiCk
Comment: This is verry borring game to play in mmultiplayer and it gets bored very fast in single player. Graphics are not bad but game is not realistic too so I would give it 4/10
Post Date: 14:26 19-05-2014
Rating: 10
Author: ivekvv256
Comment: I prefered playing Far Cry more then Crysis, since Far Cry is more realistic, but this is also an addictive game with great gameplay and many weapons. Though it was really famous I wasn't really into it as much as in other shooters, but I enjoyed the short time in playing it. 10/10 🙂
Post Date: 08:05 17-04-2014
Rating: 10
Author: nikiwild
Comment: First, my rating: 10
Multiplaer 0 / 10 ( i dont know if it can be played online )
Gameplay 10 / 10
Graphics 10 / 10
Sound 10 / 10This game is awesome, those thays when it was released in 2007 it rocked all of person shooter games. I have to tell the graphics the sound every thing is awesome the people who worked on this have spent a lot of time making it i bet on that. The game is about future, you are a some kind of a robot, and you go throught the jungle killing people, thats the first mission. Ingame you can ride venechiles pick up whatever you want and throw it, go where you want, and many more. Ingame you have some kind of a power ups. What does the nanosuit say about its wearer in crysis. That the player has a need to improvise, a need to see-saw between being an assassin and being a brute. Press Q reads the manufacturers tag on the collar, to harden your skin like a brick wall. Press E to become as transparent as a pane of glass. And many more cool stuffs.
Thats all for this game i think its awesome. You should try it.
Post Date: 20:03 15-12-2013
Rating: 10
Author: Mordekaiser
Comment: One of the best shooter games out there the graphics are simply awesome the gamplay is like nothing that has been in any other shooter back in the day this was number 1 for all shooters until about 3 years ago it used to be the highest detailed and the way you level yourself is also awesome this game is an easy 10/10 for classic awesomeness and the other ones are even better 2 and 3
Post Date: 18:17 18-07-2012
Rating: 9
Author: PolanWalker
Comment: Nice FPS. Good graphics and gameplay ability provides great fun from play. Everyone must to try this and all other parts.
Post Date: 16:54 26-04-2012
Rating: 8
Author: KuroTsuna
Comment: Crysis is a good shooting game, because I have friend who plays it 24h seven days a week so it can't be a bad game if many people are addicted to this game. The game design is very high quality and the weapons are really realistic too. The killing style of this game is really good and the interface of this game if better than other shooting games,but some things in this game are very unrealistic, since it's not like MW-games that exist in the real world. the map in this game are very sci-fi and is very original.
Post Date: 07:01 26-04-2012
Rating: 9
Author: Thedarkboy
Comment: This is a shooter you really have to try. Even though it's not the best shooter out there, it's one of the best. The graphics are pretty good.. At least I think so.. The gameplay is also good. This is not a time wasting game. WARNING: It can be a little addictive xD
Post Date: 04:51 13-05-2011
Rating: 9
Author: sasuke24
Comment: A superb game to play. The graphics is awesome and gameplay is enjoying.
Post Date: 02:13 28-04-2011
Rating: 10
Author: deathmerc2
Comment: how do you get it? hmm
Post Date: 21:37 01-02-2011
Rating: 9
Author: Adrian
Comment: Crysis is the most stunning game I have ever played, the graphics are the best you will ever see in a videogame (until around 2020 :P)
Post Date: 20:41 28-04-2010
Rating: 9
Author: awesomedrako
Comment: This game is a remarkable achivement. Crysis, on the resolution of 2560 x 1600, with all the settings cranked to the highest, CANNOT BE RUN SMOOTHLY FROM ANY COMPUTER ON THE PLANET!!! At least, there hasn't been any proof of this happening. As most people know, Crysis graphics are ASTONISHING. However, just to give you an idea of how over the top the graphics are, THE BULLETS ARE SHADED. The BULLETS. As you can see from the screenshot, Crysis is a pretty darn good looking game. And the gameplay side hasn't been sacrificed either. This is actually an open world FPS, that is very fun to play!
Post Date: 22:12 26-03-2008
Rating: 4
Author: Sareth19
Comment: Graphics= Horrible, Sorry, but MGS4 will look much nicer on the Ps3.
Post Date: 06:13 22-11-2007
Rating: 9
Author: Big Mo
Comment: Awesome shooter…. The multiplayer with power struggle makes a great single player game even better. Only taking a point off because the AI is not perfect. I was able to swim under a boat with soldiers firing at me but they eventually forgot about me lol.
Post Date: 06:08 16-11-2007
Rating: 10
Author: Banger
Comment: Wow, just wow. Never played a better FPS. Puts some of the games to shame! The graphics are so real looking that you feel like you are there!
Post Date: 23:31 11-11-2007
Rating: 10
Author: tronofive
Comment: ive only played the demo around 9 times but this has to be one of the most finely crafted fps games ive ever seen.