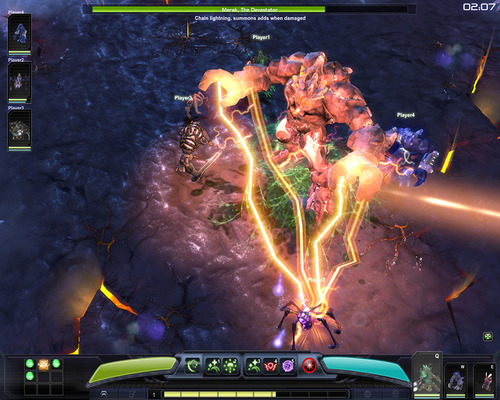 Build a powerful squad. Collect dozens of Genetic Heroes from three character classes and five Genetic types.Upgrade your Heroes with tens of thousands of collectible body parts, armor and weapons. Make each of your Heroes truly unique with loot collected throughout the game, and create squads of three tailored to your play style. A nearly limitless array of combinations is at your fingertips for a truly individual gameplay experience. Fight across the galaxy with your squad of three customized Heroes. Defeat the Darkspore in the co-op and solo campaign, and challenge other players in PvP.
Post Date: 20:45 08-05-2015
Rating: 8
Author: LosmiK
Comment: As a competitive gamer I really enjoy this game. There is a lot of detail put into squad building and mechanics… As young as the game is right now, I have experienced a balanced PVP system and can also enjoy storming through PVE campaigns with friends. This is a perfect game for anyone that enjoys competitive PVP or is just an action RPG fan.
Post Date: 15:36 27-10-2014
Rating: 5
Author: Mihajlo
Comment: Darkspore is Sci-fi RPG game (game style is similar to Diablo) with MOBA elements. Graphics are amazing, character appearance is changed with every new item. My rate for this game is 8/10
Post Date: 10:51 25-04-2014
Rating: 5
Author: M1losxxx000
Comment: lol
Post Date: 18:03 23-03-2014
Rating: 5
Author: DarkMage1997
Comment: gaame inst bad try it
Post Date: 23:05 20-03-2013
Rating: 9
Author: Mordekaiser
Comment: Darkspore gameplay is similar that of other action-RPG titles such as Torchlight and Diablo but has moba elements of league of legends there is not a game out there that can be compared to this for the gameplay its and rpg but moba style its simply great and very entertaing the only Con about this game is that you have to buy it also it would have alot more players if it was free so i would have to rate it 9/10 if it was free it would get 10 but since it not.
Post Date: 20:11 20-03-2013
Rating: 6
Author: PolanWalker
Comment: This production is sci-fi Action RPG Moba game. In this game we are the boos of group of genetic heroes with very unique abilites. All heroes have different one and can give us some advaneteges in battle. We can upgrade them with many of part and armor. While upgrading our heroes we become better player and win more of battles. For me game is very nice and give big fun from playing. I rate this game 6/10 🙂
Post Date: 00:52 09-03-2013
Rating: 9
Author: Mordekaiser
Comment: This game is a very very fun game where you fight monsters with heroes the story line is complex alot to do also the graphics are very great and its multiplayer its like league of legends mixed with Star Craft Mixed with something else 9/10
Post Date: 18:48 24-02-2013
Rating: 7
Author: PolanWalker
Comment: This production is a sci-fi action RPG game. In this game we fighting with all evil creatures that we will meet in our way. We will be traveling alien worlds to safe galaxy from mutated forces of Darkspore. For me game have same game style like many others now. Great graphics original world and good game play makes this game one of the best Moba produtions on the market. For me game is good made and can be recommanded to all online RPG players 🙂 I rate this game 7/10. 🙂
Post Date: 13:39 27-07-2012
Rating: 6
Author: Thedarkboy
Comment: Darkspore begins in a spaceship that is created by a form of ancestor-race to the game's heroes. These ancestors learned how to genetic modification could create all sorts of creatures that could serve different purposes. In their pursuit of new scientific conquests they made a mistake and created the Dark Spore, they quickly lost control of. War, misery, and all things followed the downfall of the ancestors. Now it's up to the player controlling the hero creatures who are anesthetized on board the ship to take revenge on the Dark Spore. The environments are combined with an okay soundtrack beautiful in a pleasant way rather than dazzling. But it is unfortunately impossible to engage myself in this game when the story is rigid and the world they have created feels completely arbitrary. I feel no connection with the strange heroes in the game. If I had to design their own from the beginning, perhaps it would have worked.
Post Date: 14:10 13-12-2011
Rating: 5
Author: Thedarkboy
Comment: This game is OK.. Not the best or the worst. It can be fun for some people though. 5/10 from me
Post Date: 15:03 04-11-2011
Rating: 7
Author: dmt_2000
Comment: This game is like World of Warcraft or lord of the rings online or league of legends if you like any of those games you have to try this game
Post Date: 08:18 25-08-2011
Rating: 6
Author: Webber
Comment: Darkspore has nothing to do with Spore! Why couldn't it take advantage of Spore???A waste of the name.