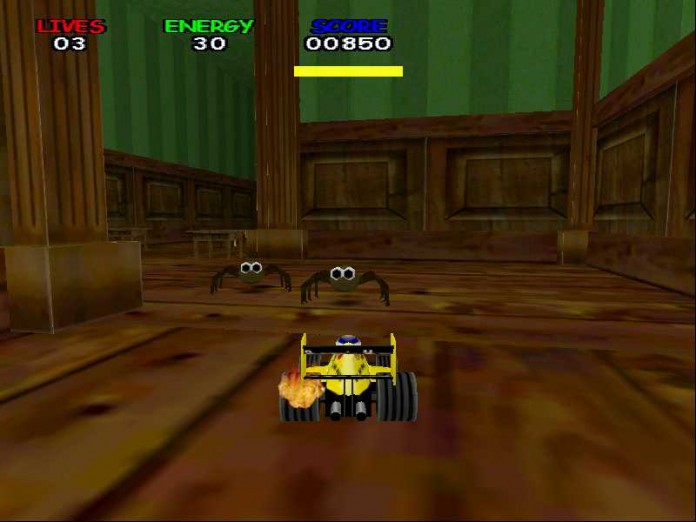 Your house is teaming with spiders. You have to send in your remote control car to exterminate them. There are three extra batteries hidden in the house to give you the energy you will need to complete your mission. Be careful about hitting the furniture as it will drain your cars energy. Make your way through the house and exterminate as many spiders as you can.
Total Rating: 8.20
Reviews: 5
Review Archive
Post Date: 10:49 03-08-2015
Rating: 8
Author: SulzYee
Comment: Simple and funny game, her you have to collect spiders that gives you energy… My rate for this game is 8/10.
Post Date: 18:09 02-03-2015
Rating: 8
Author: axwellshm
Comment: It's a simple and funny game after all. Killing spiders and collecting batteries makes this game a kinda weird, but in a good way. 8/10.
Post Date: 22:42 07-12-2014
Rating: 8
Author: paksupro4
Comment: This is cool free driveng game. You have remote control car and you need to complete all missions with it . You can find batters in house which give you energy , and you need kills all spiders in house. Graphic is good , same as a gameplay so i rate this game with 8/10
Post Date: 10:13 05-06-2014
Rating: 9
Author: Aki013
Comment: This game is really funny,all you need to do is to hunt the spiders.You need to get energy to complete missions.Just killing spiders,thats the point of the game.9/10
Post Date: 23:04 21-05-2012
Rating: 8
Author: Dmt_2000
Comment: This game is pretty cool and fun and funny like come on the spiders have funny eyes and you can run em over with a RC car tell me how can this get better?