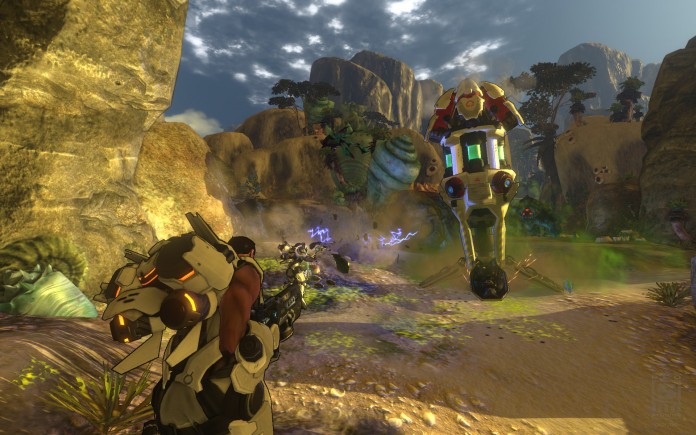 FireFall is a team-based action shooter. Join your friends in an epic online campaign across a vast open world to stop the Melding and fight for the survival of humanity against the army of the Chosen. Advance your army and character through technological upgrades. Level up different character classes. Compete for supremacy in various multiplayer game types.
Post Date: 20:42 28-05-2015
Rating: 9
Author: LosmiK
Comment: At last Firefall came out from its everlasting beta period, as a solid MMO/TPS meant to be played with a small group of friend. It's not a revolution, but has its interesting peculiarities.
Post Date: 22:53 21-11-2014
Rating: 8
Author: Mihajlo
Comment: FireFall is free to play Sci-Fi themed open world shooter developed by Red 5 Studios. Classes in FireFall are called Loadouts and there are 5 different ones (Dreadnaught, Assault, Engineer, Biotech and Recon) with 3-4 unique characters each. I rate this game 8/10
Post Date: 11:01 23-05-2014
Rating: 10
Author: ivekvv256
Comment: Really unusuall shooter, but it's pretty good. The story is happening in the future so the weapons are futuristic and the whole gameplay and maps are different from the todays world. It's pretty good game and i liked it even though I don't like futuristic games. 10/10
Post Date: 20:22 10-07-2013
Rating: 10
Author: Joker
Comment: Aweseome awesome shooter that can now be played without going through the hoops of the closed beta!
Post Date: 15:45 21-06-2013
Rating: 10
Author: mmowiz
Comment: firefall is an open world shooter and now be played in open beta. it will win the next online shooter showdown
Post Date: 17:43 12-07-2012
Rating: 8
Author: PolanWalker
Comment: Very like that game. Graphics comics like, are very popular lately. Playeable and big fun from it.
Post Date: 16:00 12-07-2012
Rating: 10
Author: Dmt_2000
Comment: This game is awesome its going to win every Showdown that its in there are 5 Playable classes and you can change the voice of your character and you can switch classes anytime you want by going to a Station the games graphics are the best in a Free FPS game i have ever seen i cant wait to play it i am writing this Review on what i have heard hope this is helpful
Post Date: 08:09 10-07-2011
Rating: 9
Author: Webber
Comment: Firefall is going to win the Online Shooter Showdown on GO. I only hope it is the game changer that voters have described it as.
Post Date: 23:32 01-02-2011
Rating: 8
Author: champking5
Comment: This Game is GOOOOD. I like they gameplay where you can battle through the whole world that they have.Chill with your friends and enjoy the goood game.
Post Date: 21:42 01-02-2011
Rating: 10
Author: Adrian
Comment: I got my beta key the other day…and wow…this game is amazing. The classes (there are only 2 at the moment) are a blast to play.