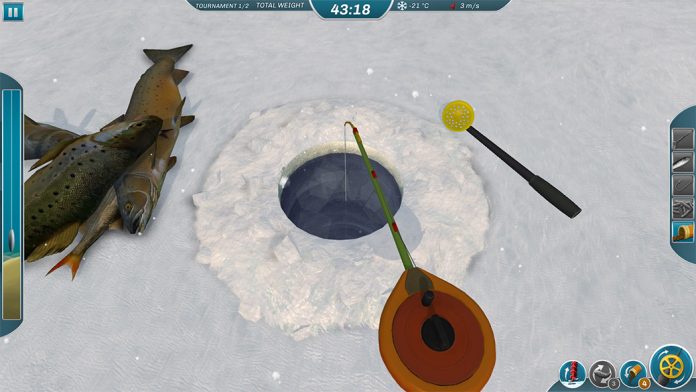 Ice Lakes is an ice lake fishing game simulator.
Screenshot:
Game Description and Comments:
No matter your location, Ice Lakes stands as one of the best ways to experience fishing without leaving your house. This holds especially true for me and ice fishing since I have never seen a frozen lake even once in the good old state of Texas. Texans usually fish off the bank or on a pier if not in a boat. You are also required to get a fishing license that is around $40 and lasts at the most just one year. The last time I went fishing we didn't catch a thing, got stuck in the mud, and was visited by the game warden to top everything else off. Would have been better off going to best-slots-sites.co.uk to actually have some fun.
Thus, the idea of drilling a hole in the middle of a frozen lake to just relax and enjoy fishing appealed to me. The only other game that I enjoyed fishing in was Stardew Valley and that is just one aspect of that game. Ice Lakes is focused fully on fishing, but it does have its own open world that you can enjoy.
I just hopped on the ice and started drilling hole. Then I sank my line in the hole. You then get experience sounds from mother nature like you would if you were there in person. The game prompts you to move your rod a little and to scoop out ice from the whole, but the rest is just you waiting on a fish. Do not expect one right off because it took me time before I got a nibble. Once a fish is on the line, you have real it in while not putting too much pressure on the line. If the tension is high enough, the line will break. I managed to reel in a 225g Perch on my first try and it was a great feeling.
Although the gameplay is great and can be relaxing, the other reason why I bought Ice Lakes is that it has Virtual Reality support. Can't wait to try the game with VR when i get it. VR is just the "icing" on the cake when it comes to Ice Lakes. Overall, it is the best fishing simulator I have ever played.
Key Features:
Ice fishing simulator.
Virtual Reality support.
Costs $14.99 on Steam.
Customize your fishing gear.
Choose from different game modes.
Can play online.
Amazing graphics.
Realistic physics.
Wide range of fishing gear.
28 different types of fish.
16 tournaments.
Fish fights!
Greats stats.
Open world maps.
Game Trailer: