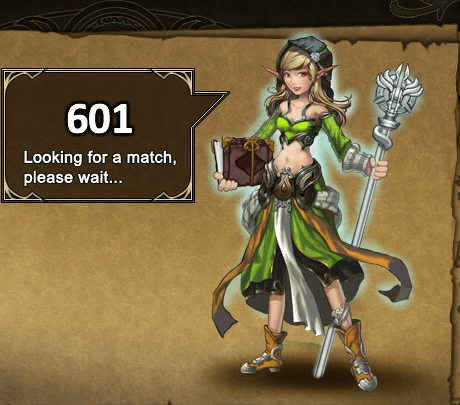 Kings and Legends is a brand new type of game. Combining elements of original trading card games and adding tactical combat elements, it's an exciting new way to play!
Post Date: 21:05 10-07-2014
Rating: 9
Author: TheGreatZippy
Comment: The game is great and for anyone that likes any card games and strategy game this is the game you are looking for
Post Date: 13:26 09-04-2014
Rating: 9
Author: HoP7
Comment: Nice game!
Post Date: 18:18 02-04-2014
Rating: 5
Author: Dusan322
Comment: Nice game!
Post Date: 14:39 31-03-2014
Rating: 10
Author: dragozet
Comment: its a nice game for everyone
Post Date: 09:00 30-03-2014
Rating: 10
Author: Aneman
Comment: this game is fun, and just amazing.. i recommend it!!!
Post Date: 22:38 23-09-2013
Rating: 10
Author: evildragonz
Comment: this game is fun and addictive . you to guild quests and events and u DONT need to spend money like most other games .
Post Date: 04:16 21-09-2013
Rating: 9
Author: RxYoshi
Comment: The great thing about this game is that it provides something for those who are looking for a free game or those who want to pay for more power. Both types of players have plenty available to them, especially with all the free rewards that are given daily. Come check it out and see for yourself.
Post Date: 21:11 19-09-2013
Rating: 8
Author: Charm
Comment: Really fun game, the tactical side of the combat beats most of the games on the genre and the art is pretty decent for any standard, u have a lot of stuff to do even without spending money and is overall a great experience.
Post Date: 03:52 04-06-2013
Rating: 10
Author: Webber
Comment: Great TCG! In the past i mainly just plated TT here on GO but KaL is a more deeper card game. The gameplay is top notch i must say 10/10
Post Date: 19:29 31-05-2013
Rating: 8
Author: Rantzr
Comment: After testing the giveaway code to see if it worked, I decided to play the game a little more. The game play is quite different compared to the more traditional TCGs, which may be why I wasn't to fond of it at first. The game play is a hybrid of TCG and RTS, and was a little difficult to get into. After your done with all your tutorial missions, which helped me understand the game a lot, the game steps up an challenges the players which I liked, as well as allow us to start playing with other players to complete more difficult task. The game features an automatic setting that allows an AI to assume your control, which is great if you ever need to go away from keyboard in the middle of a battle. The game has a TON of Quest for the player to complete for various types of rewards, as well as a map campaign. There is even Guilds, PvP, and even a Raid like system (4 players). The game is overall a fun new experience and I highly recommend playing it if your at all into RTS or TCG games.
Post Date: 01:45 25-05-2013
Rating: 10
Author: logen9
Comment: Excellent card game that takes skill to master. It took me a long time to learn how to play.