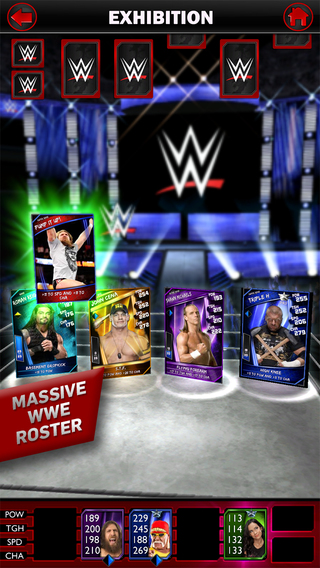 WWE SuperCard puts the power of WWE Superstars, Legends, and Divas in your hands by bringing the hard-hitting, larger-than-life action of WWE to mobile in a brand new card battle game!
Post Date: 10:08 19-06-2015
Rating: 5
Author: dragosbuzz
Comment: I'm not a fan of wrestling and the sport seems extremely boring and colorless. And frankly I do not understand it at all and this game seems as boring and without logic.I guess this game is especially addressed to the american people.
Post Date: 11:58 04-10-2014
Rating: 7
Author: arZ
Comment: WWE SuperCard is a popular card game. Its about the Wrestling Superstars and Divas but i see some old wrestlers too like Yokozuna or Ultimate Warrior. Seems like a cool game, watches some youtube videos. I am a fan from WWE so I could play this game. I rate this game with 7/10!
Post Date: 20:05 15-09-2014
Rating: 9
Author: Garagos
Comment: Looks cool and it is an really great card game. I recommend it.
Post Date: 07:37 15-09-2014
Rating: 10
Author: FrendlyLeBlanc
Comment: I first time heard for this game when ogre said to he won tournament here. He got few rare cards and i was interesting for that. I went on youtube and saw to this is amazing card game… Ogre play this on ipad so this havem't for android ( i searched on google play and nothing found ) I will try to start this game and from gameplay that is 10 from 10 🙂
Enjoy in this game
Post Date: 18:26 14-09-2014
Rating: 9
Author: Ckalja99
Comment: This is very nice game i watched it on youtube and i will start playing it. It has good graphics and goal is amazing . From me a good 9 🙂
Post Date: 22:00 12-09-2014
Rating: 8
Author: Webber
Comment: I like that you dont have to pay to do a lot. Some card games make you pay to win!
Post Date: 22:01 09-09-2014
Rating: 10
Author: ogreman
Comment: WWE Super Card is a simple yet, very enjoyable card game. You do not even have to enjoy pro wrestling to like this game. The idea is to get wrestlers with the highest stats in four major categories. The winner of the best of three wins the whole match. Each match can take only a minute or two if you speed it up The winner of each match gets to select two cards at the end while the loser only gets to pick one. Players with stronger cards in Exhibition are placed into higher tiers where you can select better cards. Supporting the exhibition mode are the tournaments known as King of the Ring. These tournaments last for 45 days and give Rare and Super Rare cards as prizes. Many players have thousand s of matches and it is easy to see why with the simplicity of the setup and the fact that playing more allows you more cards to level your best ones. Overall, WWE Super Card is a great mobile game that could enjoy a very long life.