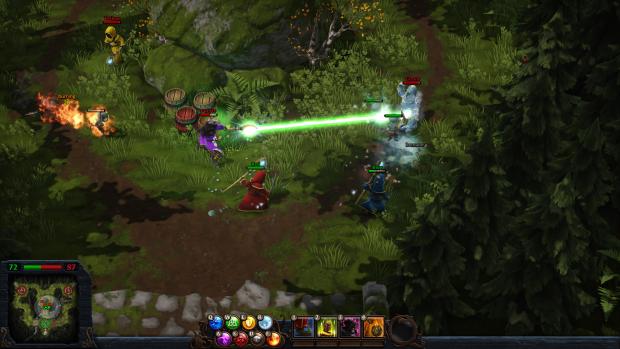 Wizard Wars is a Fun-to-Play Team-based PvP experience, filled with tongue-in-cheek references to popular media and current events. With short rounds and unpredictable strategies, Wizard Wars gives both novice players and experienced MOBA veterans a unique tactical depth in every encounter.
Post Date: 09:04 09-04-2015
Rating: 9
Author: LosmiK
Comment: I'm still new at the game, and have been getting into enchanting and blacksmithing. I know that at higher levels you run into set items, and that this question may not be relevant then, but for the time being I'm trying to seek some advice. My character is an Argonian Templar that is a hybrid of sorts. Wears heavy/light armor mix, uses healing spells, and uses Aedric Spear/other magicka-using moves. I know that's kind of all over the place, but for the most part, I tend to focus my stats on Magicka. I've only placed a few stats in health so far, and none in stamina as I've only needed it for blocking.
Of the three equipment stats that I have available to me(Magicka regen, increased magicka points, or reduce magicka cost), which of the three should I focus on going for the most? My assumption is Magicka regen, but I've heard something about a cap in the game, and that it may be redundant.
Post Date: 15:59 03-03-2015
Rating: 8
Author: axwellshm
Comment: Love the design of the game. Magic is what makes games better. It's also a popular MOBA, but it fades because lots of MOBA players are playing only lol,smite,dota… Gonna rate it 8/10.
Post Date: 15:57 26-12-2014
Rating: 7
Author: arZ
Comment: Magicka: Wizard Wars is a action adventure online steam game and the developer from this game is Arrowhead Game Studio and the publisher is Paradox Interactive. The game was released in January 2011. The game is based on Norse mythology.

Magicka is a game with full of mages, and the need to fight against the evil creatures and monsters. You can play as a single player or multiplayer with your friends and fight against the evil. The campaign from this game got 13 unique levels. This game like you really know, dont have any
characters to pick, or champions they are just wizards in game. And not a single wizard got mana. So you can spam your abilities whole day, whole night :). So got eight base elements in this game. Water, earth, fire, ice, life, shield, lightning and arcane. You can mix these elements to create some cool spells, some really cool combinations can be made. Five at once. But you can combinations for example fire and ice, or fire or water. For best combinations from the spell use some internet web pages for help. Each spells can be cast in other ways. Range, AOE, secondary weapon or
your own body. So you can shoot some fire beams, or create some lava holes, or give your sword fire or be a human fire. Really cool and looks really cool too. YOu are controlling the wizard simple with mouse and your skills
you can use the standard keys like in other popular mobas … Q W E R….
Special spells are called "Magicks" and you can combinations some cool spells with it, but you need first to find some spell books that are dropped from the Sapent Pearwood Luggages. This is a low enemy and it can be dropped from it. To cast Magicks you need to follow the recipe. You can use basic physical attack too, with your secondary weapon but it does not take so much damage like other spells. You can use the basic attacks to push
enemy monsters from the bridge or push him in to some lava holes.

This game is not like the other popular mobas, it does not have the map to play 3v3 or 5v5. You can just play together and clear the level. It got really cool graphic and the spells looks really cool. Love the slow music in this game. Its is not really hard to play, easy to learn it. I would not count this game in moba. The rating from this game in my opinions is 7/10. The game need more levels.
They are just 13 at the moment, so they could easy add two levels more, or seven would be much better for game lovers. Recommended for all wizard lovers and PvE players. Dont know if in the game is the PvP system if yes its cool, if
no they could add it and it would be much more interesting to battle your mage friend. Nice and cool game!
Post Date: 18:41 05-11-2014
Rating: 9
Author: Mihajlo
Comment: Magicka: Wizard Wars is fast-paced spellcasting MOBA game. Every played can combine 8 elements to make huge variety of spell and save (use) 4 different spells at one time. There are two game mods (1v1 and 4v4). I'd recommend this game to any MOBA lover, my rate is 9/10.
Post Date: 23:49 14-08-2014
Rating: 9
Author: wizze69
Comment: I would totally recommend this to everyone of you that likes MOBA games.Graphics are nice so are the champions.I rate 9/10
Post Date: 09:56 10-08-2014
Rating: 10
Author: andrej213
Comment: Really cool game , nice graphic and champions , one really cool moba game
Post Date: 14:10 08-07-2014
Rating: 10
Author: Aki013
Comment: One more great MOBA , its really funny game with good graphic and good gameplay. 10/10
Post Date: 18:44 22-06-2014
Rating: 9
Author: FrendlyLeBlanc
Comment: God game played before 🙂
Cllasic MOBA 🙂
9
Post Date: 09:14 22-06-2014
Rating: 10
Author: Shokata
Comment: Very nice game , i'm impressive 🙂