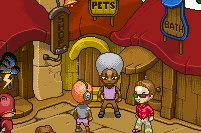 This is a virtual world where you can custom your character, meet friends and chat…. There is a new version where you also can feed pets etc. !
Post Date: 07:10 21-05-2011
Rating: 7
Author: sasuke24
Comment: The game is really fun. Recommended o try once.
Post Date: 01:14 05-03-2008
Rating: 7
Author: nevony10
Comment: i think this game is better than habbo. sure its graphics may stink and sure there r jerks who i would shoot down in 2 seconds if i was in a room with them and a shotty but…there r also cool pplz. i met some really cool friends and even if thier like 47 yrs old pretendin to b 15, idc cuz im not stupid enough to meet them.u can characetrize ur own person and u can make ur own profile. so i suggest that u try it! unless ur a freaken a.whole who needs to b kicked in the butt.
Post Date: 17:05 01-03-2008
Rating: 0
Author: Zirotecha
Comment: This game is stupid, the graphics are pitiful, and its full of jerks.
Post Date: 15:08 09-12-2007
Rating: 5
Author: mariovslink
Comment: looks alot like habbo lol
BUT HABBO IS WAY BETTER!!!!!!!!!!!!!