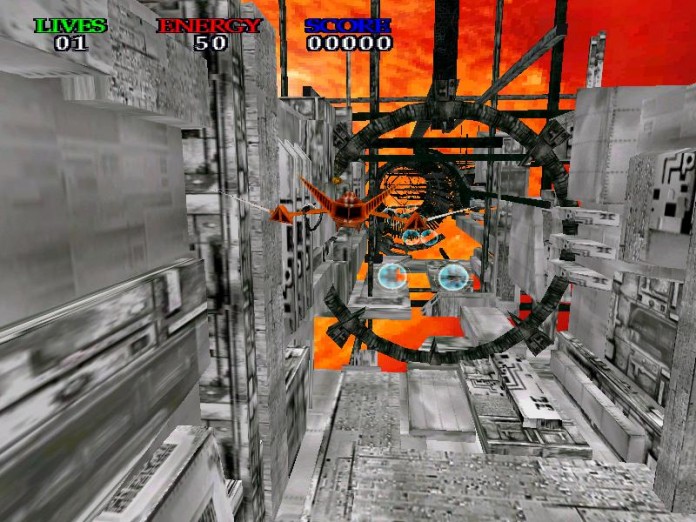 Your mission is to investigate rumors of an attack by the Wymacet Horde on one of our glactic exploration stations. Be careful because the Wymacet Horde always travels in large numbers and Red Giant sun in this region makes their ships difficult to see. Use your arrow keys to ascend/descend and your mouse for direction and firing. When you destroy a ship, you are able to pick up it's energy core to add energy or lives to your ship. In addition, the energy rings will provide an energy core when destoyed. However, if you hit them before they are destroyed, they will drain your energy. To win, you must destroy the Horde's mobile star base.
Total Rating: 0.78
Reviews: 9
Review Archive
Post Date: 18:12 02-03-2015
Rating: 0
Author: axwellshm
Comment: It's old game, but again some old games also have a thousands of players that are still playing it. But this game is just catastrophic. I didn't started the game, and I quited. So i don't need to talk about gameplay and controls…
Post Date: 20:47 09-12-2014
Rating: 1
Author: paksupro4
Comment: This is lame free flaying game. Graphic is bad , i dont like gameplay and contorl. Story is bad . I am disapointed with this and i would recomend to skip this game .
I rate it with 1/10
Post Date: 13:20 12-07-2014
Rating: 2
Author: FrendlyLeBlanc
Comment: Huh this is very bad game… Graphic is bad and gameplay to and not funny…
2
Post Date: 21:54 11-07-2014
Rating: 0
Author: Frozen
Comment: Bad and boring game to play and graphic are low too
Post Date: 17:51 15-06-2014
Rating: 0
Author: 420Hairlyman
Comment: Quite old game which means its gonna really be hard for it to find its players in the new-age graphics.Considering this game graphics, its really unnecessary to talk about it. Below any level, its hard for me to recommend this game to anyone. Stay away from it 🙂
Post Date: 14:29 07-06-2014
Rating: 2
Author: Aki013
Comment: Well game is very old and graphic are so bad…when i saw the game i taught its something good,but it wasn't so good..2/10
Post Date: 23:11 31-12-2011
Rating: 1
Author: Thedarkboy
Comment: This game is very old.. It's not helping that the graphics and the ca epost sucks. It's really boring… I'ma give it 1/10 to be nice….
Post Date: 05:09 01-05-2011
Rating: 1
Author: sasuke24
Comment: The game is really old. Graphics and gameplay is really poor. Also the game is extremely boring.
Post Date: 08:57 02-03-2007
Rating: 0
Author: medco
Comment: OH MY GOD.
another game probably made by the same people who made Comstation Rescue and Dr. green, those games sucked and so does this one, they are all pointless, who the hell keeps comeing up with these stupid ideas for stupid games like this. Whoever keeps makeing them plz stop your only going to get another big ZERO.