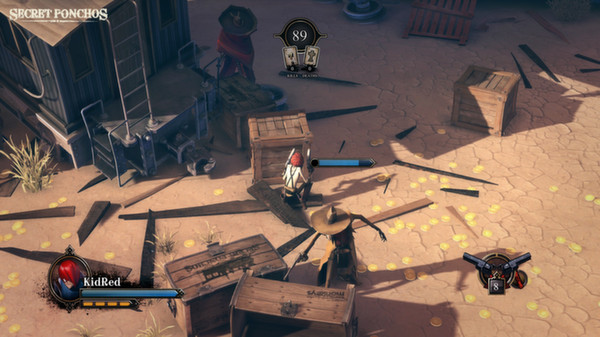 A stylish and original Spaghetti Western mulitplayer combat game. Secret Ponchos ambitiously delivers a new style of combat – isometric quick-twitch fighting. It's fast-paced, tactical and addictively competitive. Watch the bounty on your head increase as you gun down others in both solo and gang fights. What\'s your Head Worth?
Post Date: 15:25 19-05-2015
Rating: 8
Author: LosmiK
Comment: Although the foundation for a great online twin-stick shooter has been laid with Secret Ponchos, it's going to need more content and a meatier core mode to really keep people interested — until then, I think the game will struggle with keeping some of its community.
Post Date: 14:16 12-02-2015
Rating: 7
Author: axwellshm
Comment: Love the graphics, love the game theme, western games. Really good sounds are it's kinda cool i guess. I'm going to rate this game 7/10.
Post Date: 19:37 05-11-2014
Rating: 7
Author: Mihajlo
Comment: Secret Ponchos is Wild West themed MOBA game. Character are called Outlaws, there are 5 different ones with 3-5 unique spells. There are 3 game mods: Domintaion (2v2/4v4), Deathmatch (1v1/2v2/4v4) and Free-For-All (8 man). I rate this game 7/10
Post Date: 06:34 07-10-2014
Rating: 7
Author: arZ
Comment: Secret Poncho is an online shooter fighting multiplayer game for PC and console.Developer from Secret Poncho is the famous indi game company "Switchblade Monkey.This game was first created for play station after it for PC.

Secret Poncho takes place in a dramating Wild wild West where the player is an outlaw. The game is based on Player versus Player system. You need to fight for
your life and battle the enemy on a 1v1 battle to get better reputation in town full of crawling, murders
bounty hunters and bandits. The point in this game is simple. Just survive but its not so easy. When you beat an enemy you need to claim they achievements as your own.
How many enemies you kill the rewards get better and you need to collect your legacy. But when you kill to many enemies and get a high reputation you become a target for other players and its really hard to survive so many attacks. The enemy players can build a teams against you to defeat you and take the bounty from you. Secret Poncho got five different maps to play and a multiplayer character mode, and a normal multiplayer mode. Every single player got two weapons, revolver and a secondary item, like for example some granades or dynamites.

At begin you need to pick one of the different types of outlaws.

The Killer, he is a motorious high-stakes outlaw who works alone and takes great pride in the price on his head. Many people are asking who is he? Hunted or Hunter.
Great balanced outlaw with high damage and nice range.
Primary weapon: Revolver
Secondary weapon: Hunters Knife

Kid Red, he is an orphant of murdered parents, he has found new life in his guns.Kid Red got red hair, but that is not the reason he get this nickname. He gets it
because of the blood he spills. This outlaw got weak damage but high fire rate, stamina and is really fast.
Primary weapons: Dual Pistols
Secondary weapon: Dynamite

The deserter, he was sent on a suicide mission, but he survived and is now a deadly enemy of all he once fought for. His damage is maybe the strongest in game and got the highest health in game. But he is the slowest outlaw in the game.
Primary weapon: Hunters Rigle
Secondary: Medikit

Phantom Poncho, this outlaw got the same name like the game. A mysterious outlaw and feared legend. His damage is really strong and high stamina. But this outlaw is really hard to master.
Primary weapon: Shotgun
Secondary weapon : Bullwhip

You got different types of games. Practice, ranked, 2v2 …
After it you need to pick one of the five different maps and the fun begins. The point is to kill the enemies on a battlefield. They are different items on the map that you can use for hiding. Many holes, walls, stones ….use it for your advantage. Strategy is really important in this game. You will not live long when you rush your enemy. Every battle takes 180 seconds and who get the most kills get the best reputation. The graphic is pretty cool the sound could be better. Its interesting and funny game, worth to give a try.

PRO: Something different. An new game style. Not so hard to master in short time.
CON: After some time get boring. Just four different characters.

So this was a short review of an outlaw game called Secret Poncho. Give this game a chance. I rate it with 7/10 because of bad sound and just four different characters.