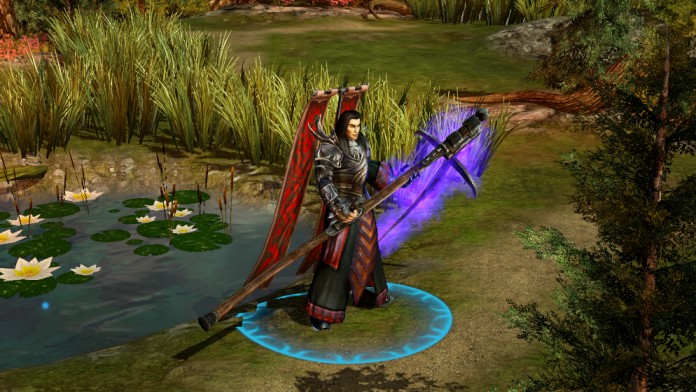 Rise of Immortals is a free-to-play, micro-transaction-based online game that will be available via direct download. The game will launch with a dozen distinctive Immortals that players can further customize as they progress through the game. Items that can be purchased from the in-game store include new Immortal skins and consumable items like in-game boosters and elixirs. Post-launch, Petroglyph plans to release new content on a regular basis, including additional Immortals, arenas, skins, sound packs, pets and more
Post Date: 20:43 16-04-2015
Rating: 9
Author: LosmiK
Comment: It may not be the most varied game of its type, but it's very good, and it's bent on leaving the genre in better condition than it was found in.
Post Date: 12:22 10-03-2015
Rating: 9
Author: axwellshm
Comment: Really easy game, and really good game. The theme of the whole creation is just flawless. I mean I played lots of this kind of games, but this is really good. Maybe a little likely to the World of Warcraft, but that isn't really a thing that will destroy the game. 9/10.
Post Date: 11:49 04-11-2014
Rating: 8
Author: Mihajlo
Comment: Rise of Immortals (Battle for Graxia) is MOBA game with characters (immortals) from Petroglyph's games. Immortals have great customization, game is easy and fun to play and visuals are amazing. I rate this game 8/10
Post Date: 09:44 04-10-2014
Rating: 9
Author: Garagos
Comment: Rise of Immortals is online game, where you have heroes and you fight with them.
Because I played LOL (League of Legends) I can tell you it is almost similar game. There you have also heroes, which you buying, their skins, map, fights, teamwork…
Heroes there are named Immortals. That are: Aislynn, Azcadelia, Balak, Ichorr, Kaos, Karapyss, Kavashiir, Kreed, Kyrie, Lazaros, Lord Trovoc, Lord Vezin, Nauria, Netheurgist, Nysuss, Psychozen, Pycon, Scorpix, Shard, Talia, Tatiana, Tzai and Ukkonen. The most symphatetic for me was Tatiana. Because one my friend played always whit here, I am also started to playe her and get loved her like Immortal.
Other thing, when I was playing, that were fights 5v5. At beginning of the game, whole team going together and killing some monsters.
Map is here big place where Immortals are fighting. There were 3 sides (lanes), top, bottom and mid. Each Immortal has 4 abilities which he using during the match. I can't remember correctly, but I thing that your 4th atack here were not ulti like in some other games, that was just one ordinary shoot, with cooldown 20-30 secunds.
Like every other MOBA game, in the game you can buying some items to make your hero better than others. That items are: offansive, defensive, utility and consumambles. Four categories that are of items. Defensive items increasing health, magic resistance, mana, armor penteration, dodge chance… Offensive stuffs making your atack power stronger, atack speed faster, raising weapon damage, ability cooldown lower… Utility items raising health regeneration, incoming health, spirit vamp, movermant speed… Consumables are potions and totems. Potions can incrase for example, health regen, mana regen, increase armor, increase magic resistance, movermant speed… Something what is also important information about items is that you can upgrade items. There are not so many items, and because that you can upgrade some of them.
As beginner, I recommend you to try first playing with bots, you will find some offline modes, also there you can find some other maps that can be used for training. I was practice with one my friend, and there he teaching me about everything of the game.
Something what I didn't like in the game, is that game lobby, where are placed a lot of Immortals which are online and searching game where they will join. As one beginner it was hard to understand for me, I think that part devlepers of the game must make better. Besides that I have criticism to graphic. Is not so good made. Players who playing that game, told to me that graphic is really good and cool, but I don't think so, because I think they can upgrade it and make it better. 🙂
When everything is summarized, game have potencial to be one of the greates MOBA games, but as I said they need to imporove a little bit graphics and that game lobby, where a lot of players were confused, becaouse they did not know how to enter game 🙂
I recommend game 🙂 My rating is 9. 🙂
Post Date: 10:56 28-05-2014
Rating: 7
Author: cemex
Comment: Very interesting free MMORPG which is MOBA, with nice graphich easier shop then other MOBA
Post Date: 17:04 25-03-2014
Rating: 8
Author: Chavo Ledeni
Comment: This is very good game 🙂
Post Date: 07:08 06-03-2013
Rating: 8
Author: PolanWalker
Comment: ROI is now one of the best Moba games on market. Game play is like a copy of many other games of this type like: DotA, LoL or Avalon Heroes. Game give us offer both team-based competitive modes, and cooperative options. Game have one main difference from all other moba game, its the level of persistence. And like in many other games players characters will lvl faster while more playing. While that we will get acces to more new skilles and items. Game have nice graphics and sounds. Good gameplay makes this game good idea to spend free time. For me game is preety cool 🙂 I rate this game 8/10.
Post Date: 23:52 28-02-2013
Rating: 8
Author: Mordekaiser
Comment: Very Nice game graphics are very nice the game is all F2P but you have to buy some things also its fairly easy to level and there are alot of players also alot of fun and alot of classes
Post Date: 09:46 04-11-2011
Rating: 9
Author: Thedarkboy
Comment: Very nice game you can play. Pretty nice graphics. I like it pretty much. And it's not too hard to lvl up,
Post Date: 00:52 04-11-2011
Rating: 9
Author: champking5
Comment: Very good game! Action packed sound, weapons, armor, and pets to choose from to become the best player in the game. Leveling up is pretty simple until you start to get high in levels. Nice game!
Post Date: 20:48 03-11-2011
Rating: 9
Author: dmt_2000
Comment: This game is like Lord of the rings online or World of war craft if you like ether games then you should try this game out
Post Date: 06:42 20-09-2011
Rating: 9
Author: Shadeypwns
Comment: Rise of immortals takes the dota/hon graphics and gameplay style and mixes it with the innovation of League of Legends, mixing a bit of both worlds.
Post Date: 18:36 12-09-2011
Rating: 9
Author: mmowiz
Comment: rise of the immortals launches today! imo the best moba besides league of legends. beta showed great promise.