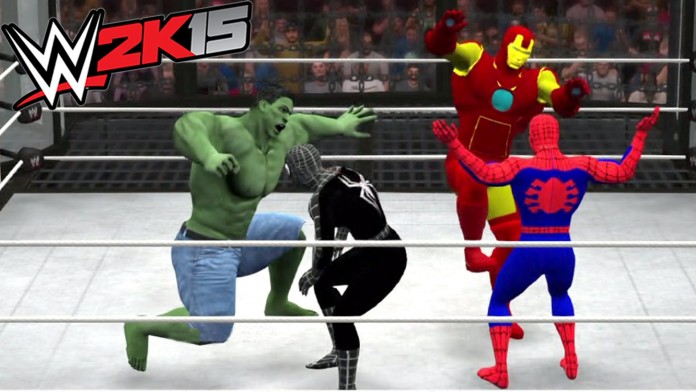 For anybody who likes professional wrestling or not, you have to admit that the characters are the main driving forces of the genre. This should make for very good online wrestling games right? Hmmmm, maybe. There have been a few games over the years that have captured the imagination of the sport/business online via PCs and a few more very playable games via consoles like the Xbox 360 and PS3.  In fact, these console games have had it the best for pro wrestling since, well, forever. However, the PC is getting more of these games finally. Actually, one of the big WWE console games has finally made it to the PC with WWE 2K15. Things are also improving via mobile devices. The first wrestling card game, WWE Super Card has been a major success on Android and iOS.
Without further ado, here are some squared circle games for the PC, the latest consoles, and mobile devices. Keep in mind that some of the games (most of the PC ones) are simulation and mostly text:
WWE Super Card – The first card game and one of the best wrestling games available anywhere.
Total Extreme Wrestling – In depth simulation that can be bought and played on Steam.
The Wrestling Game – Long time text-based game.
Pro Wrestling X – Early access game on Steam that still needs a lot of development to come to fruition.
Slammed – Remember I talked about some games being very different? This one is actually an interactive novel where you can make choices in the wacky world of wrestling.
WWE 2K14 – Quite possibly the best of the genre on the PS3. The first one in the whole series to have 100 character creation slots and has been more stable than its successor.
WWE 2K15 – The first major wrestling game on the PC since before the Smackdown series started.
Wrestling Revolution 3D – Wrestle on mobile devices.
If you know of any others that are still around and playable, feel free to list them here!