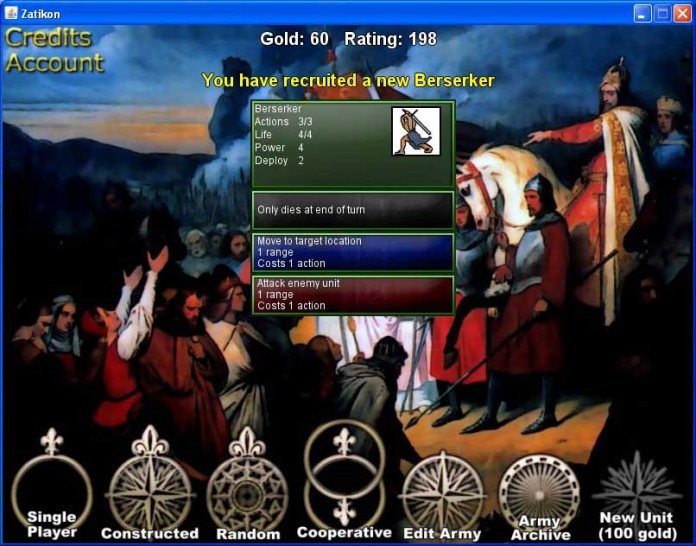 Zatikon is a free turn based multiplayer tactics game featuring over 30 unique units with over 80 additional units available in add-on packs. Build your army and defeat your opponent. With an almost unlimited number of possible strategies at your disposal Zatikon highly addictive and fun. Zatikon includes online player ranking and several extra game types including co-op, single player and random army mode.
Total Rating: 7.67
Reviews: 3
Review Archive
Post Date: 02:35 13-12-2014
Rating: 7
Author: paksupro4
Comment: This is free turn based multiplayer strategy game. Game is full of units which you can build , and which you can have. Point of the game is to defeat your enemies. This is very good game and i will rate it with 7/10
Post Date: 22:13 01-01-2012
Rating: 7
Author: Thedarkboy
Comment: This game is pretty funny actually. It's free too, which makes it even better. But it's far from being the best game. But enough to make a decent rating. 7/10 for this game,
Post Date: 13:38 17-04-2009
Rating: 9
Author: Scholar
Comment: This game is very good. It is easy to learn not as easy to master. It is free to download and play. It is a strategy game where you control an army and need to defend your castle from the invader enemy army. The most fun is playing agaisnt the enemy players that come to play. You can upgrade your army by buying an army package -it is very inexpensive and gives you a lot of different unit. It is Medieval in theme and you get units from Crusade type warriors, healers, structures, mages, creatures, etc. You should all try it and recommended so the game gets more publicity. It is easy to start playing but not easy to let go of it. Very addictive. Go try it!!