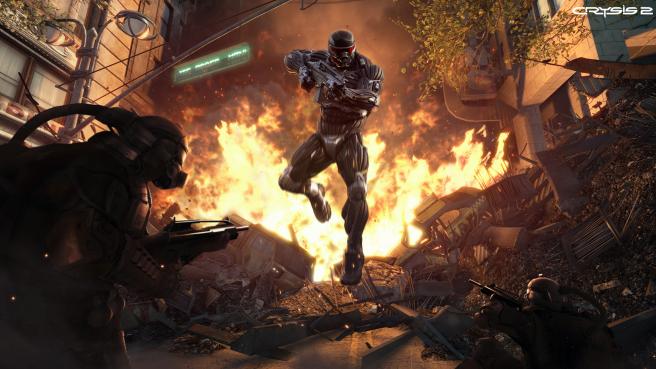 Crysis 2 will redefine the benchmark on console and PC platforms, shifting their attention to the rich urban jungle of New York City. Amazing Aliens and AI: Challenging best-in-class AI with unique group coordination and group behaviour systems which give realistic responses to your actions. Nanosuit 2: Adapt your combat tactics by customising your Nanosuit and weapons in real time with revised modes, unlocking a variety of supersoldier abilities.Multiplayer: World-renowned multi-player shooter studio Crytek UK is going to reinvent multiplayer with the dynamic intensity of Nanosuit 2.By using Nanosuit technology the player has nearly unlimited ways to approach the dynamic combat environment.
Post Date: 21:18 25-05-2015
Rating: 8
Author: LosmiK
Comment: Crysis 2 feels like a much more refined version of the first game. The plot isn't amazing, but it's much better than the first game, and the pacing is well done.
Post Date: 12:48 30-05-2014
Rating: 4
Author: NeSsQQuiCk
Comment: I would give this game rating 8 but it has very bad multiplayer and you practicly can't even play it :(. Thats why i prefer call of duty more. And if u only play singleplayer games then better play Far Cry 😛
Post Date: 08:12 17-04-2014
Rating: 10
Author: nikiwild
Comment: First, my rating: 10
Multiplaer 0 / 10 ( i dont know if it can be played online )
Gameplay 10 / 10
Graphics 10 / 10
Sound 10 / 10Like i said, 10 pure 10 game rate. This game keeps on rocking. I cant wait to see crysis 3 its gonna blow up our minds, i cant tell you much the game is pretty same as crysis but the shooting action is not, so feel free to try it.Ingame you can ride venechiles pick up whatever you want and throw it, go where you want, and many more. Ingame you have some kind of a power ups. What does the nanosuit say about its wearer in crysis. That the player has a need to improvise, a need to see-saw between being an assassin and being a brute. Press Q reads the manufacturers tag on the collar, to harden your skin like a brick wall. Press E to become as transparent as a pane of glass. And many more cool stuffs. This game may look and play best on pc, but the cross platform development has definitely had an impact. Specifically it is disappointing to see that crysis 2 makes some absolutely baffling technical omissions.
Feel free to try it out its a nice game.
Post Date: 20:09 15-12-2013
Rating: 10
Author: Mordekaiser
Comment: This is an awesome game better then number one In my opinion and the reason for that is because this game has better graphics more weapons different mechanics more action more explosions and alot more aliens and maps also they introduce new people so i gotta rate this game a 10/10 for being plain awesome for sure i recommend getting it
Post Date: 07:18 02-05-2012
Rating: 9
Author: Thedarkboy
Comment: So Crysis 2 is a game about a suit. But it's also a game about a suit. The mechanics all fall within the triangle of abilities that the silvery, sinewy lycra provides. By default, in 'power' mode, you can run at twice the speed of a man and jump twice the distance. Tap the left bumper and the suit hardens into 'armour' mode, turning you into a human-shaped tank, able to take a missile to the chest and walk away giggling. It's really fun though. Hard to put away
Post Date: 09:21 14-06-2011
Rating: 10
Author: Steelcraft
Comment: Crysis 2 is a better game than Black Ops and MW2 this is much better than any shooter ive played an awesome game! My favourite!
10!
Post Date: 04:52 13-05-2011
Rating: 7
Author: sasuke24
Comment: The game offers an awesome gameplay and superb graphics. Special effect is nice too 🙂
Post Date: 04:00 16-04-2011
Rating: 8
Author: buzzsaw
Comment: Crysis is 2 ok. I still prefer Black Ops. Imo the new location does not help because it is not unique at all:(.
Post Date: 23:00 13-04-2011
Rating: 9
Author: notch
Comment: Awesome FPS. Crysis 2 takes Crysis out of the jungle thankfully. I was getting tired of the beaches:p. The suit works better than expected in the new environs.