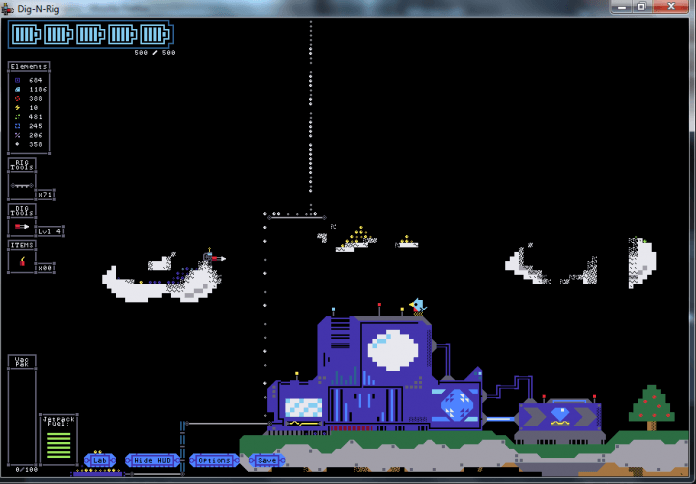 Dig-N-Rig is a single-player mining platformer game. Players must control a new robot to mine through over 14 layers of earth, and build custom systems to transport minerals to the surface in order to build upgrades for the player.
Post Date: 08:52 12-11-2014
Rating: 5
Author: arZ
Comment: Dig N Ring is a single platform game where you are controling a robot through the 14 different levels. You need to collect different materials to build different buildings. Not the game that I like. I rate it with 5/10. Graphic is horrible!
Post Date: 17:51 25-03-2013
Rating: 6
Author: Mordekaiser
Comment: This game was alittle different then most games in other words the graphics were bad the gameplay was fun tho and its only single player but there are tons of upgrades so its still a good amount of fun not the best game out there at all so i rate this game 6/10
Post Date: 13:17 01-01-2013
Rating: 6
Author: Thedarkboy
Comment: This game was okay, even though I don't like the graphics. The game could be fun in many moments, but what I didn't like is that it started to lag hard sometimes. I have no idea why though. It was also pretty hard to learn the rules of the game, so it was hard to get started.
Post Date: 13:53 16-03-2012
Rating: 9
Author: Qbopper
Comment: An awesome little game, as expected by Digipen students. Try it out.
Post Date: 22:27 15-07-2011
Rating: 7
Author: quinn
Comment: It's an awesome game, although it could use some finishing touches. It is also extremely easy if you use explosives to strip mine, I was able to destroy half of the map and put it on one conveyor belt on just my second play of the game.