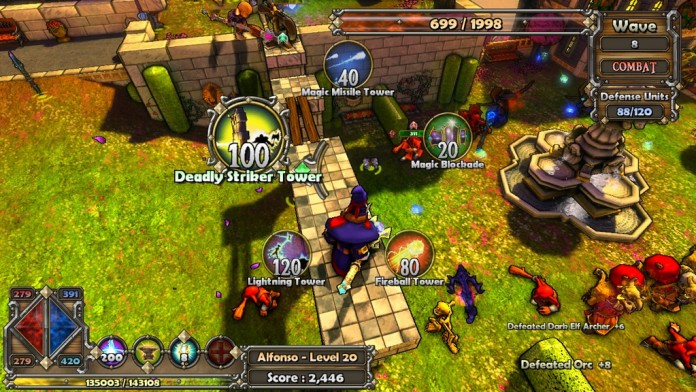 Trendy Entertainment changes up the MMO landscape with this genre-bending titleDungeon Defenders that combines tower-defense with action combat in 3D cooperative play. Players are thrust into the hedge maze of tower-defense with enough partners to make the wave-after-wave of ogres, goblins, kobolds, and dark elves—among others—a fun cooperative play experience.
Post Date: 17:29 24-12-2014
Rating: 8
Author: altot
Comment: Great concept done averagely, still a game that packs a lot of fun with it, the graphics are awesome and worth a praise.
Post Date: 11:40 15-11-2014
Rating: 9
Author: FrendlyLeBlanc
Comment: Loook interesting…
Never played but i will try that
Fpr gameplay from yt 9 🙂
Post Date: 09:01 15-11-2014
Rating: 9
Author: arZ
Comment: Dungeon defenders is action RPG game, something like tower defense. I love to play tower defense and this game got really cool cartoon graphic. The point in the game is to dont let the enemy to get to the end of the map, destroying the units with towers that you can build on the map. Really cool game I rate it with 9/10!
Post Date: 13:25 12-12-2012
Rating: 8
Author: Epine
Comment: Like Thedarkboy this is also the first 3D Tower Defense I've played and I was really impressed with the graphics and gameplay. There is a pretty big RPG element in it as you get stronger by buying/upgrading your equipment which includes your pet, armour, and weapon. Playing coop is the best part of the game as it's not much fun alone and it's sometimes necessary to play in a group since each character you make has different strengths and weaknesses in defense.
Post Date: 11:18 09-08-2012
Rating: 9
Author: PolanWalker
Comment: Very nice and interestnig game. Impresive idea for game. For me 9/10 😀
Post Date: 11:50 04-03-2012
Rating: 10
Author: Dmt_2000
Comment: This game is Awesome I love how cartoony it is and how there is tower defense and you can fight while your towers fight at the upgrade system is cool I like the barbarian the best but you have to buy the DLC which Sucks and its cooperative so you can play it with your friends and kick ORC BUT and ogres and trolls if you like Action RPG or Tower Defense or cooperative or hybrid of the three if you like shooting for range or slicing with swords and smashing with hammers or chopping with axes Dungeon Defenders is a game for you and the graphics are so nice Enjoy the hoard and this is my review
Post Date: 19:46 29-02-2012
Rating: 10
Author: dakarimens
Comment: Loving the graphics and gameplay is stunning!
Post Date: 17:45 29-02-2012
Rating: 9
Author: KuroTsuna
Comment: This game is very enjoyable. I like the simple characters and fighting style. The map design of this game is very nice made.
The colors of every thing in this game is nice balanced and makes it colorful.
Post Date: 14:19 28-02-2012
Rating: 8
Author: Thedarkboy
Comment: This game is actually really entertaining! It's one of my favourites in the genre tower defense. Maybe even my favourite. It lags a little though which is a shame. My favourite class is probably the Monk. Honestly, in the beginning it wasn't that entertaining. But the more I played it became more fun. This game isn't really that fun if you play it all by yourself though. It's a lot better if you play together with friends and strangers. But it can be really hard in the beginning though. So everyone should of course do the tutorials first before they begin. The graphics are also pretty good. This is actually the first 3D tower defense game I have ever played. I think so. I absolutely love games where you cooperate with other players and fight against monster and other stuff like that. This game is one of those games.
Post Date: 20:27 24-02-2012
Rating: 8
Author: Lions
Comment: This is a fantastic mix of two of my favorite genres of gaming- tower defense and action-RPG. I got into tower defense with custom Warcraft III maps years ago but never played anything like them since then. Recently I've also been into RPGs, and the blend they have created in Dungeon Defenders is something that you just don't see in games these days.

The game is good on its own, but really wouldn't be anything if you can't play with others. It's much to difficult to solo most of the maps, especially if you are a low level character, regardless of the difficulty setting.

And despite what the screenshots of the action may show, this game is quite a lot of RPG elements, it isn't just an action game branded with the RPG genre title to get buyers. There is a customization system that differs strategically depending on which character you choose to play as. The game also has tons of loot and a currency system to purchase rare upgrades and items with, making the entire product worthwhile to many different types of gamers. The low $15 price tag definitely justifies the amount of depth you'll get out of this game!
Post Date: 18:39 26-01-2012
Rating: 8
Author: dmt_2000
Comment: DD is a 4player tower defense game combined with an action title. The goal is to survive waves of enemies. Each wave gets increasingly difficult with each player that joins. The goal is defending the Eternia Crystal. If it falls, the level is over. I love loot grinding, but I want others to see how badass I am really am.
Post Date: 05:10 14-01-2012
Rating: 8
Author: Ichigohollowfied
Comment: I have played the PS3 demo version of this game. It was a pretty decent game but I felt as if the characters moved a little slow. Maybe thats just how it is at the start. Definitely new where you are the tower maker and you level up and you can also level up yoru tower defenses…idk different definitely 🙂
Post Date: 22:33 09-01-2012
Rating: 9
Author: Webber
Comment: Many regulars at GO are playing DD. It feels like an ogre convention xD. The demo version is awesome. I want to win a copy in a contest!
Post Date: 02:05 05-01-2012
Rating: 8
Author: Joker
Comment: I played DD at a friend's house last month. If I could get my Steam to work I would buy it! Its a blast if you like Diablo and LoL. The loot alone kept us playing for weeks.