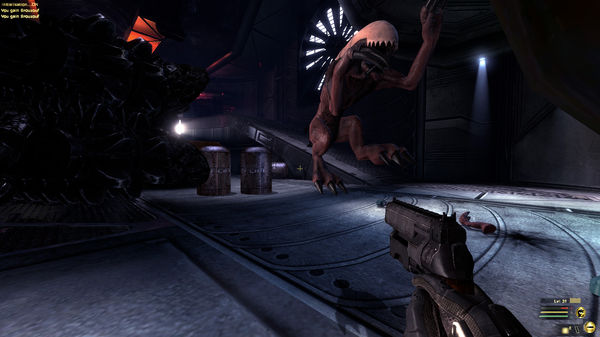 As a member of the strange secret society E.Y.E, you wake up after a fight in which your fellow teammates were killed. E.Y.E, an armed branch of the Secreta Secretorum is attempting a coup against the all-powerful Federation, a coalition of several worlds and planets that rule with an iron fist. To complicate matters, E.Y.E
Post Date: 20:41 28-05-2015
Rating: 7
Author: LosmiK
Comment: It's tough, it's overwhelming, and it'll break your brain, but E.Y.E is also one of the most creatively successful, conceptually lavish, mentally arresting games released in a long, long time.
Post Date: 21:14 19-11-2014
Rating: 8
Author: Mihajlo
Comment: E.Y.E: Divine Cybermancy is action FPS game with RPG elements in it. Players can have up to 3 characters, when creating new character, players need to choose between 9 DNA types (each has unique bonuses). Game features 3 multiplayer modes: PvP, Team vs Team and co-op. I rate this game 8/10
Post Date: 19:39 12-12-2012
Rating: 3
Author: pupu
Comment: E.Y.E: Divine Cybermancy is an indie action/role-playing first-person shooter.E.Y.E is set in a dystopian future following a complex background of events. The human race has become involved in an interplanetary conflict stemming from a mysterious race.
Gameplay, it begins with character creation, in which the player has three slots in which to choose from DNA types to apply. This initial character-building DNA infusion has a semi-random outcome in generating the initial character statistics.The player begins each game "asleep" and in a dreamscape, and must walk through a door within the dream in order to wake up.
The player's available special abilities are dependent upon which upgrades have been purchased or researched, and many are available upon character creation, this abilities require the use of energy; upgrades and some hacking stuff make this game similar to Deus ex, thats the only reason I played, but in my opinion its just a contemporary sad copy