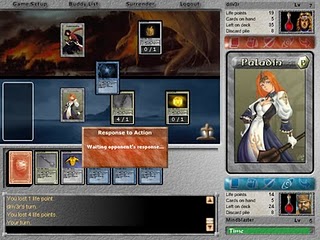 Ederon is a 2D multiplayer online collectible card game that you can play from any browser over the internet. Manage your deck, trade cards, buy boosters, go to tournaments and level up in this incredible online world! In the game, you represent one warrior and fight against your opponent that also represent a warrior. During the battle, you will be able to use several equipments, abilities and spells that are in your deck.
Post Date: 11:17 22-03-2015
Rating: 6
Author: axwellshm
Comment: relaxing game, but to old now. I think that the effect could have been better, but for the card game it's not a really big miss. 6/10.
Post Date: 13:47 03-07-2014
Rating: 4
Author: Aki013
Comment: I don't like this game, they could make it better,graphic are bad and gameplay too… 4/10
Post Date: 20:13 31-05-2014
Rating: 3
Author: Frozen
Comment: This is old and bad game for me.
I don't like the way which people play with cards.
Post Date: 17:38 16-05-2014
Rating: 8
Author: doca8
Comment: Very fun game, i play it with my friend 🙂
Post Date: 15:50 19-03-2014
Rating: 5
Author: Grunger
Comment: something like you-gi-oh 😀
Post Date: 10:16 01-03-2013
Rating: 10
Author: akshaj
Comment: i liked it i like card games thats y .. but u may not like it. also hasnt got much graphics