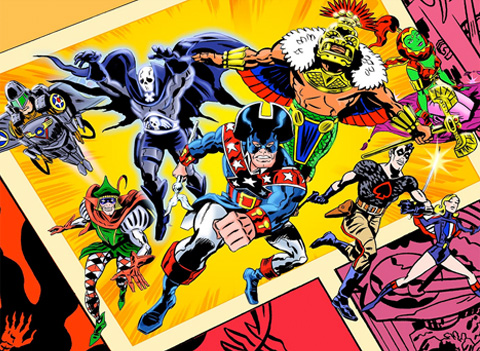 Freedom Force breaks new ground with its super hero theme along with online playability. In addition gamers are able to easily construct their own mods and super heroes.
Freedom Force Versus The Third Reich Review
The first game to strike gold in the comic book universe now has a sequel. Does it live up to the original or has the franchise been hit with a sophomore slump?
Freedom Force Cheats
Not the easiest game in the world to cheat on but it can be done.
GameSpy Arcade
Since the game does not have a network specifically for playing the game online like Battle.Net GameSpy Arcade is the best way to play Freedom Force online.
| | | |
| --- | --- | --- |
| Custom Characters | Download Size | Credit |
| Superman | 116 KB | Xman |
| Jackie Chan | 54 KB | Justin Pearce |
| Batman | 98 KB | Xman |
Freedom Force
The official site where you can find patches web kits editors custom characters and meshes.
FreedomMods.com
Great source for multiplayer and single player mods. The site also has a guide to help you install FF mods.
Modforce.com
Home of the editor that used to make Freedom Force mods. Also features news on the latest extras that have been created.
Freedom Force Center
A plethora of Freedom Force essentials like mods character models skins and a Multiplayer Multiple Spawning tutorial.
Electric Freedom
Chalk full of super hero meshes voicepacks and images.