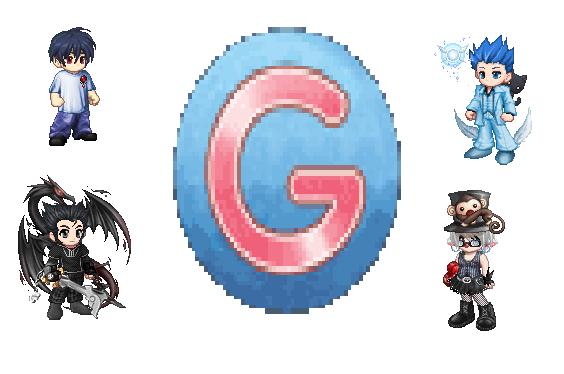 A 'forum junkie' game that allows you to make a character any way you want to, race, buy a house, and meet many users from around the world in an interactive world as well as forums/threads.
Post Date: 13:43 05-09-2012
Rating: 6
Author: PolanWalker
Comment: High possibility to become addicted like in all online games of that kind. For me 6/10
Post Date: 14:16 12-11-2011
Rating: 6
Author: Thedarkboy
Comment: Don't really call see this as a game :S Pretty boring though if you ask me. Used to play it a while but got tired of it and stopped..
Post Date: 19:52 03-04-2011
Rating: 8
Author: Kiyri
Comment: Generally, Gaiaonline is a good site. It is highly addictive, and allows a lot of interaction with other players from all around the world.
There are a range of things to do e.g. Play games, forums, customising your account (Profile, character and house) A good way to kill time, a lot of items to purchase and a huge community of active players
However, without good friends on the website it can become boring.
Post Date: 22:47 19-12-2010
Rating: 2
Author: Kaxy1
Comment: Gaia Online is more of a community site than a game. The real games the site offers are in the form of pinball, card games, as well as its own MMORPG spinoff, zOMG! If you ask me, what I do like about the site is that its free to be member there. The bad things there (and I mean REALLY bad) are the community and the convoluted economy. You can't get anywhere in Gaia unless you meet the rather hostile community itself. While there are few people there in Gaia who are nice, the rest of the others almost ALWAYS act like they're something special and constantly creating needless conflicts with others that shouldn't be started in the first place. And what's also as bad as the community? The aforementioned broken economy.The economy consists of items which are really just non-special pixels that someone else thought up, yet the people who run the economy tend to commit countless numbers of economic no-nos by constantly inflating the prices of those items. And whoever thought it was a good idea to introduce the price indexing system in the site's marketplace? It only makes the inflation situation worse than it should be.

If you ask me, Gaia Online is nothing more than a MySpace-esque site with avatars and games that has a community very dangerously close to MapleStory territory (an even worse MMORPG). I've been wasting about 6-7 years of my life being in this site, and this urge to come back to that site is really proving to be detrimental to my time in real life. I really don't recommend going to this site unless you're bored with real life and can stomach the awful community and economy this site has to offer.
Post Date: 21:55 03-12-2010
Rating: 6
Author: champking5
Comment: This game isnt all that good. The Gaia online was really just a game to be on fourms. My cousin played it and gave me an account to play as well. I play it because the new game that came out on it.
Post Date: 17:16 09-10-2010
Rating: 8
Author: CodenameD
Comment: Gaia Online is not a game in a real sense but a social hangout with lots of mini games and its own internal MMO called zOMG!This game focuses on creating your own anime themed character and dressing them up and hanging out with your friends and do every other socializing stuffs online on their versatile forums and mini games. You can use real cash to buy stuffs (which was not there a few years ago and was better) or get them from virtual currencies in game called gaia gold.

The gaia is still growing. it is upgrading. But some upgrades are plain downgrades: They remove some good stuffs and add more complex and buggy versions of them. But nevertheless the site is fun to hang around and make friends.

The Admins and Moderators tend to make a lot of mistake from overmoderating and piss some users off but then again, atleast they respond and not turn a blind eye.

Been there for 2 years and up and i have a lot of memories with that place. I recommend going there if you like anime themed fun filled community to make friends.
Post Date: 20:34 30-09-2010
Rating: 9
Author: Vocal
Comment: Gaiaonline a great social game.The community is huge,and by huge i mean reallly reallly huge!The characters designs are great,and there is many events/update.You could also go to worlds,join guilds and chat with people.Most guilds role play.There is also this feature where you can watch youtube on a movie screen with other gaia onliner people.The mini games are fun but could be boring.I recommend this game if you have any friends to play with.9/10
Post Date: 23:44 02-03-2010
Rating: 8
Author: quinn
Comment: Gaiaonline is a fun online game, if you like the huge community. Discussions can be hard, as threads fall off the first page very fast. It has a very fun MMO (zOMG) though, and I play it very much.
Post Date: 01:27 09-02-2010
Rating: 1
Author: futurekiller
Comment: This game is so boring i dont know why any of u play it not being mean but it is just plain stupid. Maybe it is just that i like more wow and effects and so on.
Post Date: 11:35 12-01-2010
Rating: 7
Author: Vzionn
Comment: Though I have stopped playing Gaia Online, I thought it was a decent game. Nice people.. though this game has its share of noob calling, great selection of clothing, items, upgrades, homes, Zomg, etc..
You get caught up in the "I need to spend real money!" situation.
Post Date: 04:44 13-09-2009
Rating: 0
Author: KannaDemoniaTenshi
Comment: Gaia is nothing but money-grubbing greedy people who love to slam the ban hammer. I have screen-shot evidence of the admins being rude to me and my husbandafter we spent over 50$ on monthly collectible items. I am going to submit this on the forums. I would suggest NEVER spending your money in Gaia, the administrators are all jokes and from a beta-tester point of view, WORST MMO EVER. The "rings" you can equip to your character are worth well over 300k each.
The downside? YOU CAN"T SELL OR TRADE THEM. THEY ARE "SOULBOUND" TO YOUR CHARACTER.
There"s no money-making value in this website, and the administrators will consider a pregnant woman sitting on the computer all day to be inhuman interaction and botting.
I love sitting on my butt all day playing games. I"m pregnant, not much else I can do otherwise I"m being a pain in everyone else"s necks. So why is it when I spend over 5 years of time and effort on a game they give me a hard time? Well, my friends. It"s because they are heartless.
I"m going on every single MMORPG website and rating these idiots a 0.
There are over 150 people I alone have talked to who have had the exact same thing happen to them.
The worst part? Because my husband"s account had recently made a trade with me he was considered to be "benefiting from a macro/bot user" and they also dropped the ban hammer on him.
My appeals? I"ve been arguing with them for over a week and they keep lying to me and not providing me with any significant effort they have in fact done this.
I stand for justice.
Post Date: 02:55 31-08-2009
Rating: 10
Author: rockafella10
Comment: i started gaia a few years bck n i jus been on ever since. its so addictive.
Post Date: 04:08 17-08-2009
Rating: 0
Author: shimorigagoua
Comment: i hated this umm…. game? it sucked hardcore worst thing ever, community sucked.
Post Date: 10:11 27-07-2009
Rating: 10
Author: blue tiger
Comment: the rateing at the moment would be 100000!from blue tiger
Post Date: 21:02 19-05-2009
Rating: 10
Author: stephstar101
Comment: Anime and Manga fanz! This IS for YOU!! You can design your own characters, look at comics, go to the cinema and watch clips, and even have your own aquarium (not to mention car and house)!! There is much more than just that, but we'll let you first try it out.
Post Date: 23:04 02-04-2009
Rating: 8
Author: Sammy103
Comment: Gaiaonline is one of the best websites to go to for roleplaying. There forums are endless and you can be what ever you want to be with very customizable avi's!
Post Date: 18:57 02-01-2009
Rating: 10
Author: kingkid500
Comment: i used to play something like this or was it this lol it had guns and teams it was rly cool
Post Date: 00:33 29-10-2008
Rating: 10
Author: tanbal11
Comment: gaia is soooo ausome and i dont really care what anybody else thinks
Post Date: 20:52 06-08-2008
Rating: 6
Author: stuza
Comment: this game is more of a socil network like bebo but insted of using youself to atract pedos you create a character make it a car and home and send messages thats it not the best
Post Date: 21:23 20-07-2008
Rating: 9
Author: bleedingHEART
Comment: My goodness…don't you people understand the game isn't mainly about fighting? It's mostly forum based. Yes, a fighting system is to be realeased, but it's social!There's lots of people online every day! You get montly collectables, A little over $2.00. You get to dress your avatar however you like, go to the Towns, and make a lot of friends! There's also games, Pinball, Fishing, Slots, Cards, Wordbump and Jigsaw. You also could get a car and race! They also have the Cinemas, which have improved sooooo much! They have waay more movies than before!! There's the VJ, where you make your own user created playlist, and people can go and watch it too! You can also get a house for 1000 gold. It may be difficult getting a lot of Gold, but if you manage, you'll get it! Voting, commenting, getting daily collectables, you'll earn Gold! The Jigsaw is a great way to earn Gold, and the harder it is, the more Gold you get!! Also, with Gaia cash cards, you could get cash and buy items with it, as well as items in the Cash Shop, not available in the regular shops!

The cons though…there's lots of noobs…plenty people love to Cyber and all of that crap. So beware, creeps are all over! Lots of illiterate people, which is a big pet peeve for people now. Don't trust hacking, you'll get banned! There's also users who think they're better than you and stuff…but for the most part, you have friendly people!!

Gaia is a nice community, it's not perfect, but very nice!!

Oh, if ya wanna contact me, my user is: Shikamaru Is My Boo
Enjoy!

(P.S. It's very anime based, so you'll find lots of anime fans. They do discuss a lot of other things, but if you don't like anime, you're going to be surrounded by a lot of it. Don't worry though!)
Post Date: 16:11 17-07-2008
Rating: 0
Author: pavelzap
Comment: I don't like this game at all. Habbo is better. Bad game, don't try it. Trust me.
Post Date: 20:11 16-07-2008
Rating: 10
Author: elzashan
Comment: BEST GAME EVA!!! stuff u peepz who say it dosnt hav fighing cuz in 2008- christmas. they will be bringing out a RPG gaiaonline- based on fighting- so HA!!!!- pleez go 2 this site- u will luv it!!!
Post Date: 21:12 14-07-2008
Rating: 10
Author: Mars180
Comment: One of the best sites i went on oh and mythical ninja thats just because your like oh this game sucks im not gunna play it for more than a week its easy to get gold. And they are coming out with a PvP game i heard
Post Date: 16:53 04-07-2008
Rating: 10
Author: PrinceTrase
Comment: Great community game. The people there are very diverse and you can go so much. You don't have to make a commitment; they won't cancel your account. I met good friends there and I'm having tons of fun!
Post Date: 05:00 06-04-2008
Rating: 10
Author: co6241
Comment: Great game, very fun…
And to those people who said it's lame because there's no fighting, games don't always have to be about fighting. For goodness sakes, this game review is in the virtual worlds section. If you wanted a fighting game, look in the online rpg or mmorpg section. Not all games have to be about fighting…Most of the other games in this section don't have fighting either.
Post Date: 11:41 31-03-2008
Rating: 0
Author: MythicalNinja
Comment: Bad Game. What a lot of junk. Its hard to get gold and lame no fighting. Whats an RP game with no fighting?
Post Date: 21:58 08-12-2007
Rating: 10
Author: Leofloren
Comment: Gaia is very cool. I have been on for 3 years now, but I actually liked it more before they got a lot of the stuff people love now.It has many different forums discussins, millions of registered user, and you have an avatar you dress up and buy items for. You earn gold for posting in the forums, in journals, and people's profiles.

You can play a fishing game, a card game, a jigsaw puzzle game, a racing car game (you can customize your own car) and wordbump. You can have your own home and decorate it, and have it placed in a neighborhood with your friends.

No matter what kind of person you are, there are other people like you here.

And as arctigon stated, the MMORPG game will be up soon. However, the weapons you equip to your avatar can't be used, they are only decoration. That's one of the reasons I'm mad. Despite all this, it is still one of my favorite sites.
Post Date: 03:54 29-11-2007
Rating: 10
Author: Lovely Nature12
Comment: hey! guyzZ try out gaia online this was so fun.. u can meet others. and race with them., i love gaia a lot.. and i will not leave it.. lolzZ.. only one comment i will leave here… i want some battles… u know … means more than race or something.. and then win a gold.. or some items.. lolzZ.. unlimited like that… or level by level.. i dunno… its with the owner or maker of gaia. ;=o)
Post Date: 02:30 13-09-2007
Rating: 9
Author: Arctigon
Comment: People Like Adio01 is the only problem with the game. Its About Hanging out and talking on forums.
The Cars, games, and the battle system are just small Mini games.
Post Date: 01:57 31-08-2007
Rating: 2
Author: Adio01
Comment: arctigon said it right its LAME, NO FIGHTING and the battle system is supposed to be lame so i hope they make a new one
Post Date: 22:47 29-08-2007
Rating: 9
Author: arctigon
Comment: Great online siteI hope no one posts "LAME, NO FIGHTING" or anything like that cause people sometimes don't realize the site is mostly about the forums.
You can also have cars, a house, play puzzles, go fishing, catch bugs, and lots of other stuff.
They have an MMORPG type battle system coming out soon.