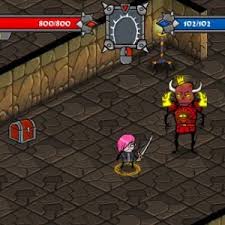 Loot Heroes II

Game Description and Comments
Loot Heroes II is a free dark action RPG in the same vein as Diablo but only on a much smaller scale. You have a plethora of characters to choose from ranging from an orc all the way to a rich man to a ninja that can be unlocked during gameplay. In fact, there are many characters that can be unlocked during just playing.
Virtually everything can be done with mouse buttons so it is quite simple to pick up and just start playing. As soon as you start you can tell the game is a bit a tongue-in-cheek. The dialogue at the very beginning sets the tone right away. My character was the rich man so I can throw money on the floor and the monsters will fight over it. The most fun was throwing the money between a huge boss and a couple of henchmen. I got to level up because the boss made his henchmen into Swiss cheese. That said, Loot Heroes II is a nice free time diversion for gamers who love the Diablo franchise and most clones.
Play Loot Heroes II Action RPG Game
Features
1. Free online game.
2. Dark action.
3. Many characters to choose from.
4. You start in Hell talking to a devil king.
5. Use the mouse to control everything.
6. You must kill 10 rebel lords of hell.
7. Plays a little like Diablo.
Pricing Mode
Loot Heroes II is a free flash game published for the web and is supported by ads and micro-payments.