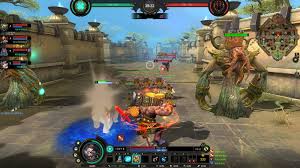 Minions is game powered by \nCasual Collective. That\'s MOBA made 2008.Minions is free-to-play game. inions is played by two teams of one to six players. In the initial phase of the game each player selects or is randomly assigned one of eight "minions" to play as, each with its own strengths and weaknesses.
Post Date: 08:37 18-04-2015
Rating: 2
Author: Croco12
Comment: I should better not talks about graphics here….
Anyway, I could understand that since it is old, but the gameplay ain't the best either. I mean, only 8 characters is kinda boring… 2/10
Post Date: 13:54 29-01-2015
Rating: 4
Author: axwellshm
Comment: Wow, such low graphics , and gui is kinda used from WoW (not all), and for me, yes it's moba, but again it is so familiar to the WoW battle arena (dunno why but it's really familiar for me) , 2008 but still , low graphics, they could do it better. 4/10…
Post Date: 15:25 26-12-2014
Rating: 3
Author: arZ
Comment: Minions is developed for Paul Preece and David Scott, and these two guys are the owners and founders of the company Casual Collective. So the developer and the publisher from this game is Casual Collective. The release year was in 2008. Minions is a free to play adobe flash player game, and we can say its a browser game. Its a MOBA but not like the other popular mobas, like league of legends or dota but its based on the same game play.

So lets talk little bit about Game play. Its a 2D game, I need to say at begin. So at begin each player can select or pick randomly eight minions to play with, and every minion got his own weaknesses and strenght. The players are randomly dropped to two teams of one to six players in each team. The picked minions, now you need to decide two minions to pick the Bonus Pack. After you pick the minions and you select the bonus packs, the game starts. The game play is something like tower defense, you need with your minions to destroy the enemy towers, minions and the base. Who destroy the enemy tower in the middle of the base wins the game. Simple. So they are no champions, they are just minions in game where you need to control. The towers can be repaired and you can buy a shield for them too. Minions can level up getting experience points in the fight and after you lvl up you minions get a small amount of damage too. Every minion got his own special skills and you can upgrade it when you level up like in all other popular mobas. Killing an enemy minion or tower get much more experience, and you level faster. After the enemy was killed it will re spawn in his own base as a ghost and you got short period of time where you cant attack, but you cant
be attacked too. How long you stay as ghost depend on your level. Higher the level the more time you spend as a ghost. Sometime it is good, sometimes not. After you win the game every player get a bonus from 100 points, and the best
players from the team are honored with some extra points at the end of the game.

The graphic from the game is really bad. We are in the year 2014 and its still in 2D mode, and the sound of the game is like in some old arcade games. Its not so popular like other mobas, not so many players are playing it, so the matchmaking does take some time. After a short period of time gets boring, because of lack of the minions. Not so many in the game. I would say, this is the worst moba that I ever played, or tried till now. I need to rate this game really low. I rate this game with the note 3/10, just because I like moba games. Dont recommend this game, waste
of time to play it, its not the same game like in this picture.