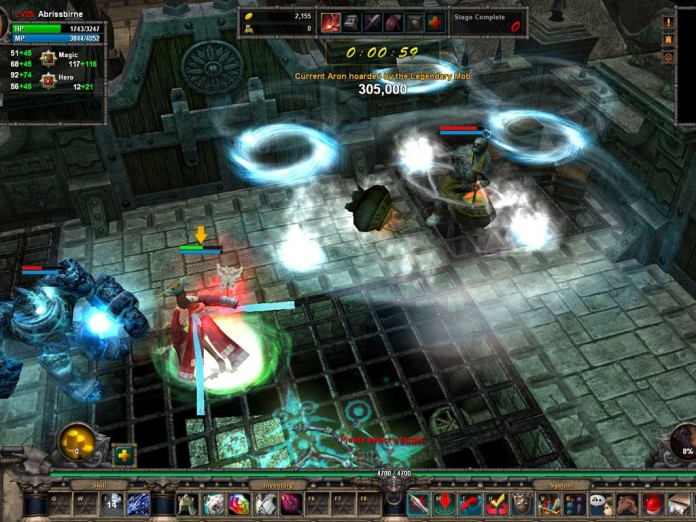 Build your own personal place. Create buildings, vehicles, scenery, and traps with thousands of virtual bricks. Visit your friend's place, chat in 3D, and build together.
Post Date: 23:43 16-03-2011
Rating: 10
Author: wickedsonic1
Comment: This game is AWESOME!! ive been playing for nearly 2 years and im not tired of it! you can do ANYTHING! and fiy: its not for little kids!!! most people i know on there are age 14+ there are a FEW little kids, but most are safechat and cant annoy you… and if your under 13 lie…youll be safechat if you dont lie, you can verify your chat but ide reccomend saying your over 13. p.s. blockland is such a load of crap and a copy of roblox!!!!
Post Date: 14:26 21-11-2010
Rating: 0
Author: Sonicthereviwer98
Comment: This game is the worst game I have ever played. It's laggy,the games are unorginal, and the admins can't do their job.
Post Date: 01:28 01-10-2010
Rating: 3
Author: Vocal
Comment: the game could be laggy and not.The games are meaent for children.Weapons look like just pictures,chat could of been better.just seem boring.3/10
Post Date: 00:01 13-09-2010
Rating: 0
Author: TehUnlimited
Comment: An absolutely HORRIBLE game. The community is usually made of children under the age of 13, and was basically MADE for children. I wouldn't recommend this game at all. You'd waste your time with the horrible community. And the game lags very badly. If you want a game that's decent, Get 20$ and buy Blockland.
Post Date: 00:25 10-06-2010
Rating: 10
Author: ozk4r123
Comment: This game have a loot of fun but you need to seach for it, if you dont fund your perfect game, make one 😀
Post Date: 03:35 20-02-2010
Rating: 10
Author: keoman
Comment: Amazing!! a must play! its awesome becuase one, you can coustmize your avatar with clothes that you and anyone else creater two, create yyour own virtuial world and three just have fun smashing and bashing thing up!!!:D A definite 10 of 10
Post Date: 07:50 14-08-2009
Rating: 5
Author: neji23
Comment: How the heck do you say anything without chat?
Post Date: 22:59 19-03-2009
Rating: 8
Author: revv3
Comment: Great. I have been playing for 2 years now, not bored yet. Great for lego lovers. Cons are that there are lots of bugs.
Post Date: 20:13 04-03-2009
Rating: 6
Author: mcglynn25
Comment: pretty decent game.
Post Date: 00:18 23-10-2008
Rating: 0
Author: shimorigagoua
Comment: oops looks like i didnt rate it wat i meant to rate it, hehe, oh well, ill rate it properly this time
Post Date: 02:59 23-09-2008
Rating: 5
Author: shimorigagoua
Comment: a very kiddie game, i personally hate it, but thats cause im not 5!! though my brother loves it, i still hate it and find it completely pointless, definitely a 0
Post Date: 07:13 20-09-2008
Rating: 8
Author: FatefulSaint
Comment: This game was made for LITTLE kids , They made it for little kids like really if you look at the comuninity the only people who play roblox and are older are the famous ones like Altair7 Clockwork or Fleskjerta oh yeah and TylerMcBride. Anyway the point is dont say it sucks, there are some nice people on it, and remember it was originally made for little kids. God some people idiots… like the person under me.
Post Date: 14:31 25-08-2008
Rating: 0
Author: mars180
Comment: Hmmmm where should i start… The community sucks, The avis are childish, and so is everyone else on it! it sucks DO NOT play it.
Post Date: 03:47 11-08-2008
Rating: 10
Author: heissocooldg
Comment: Gets very addicting at times, you can make anything you want (if you can get Google Sketchup, you can make even more) plus a lot of the places people make are good (the games page games usally aren't very good). PS: The Picture for roblox is a room made by me on my other account, Disneyland.
Post Date: 15:36 30-07-2008
Rating: 8
Author: pavelzap
Comment: Good game, but kind of hard to make your own weapons and stuff. Mugagamer explains it all! Worth a try, this game is.
Post Date: 00:12 06-06-2008
Rating: 10
Author: fantastica
Comment: this game is awesome. you get to build stuff in infinite possibility's with hundreds of selections
Post Date: 12:35 04-06-2008
Rating: 10
Author: DarkReaper55
Comment: It is addicting. and there are cool clothes you can buy for your character. Its for all ages and its always fun with custom made games by players.
Post Date: 00:35 20-05-2008
Rating: 10
Author: Ashthepokemontrainer
Comment: Gets addicting =)
Post Date: 04:19 02-05-2008
Rating: 10
Author: MetalEd
Comment: I really like this game, it's very easy to get used to and very fun to play. Good community too (Usually)
Post Date: 23:42 26-04-2008
Rating: 8
Author: Mugagamer
Comment: Great game, good for all ages, but lots of lag in places with a lot of bricks. And sometimes the places won't even load. Good combat system because you have to wait for it to reload and you can even create your own items. Overall I give it a 8.