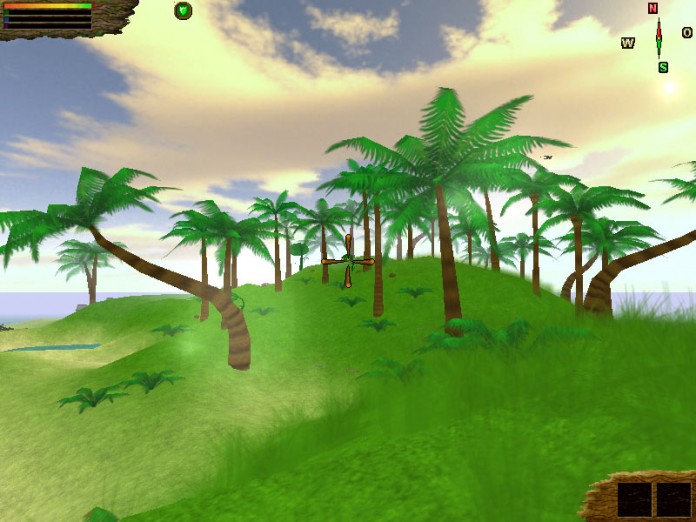 Stranded II is the sequel to Stranded, a game based on you getting stranded on a remote island, then trying to survive with what you can find on the island. This sequel adds many more items and graphics and overall improvements. You find things by either getting them off the ground or pounding a tree/stone etc, you can then combine things together into more useful things. For example, you can hit a tree many times until you get a branch, then you might get a stone off the ground, or hit a rock until you get one, and combine the two to make a hammer, which is used as a basic weapon and it is the construction tool of the game, letting you build a shelter, storage and even a campfire. You will have to experiment to find the combinations though.
Total Rating: 8.00
Reviews: 5
Review Archive
Post Date: 20:51 09-12-2014
Rating: 7
Author: paksupro4
Comment: This is free survive copie of minecraft. Graphic is better then minecraft ( but i more pref cubes in minecraft – BEST)
but gameplay is not as good as minceraf. It a same stuff: you are on island and you need to survive with stuff you find there . I like this game and i rate it with 7/10
Post Date: 14:17 28-03-2014
Rating: 8
Author: GoGlEfIrEiCeMaN
Comment: Good game better then minecraft play it trust me its good
Post Date: 13:50 13-01-2012
Rating: 8
Author: Thedarkboy
Comment: The graphics are really good. The gameplat too. It's fun in the beginning but gets boring after a while. After a long while :p
Post Date: 01:12 12-04-2011
Rating: 8
Author: EcLuD
Comment: Well, I like the graphics are good and the game is very fun (adventure), the story is good and the gameplay too. 8/10
Post Date: 00:51 03-02-2011
Rating: 9
Author: Adrian
Comment: I was surprised by this game. There is so much that you can do, that combined with great graphics and gameplay, make this a 9/10.