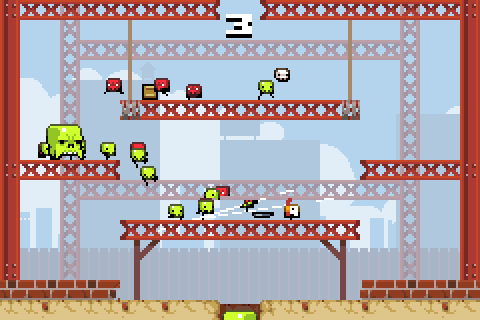 Super Crate Box is coming to bring back the glory of the golden arcade age, when all that really mattered was getting on that high score list. Grab your baseball cap and loosen your pants, it's time to fight endless hordes of enemies and collect every weapon crate you can. Prepare for an arcade delight with interesting, refreshing game mechanics, cracking retro art and a terribly hip chiptune soundtrack.
Total Rating: 3.50
Reviews: 4
Review Archive
Post Date: 14:07 25-07-2015
Rating: 5
Author: SulzYee
Comment: This is free to download game, graphic are bad but gameplay is good… You have few tipes of weapon which helps you to stay alive, you have to fight for your life… Stay as much as you can alive and you will be winner 🙂
I rate this game with 5.
Post Date: 20:43 09-12-2014
Rating: 7
Author: paksupro4
Comment: This is free nice old arcade game. Point of game is to fight with strange enemyes and set the highest score. In game you have a lot of weapons . Graphic is good for this kind of game and i love that kind of graphic gameplay is good too and i rate this game with 7/10
Post Date: 09:18 31-12-2013
Rating: 1
Author: keller07
Comment: i really hate that retro things. That's very bad to me that whenever i see it, it made me annoy. Like dark also 1/10
Post Date: 13:43 20-01-2012
Rating: 1
Author: Thedarkboy
Comment: Honestly, I hate this game. The graphics sucks too. So that doesn't really help. This game is actually one of the worst games I've ever played, if not the worst.