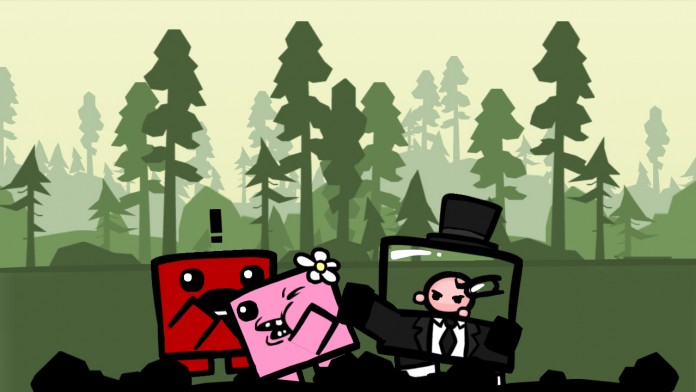 Super Meat Boy features platforming madness spanning over 300 levels of saws, disease, fire, lasers, missiles, and various other traps that Meat Boy must avoid to rescue his lady love.
Post Date: 18:18 30-05-2015
Rating: 8
Author: axwellshm
Comment: It's a pretty decent game. I like the graphics. Gameplay are kinda weird but good 🙂 8/10.
Post Date: 08:18 04-12-2014
Rating: 8
Author: arZ
Comment: Super meat boy is a great jump and run game where you need to avoid different traps, rockets, fire, and different holes. Over 300 levels of fun in this game. Really popular game from streamers. I rate this game with a note 8!
Post Date: 22:21 04-08-2012
Rating: 8
Author: Dmt_2000
Comment: This game is very fun and simple and challenging i like it alot it is kinda boring till u are done playing for A bout 1Hour
Post Date: 12:54 04-08-2012
Rating: 8
Author: Thedarkboy
Comment: The game does not look like much from the beginning. A flat major figure and a few simple platform jumping. But after about 30 minutes with Super Meat Boy, I was convinced that I experienced a really amusing game. Although the greater part goes to die. Dying and swearing. Super Meat Boy's protagonist is a red square. The first world is no match for a reasonably experienced platform players, but already in the second world your kill count on poor Meat Boy starts to get higher since it's really hard to keep him alive. A single misstep means an inglorious ending and you have to start over. It sounds frustrating and it is frustrating, but in that special way that it can actually be pretty entertaining.
Post Date: 07:22 17-07-2011
Rating: 7
Author: Roadie
Comment: More hype than a real gem. I thought it would be a sleeper hit that I would play for months. Sadly, I was wrong. SMB is mediocre at best.