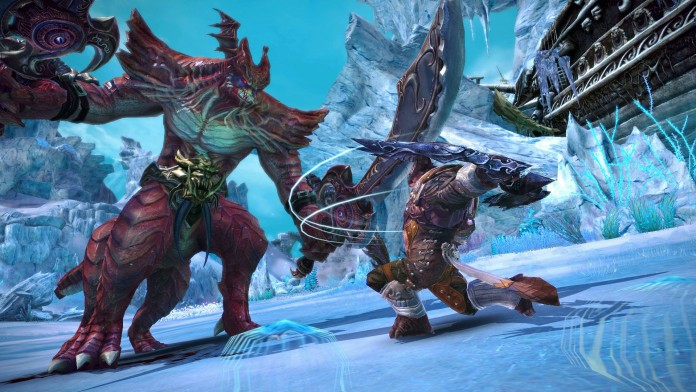 TERA is the first true Action MMORPG, providing all of the depth of an MMO with the intensity and gratification of an action game. Players fully control their characters using the game's dynamic battle system. Player actions can change the balance of power in a world threatened by dark powers as six allied races try to work together to protect their lands from marauding monsters, underworld dwellers, and evil scheming gods. TERA raises the bar, setting new standards in the gaming industry. It is a visually stunning world with graphic quality above all other games in the industry. You will experience a new ground-breaking gameplay system where stereotypes of traditional MMORPGs will be broken. You will have full control over the attacks and the fate of your enemy. No more 'pointing and clicking' and playing combat relay with the enemies. Furthermore, not only do you control the action, TERA is also set in a world where the players will dictate the flow of the economy and individually impact the community environment.
Post Date: 15:22 27-04-2014
Rating: 8
Author: borist
Comment: Good game! Game haven't 2 factions. 🙁
Post Date: 15:19 27-04-2014
Rating: 9
Author: ZeljkoKing
Comment: Side Quest – –
Post Date: 06:44 15-04-2014
Rating: 9
Author: molnyi
Comment: Tera online is one of the best, if not the best free mmorpg these days. It offers a variety of class picks, races and many other things. Graphic is outstanding, world looks fantastic and pvp is the best. I love this game very much.
Post Date: 16:39 20-03-2014
Rating: 10
Author: SilverFOX57
Comment: One of my favorite games 😀
Post Date: 21:41 19-03-2014
Rating: 10
Author: RenjiUlqu
Comment: Great game ,love it 😀
Post Date: 18:38 26-07-2013
Rating: 10
Author: User Name
Comment: Good GAme
Post Date: 19:18 17-06-2013
Rating: 10
Author: Joker
Comment: No TERA will win! I predicted it xD. GW2s combat is too mechanical compared to TERAs. 10/10
Post Date: 04:20 09-06-2013
Rating: 7
Author: Webber
Comment: TERA will lose to GW2 in the finals of GOs Showdown! Turning free helped TERA but it will not be enough to overcome the mighty GW2.
Post Date: 16:20 31-05-2013
Rating: 8
Author: Thedarkboy
Comment: Tired of the typical MMO? Want dynamic battles against huge monsters where the basic concept is still intact? Then Tera might just be what you're looking for.

The MMORPG genre is often criticized for being itself. "This is exactly like World of Warcraft," it's said, before anyone has time to think exactly the same reasoning that could be applied to – say – the action genre. In the case of Tera, the basic concept is back from other MMORPG's but at the same time the battles and design reveals that this is something beyond the ordinary.

The world that Bluehole Studio created using the Unreal Engine is a dazzling beautiful one. As a beginner in the game, I was introduced what the beautiful fantasy online game could offer, feature for feature. If I jump forward a bunch of hours, I've reached lvl 20 and I've beaten my way through hordes of enemies and find myself at the end of a mission chain where you have to defeat a massive boss.

Up until this point in the adventure, I had no idea what my actual role to the other players will be, but here I have to decide if I want to tank, heal, throw spells or stab enemies through life.

The quest system in Tera is very similar to Star Wars: The Old Republic where I get to choose what I want to do and don't need to focus on the main story. The side quests will help me in the form of extra experience points and equipment, and also offers a complimentary experience that takes the edge off the drama a little – a critical aspect of a MMO who must feel alive and dynamic.

The side quests are for the most part to gather something or kill a certain number of enemies. To make this easier, you are shown exactly where the objects or enemies are on your map. In addition to this arch-classic type of quests design, I'm also offered in much more interesting variants where I can be pressured by the time or in an ambush where you have to hold out when the waves of enemies flooding towards you.

Initially, I only travel by either running from town to town or teleport me from places I have already discovered. Later, at level 11, I can purchase a mount that makes the traveling far more comfortable. Besides, it's awesome with lions and horses. On top of that, I can start to save up for a flying pegasus when I reach the game's capital.

Tera has been marketed as an action-oriented MMO, and this shows itself in the fact that I have to aim my attacks on my own (or healing spells) to succeed. A classic, Japanese MMO feature that have not yet established itself in the western world. By lining up my attacks I can perform combos and generally the fighting feels much deeper and more entertaining than many other MMO titles.

In Tera it feels natural to slaughter everything you see. But firstly, my items are breaking after a while and I need material to repair my stuff. Secondly, I can earn incredible buffs (positive impact) with everything I gather. It will be interesting to see what role these buffs will play in the real challenges later in the game, but right now it is simply too early to say anything.

If you do not have a sufficient number of comrades to clear a particular instance, you can use the game's built-in matchmaking system, and caves and instances is something that will require some weaning from the classic online role players side. For example, you can not pass through allies or monsters, but must run around to get where you want.

Add to that the fact that you have to aim to hit your target and you have a whole new kind of challenge ahead of you. Aiming and coordination skills suddenly become at least as critical as the items you have managed to accumulate, and it is not certain that the players that have played TERA the longest will be the strongest.

After many hours, I start to get used to the battle system, but I still have to say that I really do not recommend roles like tank or healer for someone other than someone used to MMORPG's. Other players tend to move which complicates the critical heals when it is needed most, and the one to blame will be you. Instead, choose a class with a focus to injure the enemies and learn yours and your comrades movement patterns is, in different situations.This will help you if you later choose to play as a healer.

It doesn't matter how you look at it. TERA is a strong newcomer in the role-playing genre. During the beta period, it looked quite bad sometimes, but now that the game is finished and released, it is clear that Bluehole Studio managed to get the game back on track in the end. It has infinite potential, thanks to a unique combat system and inviting, warm graphics that refuses to let go.

Even though the crafting system might be a little complicated and some side quests are really unnecessary and boring, the unique combat system, the adorable graphics, heavy sound, great story and almost an endless of things to do makes the game worth your time. You definitely don't want to miss this game.
Post Date: 00:30 15-04-2013
Rating: 8
Author: ufbre
Comment: good grafiks
nice gamplay
races and classes are good
and the music in game is briliant 🙂
so try it out
Post Date: 18:53 08-04-2013
Rating: 9
Author: Joker
Comment: Much better game since going free. The combat rocks like no other MMO i have played including my DC:p.
Post Date: 15:01 24-02-2013
Rating: 10
Author: Webber
Comment: TERA is now free! No doubt TERA is the best free game to platy atm. The graphics and gameplay are far better than other games right now. 10/10
Post Date: 15:31 21-05-2012
Rating: 10
Author: kate1251
Comment: This game is simply amazing, my boyfriend and I love it to death! Once we started playing this we don't want to go to any other mmo the combat system is fantastic, and the game all around is just beautiful,every zone I go to or almost every BAM (Big Ass Monster) I see I take a picture of it! I would recommend this game to anyone, it honestly blew me away 🙂
Post Date: 23:53 04-02-2012
Rating: 8
Author: Irish
Comment: Astonishing mechanic, I'll be glad to be part of the beta test-sneak peek to see how bluhole managed to handle the UE3 in this very scenario.
Post Date: 15:30 04-02-2012
Rating: 8
Author: Xaria
Comment: Tera's battle system is something new and fresh compared to the select and click method of most mmos. I am extremely pleased with the graphics, which are far superior to many mmos. The classes are pretty usual; there is a mage class, priest, tank, ranger. Another unique part of Tera is the government system, Overall, I would be excited to play an mmo like Tera and be able to experience the gameplay first-hand. Thanks
Post Date: 12:48 04-02-2012
Rating: 9
Author: Synthesis
Comment: Very promising looking game, looking forward to 3D combat. Graphic wise its going to do well, but the combat system is going to make my day, i hope this will become a well organised PVP game. Or even makes me want to try PVE after 10 years of MMORPG gaming.
Post Date: 12:23 04-02-2012
Rating: 9
Author: Blackmane
Comment: This games looks very promising with its unique combination of MMO and action-RPG element. I am curious after all the auto-attack, % statistics based fights, how an MMO works out with more skill-based fighting mechanism. Go tera, go!
Post Date: 09:34 04-02-2012
Rating: 9
Author: ideathstar
Comment: Tera Online is one the next generation of MMORPG that separates itself from the click, lock on and attack. The fast-paced game play have you constantly watching the screen to see what is happening and what you should do next. The reason why I want to try out Tera is because I want to experience this new type of gameplay in and MMORPG. Also to decide whether or not I just Pre order the game.
Post Date: 08:18 04-02-2012
Rating: 10
Author: RedShadeX
Comment: I havent played an mmo in a really long time and now i bought this super laptop with amazing specs. I really wanna play TERA and see how it runs and most of all i am really curious about the graphics, i bet they are dazzling. Anyway, a key would be greately apreciated, hope i can get all my friends to play this game. All right everyone, have fun and be save.
Post Date: 06:00 04-02-2012
Rating: 9
Author: Norbe
Comment: TERA like a breath of fresh air among the current MMO games. It offers its own unique style and the graphics are amazing. Combat system, according to its dynamics, is very similar to DMC (and I have to tell the truth I am an ardent fan of the series), but at the same time it is also a MMORPG that elevates this game to the first line in my list of the most anticipated games. The game assumes command game, and straight arms. The game assumes command game, and straight arms. Now if you want to get the target you're aiming to it and not shoot from the back of the head with fireballs and arrows.A political system of the game simply divine, plus I'm sure that many people missed the clan wars in other MMO games.I really hope that gods give me chance to play TERA and check it for awesomeness by myself.
Post Date: 05:16 04-02-2012
Rating: 10
Author: Rikamaru
Comment: I am looking foward to Tera because it looks completely different from anything else. Look at the graphics! they are amazing. The races and classes are also interesting. I will prefer to be a mystic if i get this beta key or in game whenever it comes. Overall i just want to play this game because it looks amazing!
Post Date: 04:43 04-02-2012
Rating: 8
Author: D3luxe
Comment: TERA looks like a truly groundbreaking MMO. It has a great art style, and I know that Frogster is very familiar with pleasing it's player base.

The skill based combat system is extremely exciting, and will hopefully revolutionize the way that MMO fights actually work. Hopefully this change will leave the old button mashing tactics behind.
Post Date: 03:29 04-02-2012
Rating: 8
Author: twrule
Comment: I'm looking forward to TERA for several reasons: its fast-paced twitch-style combat, its massive world full of heavily detailed environments to explore, its promising player-driven political and economic systems, its unique player classes.
Post Date: 01:34 04-02-2012
Rating: 9
Author: Broseph
Comment: I've been wating for TERA since it was in CB over in Korea, finally an MMO that has actual skill based combat! The art direction is simply amazing and even by today's standards the graphics are baller. Hopefully I can get a key and try this early :3
Post Date: 00:46 04-02-2012
Rating: 10
Author: skopetski
Comment: Me and my girlfriend have been waiting for this game like for ever! were realy excited to finally experience the game. we plan on streaming and sharing our sneak peek (if we get a key rofl;p) hopefully Ill get one! thanks and have fun!
Post Date: 22:54 03-02-2012
Rating: 9
Author: dinazoe
Comment: Really looking forward to this game, first off the fact that you have to aim to damage is awesome, im tired of typical highlight/spam buttons combat. It would seem that the developers put their soul and heart into this game, including alot of work hours. Graphics look phenomenal along with the combat system. I really like games where you have to work as a team to defeat a boss in a instance/dungeon, and this will suit my nicely.
Post Date: 22:49 03-02-2012
Rating: 10
Author: nubzord
Comment: Hmm fast answer, I took all my exams at my university, and i`m so bored, I wanna try something new and this is my reason why i could get key 🙂
Post Date: 22:43 03-02-2012
Rating: 10
Author: zurelius
Comment: Tera has some unique points (Campfire is very appealing) and the game itself is visually stunning.
Post Date: 22:33 03-02-2012
Rating: 8
Author: DubyooC
Comment: I am looking Tera as a new MMO, it has some amazing looking graphics and a fresh combat system where you actually aim rather than the typical targeting system most of us are all so used to. The fact there is no factions to worry about balancing and the appeal of server vs server pvp is interesting too.
Post Date: 22:29 03-02-2012
Rating: 10
Author: heartspains88
Comment: I'm extremely excited for the real-time action aspect of this game. It's a wonderful change of pace and I'm so glad they're going in a less common direction than other mmo's. Not to mention the political aspects as well. Extremely looking forward to this.
Post Date: 22:22 03-02-2012
Rating: 8
Author: lvdeb
Comment: Here is why I am looking forward to this game. There is nothing good out there at the moment and the mmo's have all become so "cookie cutter" These guys seem to know this and have taken steps to change things up a bit. I have been watching posts and they don't like "auto everything" crap. That in itself is a huge plus in my book. Also they have said there will be support for using a game controller!! Huge plus for me. Anyway I am really looking forward to this games release and would love to get a sneak peek at it. Even if just to see how it will run on various builds that I have. I go by lvdeb on the forum by the way
Post Date: 22:07 03-02-2012
Rating: 10
Author: Cammi
Comment: Tera has some unique points (Campfire is very appealing) and the game itself is visually stunning. I can't wait to play this game, and try out all the Race/Class combos.
Post Date: 22:00 03-02-2012
Rating: 9
Author: Sauroc
Comment: TERA online looks great just because of the way it is designed. It reminds me of Guild Wars 2 which I also want to test. The main reason I want to test it is because it looks so different from what you expect from an MMO.
Post Date: 21:39 03-02-2012
Rating: 10
Author: zilix
Comment: I am looking forward to testing Tera because I want to try something "different" for once. I am sick of the same old tab targeting system and look forward to trying something way different than the ordinary. Tera seems to be the perfect blend that everyone has been waiting for and if you're sick of the tab targeting system and same old mmo junk that keeps being release. Tera is for you!
Post Date: 16:47 30-01-2012
Rating: 4
Author: isnortmana
Comment: i agree with notoxic this looks like a clone wow may have lost 2mil subscribers but it still wont be beaten any time soon wow is the king of kings when it comes to mmos but to me has lost its luster i believe mythic should make a comeback daoc was the only mmorpg i would consistantly play besides wow but they pretty much killed it shame it had everything great graphics dungeons raids and the battle grounds will never be outdone anyway ima give this a 4
Post Date: 05:57 26-08-2011
Rating: 10
Author: Celtis
Comment: WoW has been beaten. It has lost a million subscribers! I disagree that Tera will be buried under anything once it is released xD. Get ready for the next big MMO!
Post Date: 23:01 05-08-2011
Rating: 5
Author: Notoxic
Comment: In my opinion this game looks like another Aion clon.Alot of graphics, gay characters like some panda archer, alot uh! ah!
This game will be buried and forgotten witchin fhew months after release. Me self playing WoW since the beta.Im sick of the game after so many years, and tryed all other mmo's that were comming out in the years. All the games were claming to be the new King, and WoW destroyers.. My conclusion after so many years is: There is only ONE game developer that can beat WoW. And its Blizzard himself!
Post Date: 19:39 04-07-2011
Rating: 10
Author: Joker
Comment: TERA may be the one to finally kick WoWs butt once and for all! I can't wait til its playable!
Post Date: 04:06 01-06-2011
Rating: 10
Author: Bron
Comment: Tera will eat WoW for lunch! Forget about point and clicking nonsense. Tera will give you full control over your character(s). You have the freedom to play the game you want. Tera is the equivalent of Darkfall on steroids.
Post Date: 21:06 26-02-2011
Rating: 10
Author: Adrian
Comment: This game is just mind boggling. The graphics are absolutely stunning, classes look awesome, music is top notch.
Post Date: 19:46 26-02-2011
Rating: 8
Author: Gonzo
Comment: looks like avatar….
Post Date: 09:14 23-02-2011
Rating: 10
Author: dantabletennis
Comment: A brilliant game, graphics are amense!!
Post Date: 00:20 25-12-2010
Rating: 7
Author: hack10
Comment: The Exiled Realm of Arborea (TERA) Online is a 3D MMORPG with high quality of graphics. The game has many of classes and type e.g. players will create a character from six archetypes and eight character classes and with the skill of each types and classes it has a lot of skills you can using or playing with it. The whole game design is very good as you can see in the main website.
Post Date: 12:10 10-07-2010
Rating: 10
Author: iMeazyy
Comment: 10 looks amazing hope fully i can be a tester