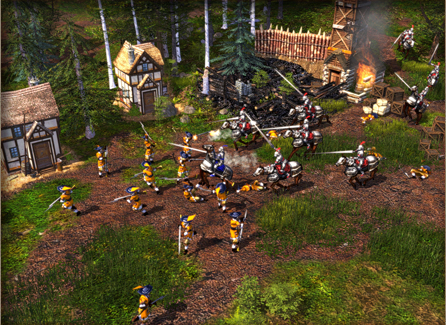 This expansion of Age of empires 3 introduces three new playable civilizations. the, Aztecs, Sioux, And the Iroquois. Play in different maps around north America and South America. Use Colonial technology to conquer the new world, And build a new empire!
Post Date: 13:34 09-01-2015
Rating: 8
Author: altot
Comment: Age of Empires III is a real-time strategy video game developed by Microsoft Corporation's Ensemble Studios and published by Microsoft Game Studios.
The game itself is shadowed by it's precedors, but that's no drawback looking how the 2 past games were one of the greatest strategies of all time. It's underrated in a way that everybody looks at it the wrong way and making unnecessary comparisons. It has it's fair share of bugs but still, you will not find a player who was unhappy about this craftsmanship and I'm certainly among those lads.
Post Date: 21:35 27-06-2014
Rating: 8
Author: najdan11
Comment: This is the best part of Age of Empires.Its really fin strategy!Graphic is good.Try it!8/10
Post Date: 19:22 10-04-2014
Rating: 5
Author: bos4kCRO
Comment: This game is awesome strategy,graphics is solid, I HIGLY RECOMEND IT EVERYONE who loves strategy games my rate 9
Post Date: 20:29 30-03-2014
Rating: 10
Author: cemex
Comment: I think this is the best expansion of legendary RTS Age of Empires, awesome graphic and amazing battles
Post Date: 15:07 11-09-2013
Rating: 9
Author: Hawx1990SRBIJA
Comment: The legacy was continued. Third part is better than second one, so i dont need to speak about epicnes of this title. I liked the most expansion Asian Dynasties. They were very different from rest of the nations (didnt play North american Indians expansion). Burning kamikaze ships were epic. XD
All in all i give this game 9.
Post Date: 15:32 15-08-2012
Rating: 10
Author: PolanWalker
Comment: Very nice graphics and massive gameplay. For me great title 😀 10/10 😀
Post Date: 12:36 27-07-2012
Rating: 7
Author: Dmt_2000
Comment: Its pretty good this one is better then number one and 2 if you ask me because the graphics are better the game play as well i rate it 7/10
Post Date: 21:41 25-07-2012
Rating: 9
Author: Thedarkboy
Comment: It's pretty much separates the previous games against the Age of Empires 3 of the way to play, even though nothing seems unusual. The first thing that strikes one is the wonderful graphics Age of Empires 3 offers. The trees are moving in the wind, flags equally so, farmers working the fields and birds fills the sky. A deer family can be seen in the grove I have never seen such beautiful water in any other strategy game before. The huge maps that we were used to see, especially in 1st, but also in the 2nd, has narrowed slightly but is still not too small. This game is absolutely brilliant that you have to try.
Post Date: 23:53 15-11-2011
Rating: 9
Author: lumlehsumleh
Comment: This is a pretty cool game. It's like starcraft or World of warcraft. You get soldiers and fight people. As you technology gets better, you get better equipment, which makes you stronger than your opponent. eg. bronze age->iron age. I love the idea of this game. The graphics looks decent too.
Post Date: 09:12 13-08-2011
Rating: 10
Author: mukhlis1904
Comment: I love Age of Empires 3.
Post Date: 19:55 29-01-2011
Rating: 9
Author: Adrian
Comment: After a few days for the single player campaign you'll find that the multiplayer part of the game has lots to offer (hard too find other people that still play this).
Post Date: 14:25 29-07-2010
Rating: 9
Author: –.aldo.–
Comment: continuing with the same game style of age of empires I and II this game have other types or warriors and stuff also placed in other time with better graphics will be a fun game if you like this type of games.
Post Date: 15:55 02-06-2008
Rating: 10
Author: gra t1
Comment: yes this game is fun but i'd still rather play AoE2

recomend AoE3 for fast computers
Post Date: 05:32 17-06-2007
Rating: 10
Author: Juggernott
Comment: This is an awesome game. I highyl recommend it. Although there maybe some small lag some times while playing online it is a real fun game.