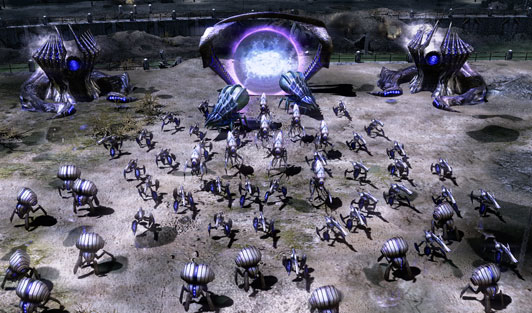 The critically-acclaimed Command & Conquer™ (C&C) series returns with Command & Conquer 3 Tiberium Wars™ (C&C 3). Setting the standard for the future of RTS gaming once more, C&C 3 takes you back to where it all began—the Tiberium Universe. Observe, broadcast, and compete in thrilling online battles with innovations including all-new interactive spectator modes, VoIP communication, player commentary, and more.
Post Date: 12:52 16-07-2014
Rating: 9
Author: Madara98
Comment: OMG TAHT GAME IS OSAM!! ALL MUST PLAY TAHT GAME
Post Date: 16:43 14-05-2014
Rating: 10
Author: Frozen
Comment: It's nice strategy game! never saw something like this graphics are perfect!
Post Date: 18:13 26-03-2014
Rating: 10
Author: bokismoki
Comment: Great game
Post Date: 02:43 30-12-2013
Rating: 10
Author: keller07
Comment: Command and Conquer 3 also a real time strategy game which like the other games, it is also where you build buildings, train units and destroy enemy's base. It was developed and published by EA Games. The player requires to build base, and acquire resources to meet the requirements to produce forces which is needed to conquer and destroy opponent's bases.

At the start of the game, each player given a construction yard to begin with your bases. You can build different buildings to produce different units.

There are different kinds of buildings, it can be for unit production, economic production for the resources, and defensive structures. Building that only produces units is very important because without units, you cannot attain the victor of the game.

Economic buildings also important because it produces resources to fund the requirements in producing units and buildings.

Defensive buildings is for defense purpose only. It will defend your base against the enemy. There are many types of turrets. It can be againts land and air.

Command and conquer 3 is the very best game i ever played. In order to win the game you should attack enemy and clean up their cases that no enemy units or buildings left. Also it is very good whenk multiplayer with your friends. Enjoy the game and have fun.
Post Date: 13:59 17-09-2013
Rating: 9
Author: Hawx1990SRBIJA
Comment: Very good RTS game. 3 nations, GDI (civilised people, you could say rich and powerful), NOD(not so much civilised people, you could say terrorist) and aliens (not people at all. XD). Aliens were the strongest, but i liked to play GDI the most. As any RTS, you make your base (energy plants, barracks, resources collecting buildings…), make your units (infantry, armored vehicles and air units). Than you you blow up some stuff, if they dont blow you up. XD
All in all very good game, and 9 from me.
Post Date: 23:53 02-12-2012
Rating: 9
Author: Mordekaiser
Comment: This game is awesome the down side is you have to buy it but just about every thing else is great like the graphics are great graphics are important in a game they make u feel different and art style also and the art style for this game is good but the most important thing with any game is game play and the game play is great like really great this game rivals age of empires series this is for sure one of the top Real Time Strategy games of all time for sure i rate this a 9/10 because everything you want in a game is here only thing here that you don't want is to pay for a game that why its not a perfect 10
Post Date: 20:17 02-12-2012
Rating: 9
Author: PolanWalker
Comment: Very nice game 🙂 Like in all C&C games we have to build our base then train army and win with our enemies 🙂 This part differs very much with earlier parts of game. We have incredible big choose of units and buildings. Game have very good graphics and nice sounds. This game provide us great fun and the way to lose very much of our free time ;)I rate this one 9/10.
Post Date: 22:14 12-08-2012
Rating: 8
Author: Dmt_2000
Comment: This game is pretty awesome if you like RTS Games or games like star craft then you should play this game for sure this game is free to play also the graphics are awesome the game just feels so nice if you want to play a new game then you should try this game for sure
Post Date: 15:18 12-08-2012
Rating: 9
Author: Thedarkboy
Comment: This RTS is a masterpiece. There's feeling and action in the fighting. The sharpest brain wins, unless the person with the most dirty tricks up its sleeve does. The story is as silly as it should be in C&C, and yes, Kane is as fantastic as always. The only thing that stops this game from getting 10/10 is the lack of a Map-editor, where you can make your own maps. Any serious RTS should have one, and that C&C doesn't have one, it's simply awful. I can't really find any other reason to not play this though so I highly recommend this to people that like RTS even though it doesn't have a map editor.
Post Date: 17:27 28-07-2012
Rating: 10
Author: PolanWalker
Comment: Great strategy from Westwood family 😀 All games thats father is Command and Conquer are great and amazing 😀 Excellent game play, meny units and play styles are everything that player can dream 😀 10/10 from me 😀
Post Date: 12:08 11-12-2011
Rating: 10
Author: Thedarkboy
Comment: Awesome game! Can't come up with something you can complain at. Graphics are brilliant! 10/10
Post Date: 08:39 29-04-2011
Rating: 10
Author: sasuke24
Comment: A fantastic game to play. Graphics is awesome. Sound is superb. Gameplay is uber enjoying.
Post Date: 20:03 29-01-2011
Rating: 9
Author: Adrian
Comment: Good fast action RTS (real time strategy) with a slick interface. The pace is kept fast and fun…9/10.
Post Date: 22:40 20-11-2010
Rating: 10
Author: Jan`go Vhett
Comment: Looks awesome.
Almost unrecognizable from the original though.
Its sad they did away with custom modding in Kanes Wrath.
It would have been so much better if they didn't.
Anyways still fun game, with some of the best AI I have played.
Post Date: 14:40 10-04-2007
Rating: 10
Author: Bohican
Comment: Havent gotten a chance to play myself, but watching my friend play i pretty much agree that if you liked Command and Conquer: Red Alert or any other GOOD RTS (Starcraft, Age of Empires 1&2, Supreme COmmander) (Notice i left out Warcrarft3) then you are going to love this game. So get up from that chair your sitting in, and go buy it.