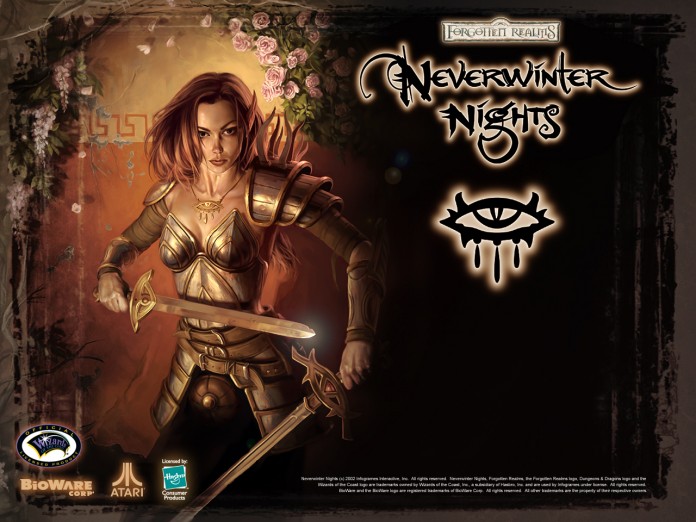 by Bioware
Pros
? puts you in charge of the adventure rather than managing a huge group
? makes excellent use of the AD&D license
? ability to expand into a MMORPG
? endless replay value with player-created modules and online play
? the most powerful tool set ever given to players right out of the box
Cons
? uninspired single player campaigns
? interface can be a little clunky at times

The Bottom Line – The current king of Internet games.
Link: Official Site
Review
Not only does Game Ogre rank Neverwinter Nights as the Top Online RPG that can be purchased via retail but we also rank this monumental RPG as the Top Internet Game period. Why? Because no other RPG has ever offered a more complete package of downloadable content and online game play than NWN.
Undoubtedly some people may argue that Half-Life deserves the title as Top Internet Game due to its plethora of mods and overwhelming multiplayer following. However NWN gets the nod over the online gaming juggernaut due to its over 2000 player-created modules (and counting) its excellent online play and its ability to be made in a huge persistent world similar to MMORPGs.
One of the best examples so far of a NWN persistent world is with Nordock where up to 64 players can play. Another NWN persistent world is Exaria. With Exaria you are able to play in two different worlds loaded with custom items unique races and sub races and Deities in one MMORPG-like atmosphere. Of course this only the beginning since several modules can be tied together on different servers by using portals.
For the online game play itself the ability to use a dungeon master (DM) that can make your gaming experience even more enjoyable separates NWN from more hack and slash oriented Online RPGs like Diablo and Dungeon Siege. Furthermore you are able to relive memories of playing Dungeon and Dragons pen and paper (Pnp) modules by assembling a group of friends and tackling computer remakes of your favorite classic AD&D PnP modules.
On a slightly negative note Neverwinter Night's official campaigns keep the game from receiving a perfect score. Surprisingly several player-created modules like Grand Theft Otto Dreamcatcher Avatarship Polished and Elegia Eternum have easily surpassed the original campaigns in terms of excitement and depth. In fact Bioware needs to seriously think about hiring some of those module makers for the future. Besides that one small negative which can be easily avoided by sticking to player-created modules Neverwinter Nights should command the attention of any RPG fan. Simply put NWN has changed the way that people play RPGs from now on.
Game Ogre's Rating (out of 10):
9.00