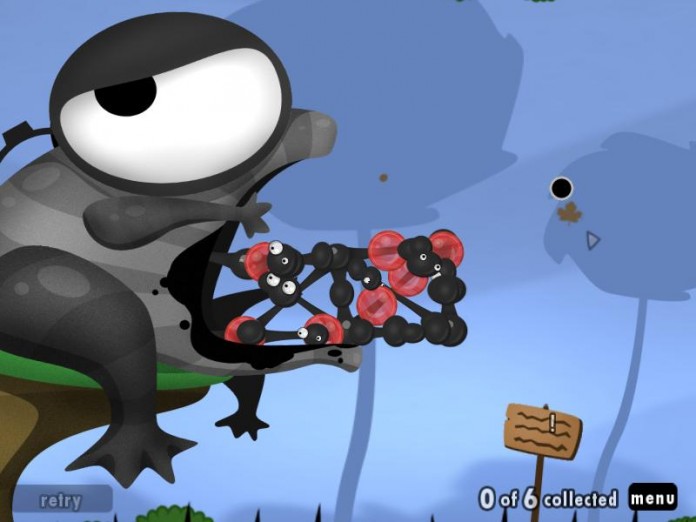 World of Goo is a physics based puzzle / construction game. The millions of Goo Balls who live in the beautiful World of Goo don't know that they are in a game, or that they are extremely delicious.
Post Date: 14:59 10-12-2014
Rating: 7
Author: arZ
Comment: World of Goo is a game based oz physic puzzle constructions.
Really addicted game with a nice graphic and cool music. Its a singleplayer game. The point in this game is to build strictures to get to the other side. Interesting. I rate it with the note 7/10
Post Date: 11:21 09-08-2012
Rating: 9
Author: PolanWalker
Comment: Ugly but very nice game. You must to get a Goo to place that is needed. From point a to point b. Very simple and playable game 😀 9/10 for me 😀
Post Date: 05:17 07-07-2011
Rating: 7
Author: metro
Comment: World of Goo is not bad. I should put on my engineer cap every time I play. My only gripe is a lack of a multiplayer or coop mode.
Post Date: 17:21 11-04-2010
Rating: 8
Author: boratosunstone
Comment: World of goo is a educational game and fun game!

You have to complete levels by building structures to get to A-B.[using goo balls!]

Great Game!!!
Post Date: 08:32 26-02-2010
Rating: 10
Author: speed
Comment: Amazing indie game that deserves a lot of love! Puzzle games like World of Goo come along once in a lifetime. I feel like an engineers everytime I play.
Post Date: 01:50 28-12-2008
Rating: 10
Author: awesomedrako
Comment: very addictive puzzle game, shame its only a demo
Post Date: 17:58 27-12-2008
Rating: 10
Author: webber
Comment: Deserves a 10! This is how games should be! You feel like really accomplish something special due to the real life physics. You can play it on any PC or laptop because DRM. Love it.
Post Date: 14:20 18-12-2008
Rating: 8
Author: buzzsaw
Comment: Fun game that is simple yet addictive. I can't believe only 2 guys made it! Having an online scoreboard where you try to build the biggest tower against other people in the world is a stroke of genius.